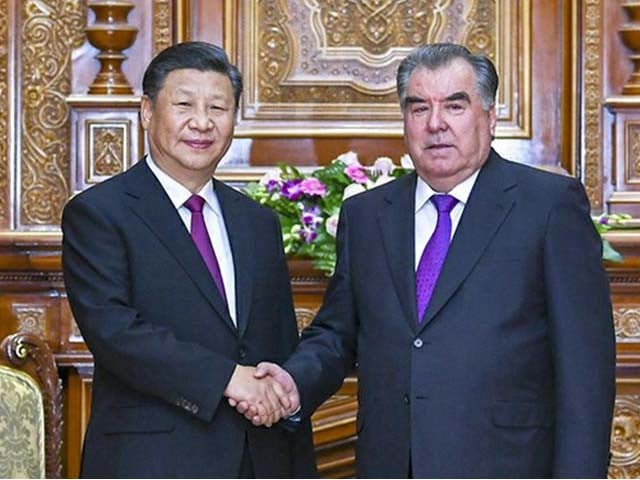 ---
Why Tajikistan is emerging as China's gateway to Afghanistan
It's fitting that China and Pakistan joined forces in 2016 to establish the QCCM with Tajikistan and Afghanistan
---
China's overhauling of Tajikistan's highway network in its sparsely populated, mountainous, and geographically enormous Gorno-Badakhshan Autonomous Region (GBAR) speaks to Beijing's desire to increasingly rely on that neighbouring country for facilitating its planned connectivity with Afghanistan after the US' impending withdrawal. Eurasianet, a US-based media outlet partially funded by both the National Endowment for Democracy and the Open Society Foundation, reported on this though in a predictably negative way given the interests of its financiers. Nevertheless, their report served to raise awareness of the important connectivity work that China's carrying out in Tajikistan.
A quick glance at the map reveals that the GBAR is the most logical means for China to connect with Afghanistan. Although Pakistan can also be relied upon for this end, China always pioneers complementary corridors so that it isn't dependent on any single one. This helps to relieve congestion along those routes and also enables the country to flexibly adapt to changing geopolitical circumstances in the event that a sudden security situation makes one of them temporarily unusable. What's most interesting about this is that Tajikistan is regarded as being within Russia's "sphere of influence" so this essentially means that Moscow is indirectly facilitating Beijing's access to Afghanistan and likely also Iran too.
Although some structural realists regard Russia and China as being competitors in Central Asia, or at the very least are inevitably poised to become such according to one school of thought, they actually cooperate really closely in this region. All of the Central Asian Republics (CARs) are in the Shanghai Cooperation Organisation (SCO) that's jointly led by those two Great Powers. They share the same political, security, and socio-economic interests as well. While China's economic influence is definitely on the rise, Russia's political and security influence remains strong as proven by the fact that Kazakhstan, Kyrgyzstan, and Tajikistan are in a mutual defence alliance with it through the Collective Security Treaty Organisation (CSTO).
Building upon the observation that Russian-allied Tajikistan is facilitating China's connectivity with Afghanistan, one can have a better understanding of how Moscow and Beijing work in tandem to pursue the shared goal of regional stability. Russia has a military base in Tajikistan and is committed to protecting its ally from Afghan-emanating threats such as ISIS-K, which will also serve China's security interests insofar as protecting its Silk Road across the GBAR. The People's Republic is so economically strong that it can invest much more in the region (which includes Afghanistan in this context) than Russia can, which can help rebuild Afghanistan and also improve the living standards of the impoverished Pamiri people in the GBAR.
It should also be mentioned that Tajikistan is one of Pakistan's top regional partners. President Rahmon visited Islamabad in early June, which came a little over a month after I published my piece here at the Express Tribune about "The Prospects Of A Pakistan-Tajikistan Strategic Partnership". It should be read by anyone who's interested in the new northern vector of Pakistani foreign policy. Basically, I argue that Tajikistan can serve as Pakistan's gateway to the CARs and that the two can also cooperate on stabilising Afghanistan after the American withdrawal later this year because of the influence that they command over certain parts of their mutual neighbour's society.
Casual readers might not be aware of it, but Tajikistan is mostly populated by a people that are very closely related to Iranians. Although bilateral relations remain complicated, Iran nevertheless also sees Tajikistan as a gateway to the region. Considering that China is pioneering a Silk Road through the GBAR in order to connect more closely with Afghanistan and likely also its new 25-year strategic partner Iran, it's possible that Iranian-Tajikistani relations will eventually improve as a result of Beijing's "economic diplomacy". In any case, Tajikistan is quickly becoming the convergence point of some of Eurasia's most important countries, all of whom have a stake in post-withdrawal Afghanistan.
This observation should inspire them to more actively engage with Tajikistan. Some of these countries like Russia and Iran already have plenty experts specialising in its affairs, while China's and Pakistan's respectfully lag somewhat behind their peers if only for the simple reason that they hadn't paid much attention to Tajikistan until recently. It's therefore fitting that China and Pakistan joined forces in 2016 to establish the Quadrilateral Cooperation & Coordination Mechanism (QCCM) together with Tajikistan and Afghanistan to enhance their hitherto bilateral security engagement efforts with both of them. Thus far, neither Russia nor Iran are part of any comparative platform incorporating those two countries.
With this in mind, Pakistan should propose an economic counterpart to the QCCM as part of its new multipolar grand strategy prioritising regional connectivity. Pakistan's northern-focused economic outreaches overlap with China's western-focused ones in Afghanistan and Tajikistan so it makes sense to either create a complementary institution or evolve the QCCM's mission just like the SCO's evolved. Although Tajikistan is a comparatively tiny country, it's disproportionately strategic given its location and the influence that it has among its ethnic compatriots in Afghanistan. The proposed economic mechanism could help Pakistan tap into its multidimensional potential, forge a new regional economic community, and expand its influence in the CARs.