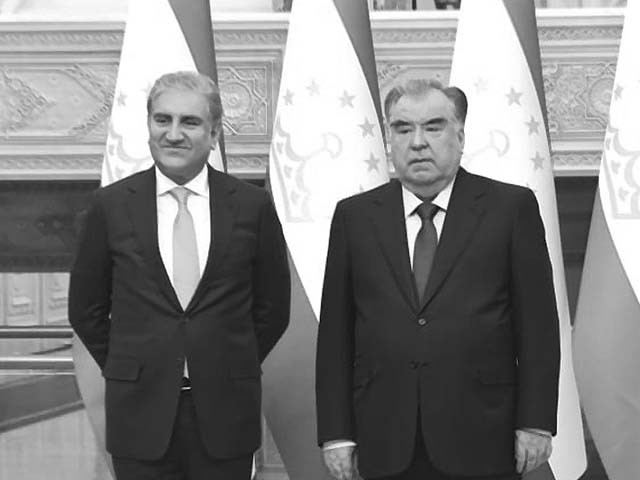 ---
The prospects of a Pakistan-Tajikistan strategic partnership
Pakistan's geostrategic location enables it to facilitate Tajikistan's access to the wider global economy via CPEC
---
Pakistani Foreign Minister Shah Mahmood Qureshi's successful visit to Tajikistan last month to attend this year's Heart of Asia-Istanbul Process summit raised optimism that these two countries are moving towards a strategic partnership after he announced that they'll tap unexplored areas in bilateral ties such as trade, tourism, and people-to-people engagement. Furthermore, Foreign Minister Qureshi also met with Tajikistani President Rahmon for talks that he described as "excellent". Quite clearly, both sides have the political will to forge a strategic partnership, which encourages experts to explore what this might look like in the future.
Pakistan's geostrategic location enables it to facilitate Tajikistan's access to the wider global economy via CPEC's northern expansion into Afghanistan and the Central Asian Republics (CARs). The recently agreed Pakistan-Afghanistan-Uzbekistan (PAKAFUZ) railway will fulfil that vision upon completion. In parallel with expanding physical connectivity between their two nations, they'll also do the same with respect to the energy dimension as well through the CASA-1000 power project. These complementary moves will boost Pakistani-Tajikistani trade, thus making each more important to the other.
They also have shared security interests stemming from Afghan-emanating threats, which will inevitably contribute to greater trust as they increasingly coordinate their moves upon America's full military withdrawal from the country in less than five months' time. Pakistan has influence over the majority-Pashtun Taliban while Tajikistan has historically wielded some degree of influence over its ethnic compatriots and their armed groups in the northern part of the country. These two ethnic groups will have to cooperate more closely in the future, which Pakistan and Tajikistan can help happen, especially through their shared membership in the SCO.
Afghanistan also presents security threats of a different nature as well, especially those related to drugs and organised crime. It's in Pakistan and Tajikistan's interests to ensure that these are also contained. Both countries have done a lot over the years to secure their borders with Afghanistan, with Tajikistan relying on Russian assistance to this end. It would therefore be helpful if they share their experiences in this respect in order to improve the effectiveness of their measures. Each country can learn from the other, and such interactions can contribute to building closer trust between their armed forces, security services, and consequently, their states.
With this in mind, it might be a good idea to explore the possibility of hosting bilateral military drills focusing on anti-terrorism and border security on a yearly basis similar to what Pakistan is nowadays doing with Russia. In fact, there might even be a chance of including Tajikistan alongside these Dosti/Druzhba ("Friendship") drills too since Dushanbe is Moscow's mutual defence partner through the CSTO and the Eurasian Great Power has a military base in that Central Asian country. At the very least, it couldn't hurt to float this idea to gauge the interest of each party, even if they might consider it premature to take such a step at this moment.
From the strategic perspective, Pakistan and Tajikistan have a lot in common when it comes to their balancing acts. Pakistan unveiled a new multipolar grand strategy during last month's inaugural Islamabad Security Dialogue that reflects its leadership's desire to balance between all countries without allying with any single one. Tajikistan, despite being militarily allied with Russia, also shares a similar strategic intention since this is the trend of the times in today's emerging Multipolar World Order. Increased Pakistani-Tajikistani cooperation and coordination can therefore complement each party's balancing acts and be mutually beneficial.
To explain, Tajikistan wants to diversify its economic partners, which it can only realistically do by accessing the wider global economy through PAKAFUZ (which can also be described as the Central Eurasian Corridor or CEC when spoken about in a broader context beyond those three particular countries). CEC is essentially the same thing as N-CPEC+, which is what CPEC's northern expansion through Afghanistan and the CARs can also be called. Therefore, PAKAFUZ/CEC/N-CPEC+ is the key to unlocking Tajikistan's balancing capabilities, which can then transform into military and strategic partnerships with other countries, first and foremost Pakistan.
To wrap it all up, Pakistan and Tajikistan share common interests with respect to advancing regional connectivity, jointly stopping the spread of Afghan-emanating security threats, and complementing each other's balancing acts. The conceptual basis for their prospective strategic partnership is therefore well-grounded and both sides have the political will to actualise this vision. It'll still take some time for the fruits of their labour to ripen, but what's important is that the seeds have already been sown so it's inevitable that their bilateral relations with grow into a strategic partnership in the coming future.