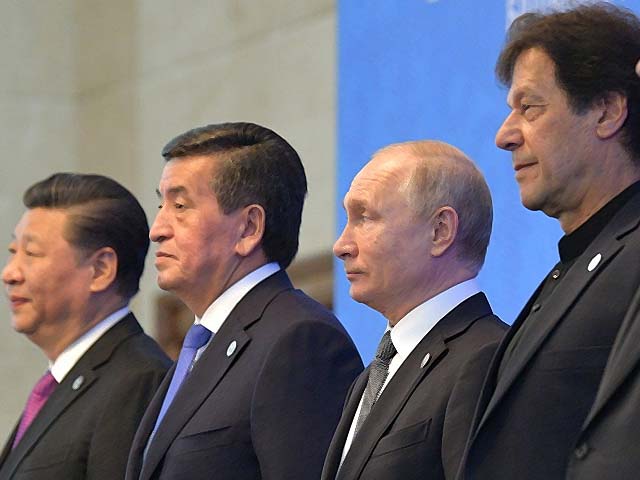 ---
Why this summer's Central Asia-South Asia Connectivity Conference will be crucial
The upcoming conference will be crucial for the success of Russia's Greater Eurasian Partnership
---
Uzbekistan plans to host a conference this summer titled "Central And South Asia: Regional Interconnectedness. Challenges And Opportunities", which will play a crucial role in shaping these two neighbouring regions' futures. Russian Foreign Minister Lavrov told the press after talks with his Uzbekistani counterpart last week that "Mr Kamilov kindly invited me to take part in this. We will definitely help you make it a success and make sure it leads to practical results." It's unclear at the moment exactly who all is invited to participate in this international event, but it would truly be in everyone's interests if Pakistan takes part as well.
The reason for this is obvious, and it's that Pakistan, Afghanistan, and Uzbekistan agreed late last year to build a railway between their three nations. I wrote about what can tentatively be described as the PAKAFUZ project (after each of their country's names) in my analysis at the time for The Express Tribune asking "Is Pakistan's N-CPEC+ Vision Finally Beginning To Take Shape?" It explains the strategic motivations for this initiative, which relate to expanding CPEC northwards through Afghanistan to Central Asia, hence my neologism N-CPEC+ (with the "N" referring to its northern branch).
Although there had previously been talk about Uzbekistan utilizing the Indo-Iranian North-South Transport Corridor's (NSTC) proposed eastern branch through Afghanistan in order to reach the high seas, Tashkent clearly made the decision that it's more economically feasible to rely on N-CPEC+ instead via the PAKAFUZ project. That's likely because its leadership appreciates the fact that China has committed upwards of $60 billion to CPEC and that Pakistan's market potential is over twice that of Iran's due to its enormous population, to say nothing of the fact that Islamabad also isn't under sanctions like Tehran is.
With this insight in mind, it's clear that Russia must rely on Pakistan in order to fulfil President Putin's vision of an Arctic-Indian Ocean corridor that he first shared while speaking at the Valdai Club's yearly gathering in October 2019. At the time, he said that "There is one more prospective route, the Arctic – Siberia – Asia. The idea is to connect ports along the Northern Sea Route with ports of the Pacific and Indian oceans via roads in East Siberia and central Eurasia." Since the PAKAFUZ project essentially removes the NSTC from the connectivity equation for linking Central Asia to the Indian Ocean, it naturally follows that Russia now needs N-CPEC+.
I elaborated on the importance of this trans-Afghan connectivity corridor for Russian-Pakistani relations and more broadly in terms of Russia's Greater Eurasian Partnership in the academic article that I co-authored last year which was republished by the Russian International Affairs Council (RIAC), one of the country's top think tanks. Titled "Pakistan's Role In Russia's Greater Eurasian Partnership", it concludes that such a project is the next logical step in their rapid rapprochement with one another and would have a very positive impact on transregional affairs.
For political reasons related to the sensitivity of Russia's strategic relations with India, however, Moscow likely wouldn't openly participate in any project that's associated with the CPEC branding. Therefore, a non-CPEC-branded term should be used when referring to this project outside of Pakistan, while still retaining the N-CPEC+ neologism when discussing it internally in order to understand its context vis-a-vis the other CPEC+ corridors of W-CPEC+ towards West Asia and S-CPEC+ to East Africa, Sri Lanka, and ASEAN along the western and southern vectors respectively.
One compromise solution could be to rebrand President Putin's Arctic-Indian Ocean proposal as the Central Eurasian Corridor (CEC), with the PAKAFUZ project being its most important component. Regardless of whatever term is ultimately used, it's clear that this initiative will likely be the centre of discussions during this summer's connectivity conference in Uzbekistan. That's why it's imperative that Pakistan is invited to participate since Uzbekistan's complementary vision of transregional connectivity can't succeed without it.
Should it be confirmed that Pakistan is invited to take part in the conference and the event goes ahead as planned, then discussions could also involve inter-organizational coordination between the Eurasian Economic Union (EAU), the Shanghai Cooperation Organization (SCO), the Economic Cooperation Organization (ECO), and/or the South Asian Association for Regional Cooperation (SAARC). SAARC's inclusion is less likely though unless India revives the same organization that it destroyed with its own hand back in 2016. It's unclear at the moment whether it would do so unless it radically reverses its regional strategy.
The best-case scenario would be if India eventually does so since it would arguably benefit by improving relations with Pakistan and thus receiving direct access to the CEC. The stalled Turkmenistan-Afghanistan-Pakistan-India (TAPI) pipeline shows that there's nevertheless some degree of interest, however insincere it may be, on New Delhi's side to rely on Islamabad for regional connectivity whenever their interests align. CEC is different though since it involves commercial activities and the political influence that might eventually be associated with them, not just energy like TAPI.
Plus, it would be a symbolic admission that India's anti-Pakistani "containment" strategy has failed if New Delhi gives up on Chabahar and decides to informally join CPEC through its N-CPEC+ branch corridor's rebranding as the CEC or whatever else it's ultimately called. That's why observers shouldn't get their hopes up about this, though it's still possible that Russia will informally attempt to broach the subject, whether at this summer's conference or through behind-the-scenes diplomacy with India. Still, no success is possible unless India radically reverses its regional strategy, which is also influenced by its complicated relations with China.
For the time being, then, SAARC can presumably be excluded from this strategic equation, meaning that it'll likely only concern the EAU, SCO, and ECO. India could still play a limited role though through its membership in the SCO, even if it's only symbolic in this respect. Since Russia's grand strategic interests through the Greater Eurasian Partnership and especially President Putin's vision for an Arctic-Indian Ocean corridor perfectly align with Pakistan's N-CPEC+ ones, India will likely think twice about trying to sabotage the CEC since it knows that any movement in this direction would risk jeopardizing the future of its strategic relations with Russia.
New Delhi can't afford for that to happen otherwise it'll have no choice but to fully submit to Washington's hegemonic designs, which its decision makers are anxiously trying to avoid. The US' repeated threats to sanction the country for its planned purchase of Russia's S-400s and India's insistence on going through with this anyhow speaks to its political will to chart at least a semi-independent course for its regional strategy. It also suggests that India's growing reliance on the Russian dimension of its "balancing" act will reduce the likelihood of it risking Moscow's wrath by trying to stop the CEC and therefore ruining President Putin's dreams.
Looking forward, the most likely prediction is that N-CPEC+ will be rebranded under a compromise term as Russia and Pakistan take this project to its next level after this summer's Central Asia-South Asia connectivity conference in Uzbekistan. The PAKAFUZ project will remain its most important component, and all stakeholders are expected to commitment to it though it's still unclear for the time being exactly how this railway will be financed. In any case, the upcoming conference will be crucial for the success of Russia's Greater Eurasian Partnership and the evolving geostrategic significance of the supercontinent's Heartland region.