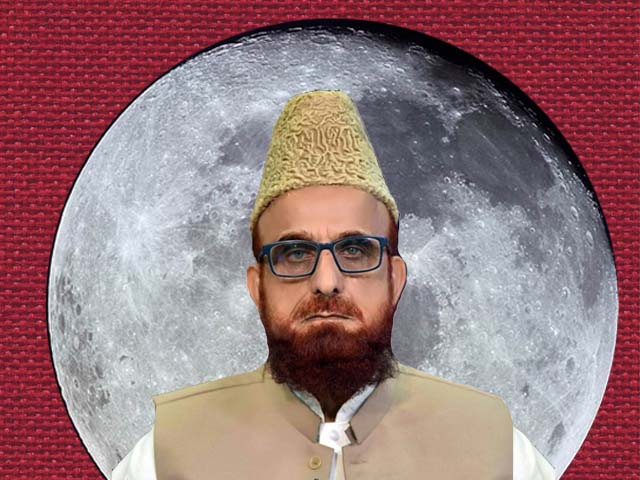 ---
Is the Ruet-e-Hilal committee obsolete?
Streamlining the moon sighting will only make life easier for the entire nation and rid the process of politics
---
For years now, the image of a cluster of bearded men hovering over a telescope has become a staple sight in Pakistan. The head of this entourage, Mufti Munib-ur-Rehman, has long wielded great influence over the members of this committee. However, in recent times, the concept of the moon sighting has evolved into an almost comical political issue, where individuals continue to exchange barbs in an attempt to gain control of their increasingly eroding clout and status. It is almost as if the functioning of the Ruet-e-Hilal committee has now morphed into a battle of egos between over-aged, obsolete clerics, vying to secure their perks and facilities, rather than a group which is committed towards carrying out its duties in the most efficient manner possible.


In Pakistan, the moon sighting often sparks controversy when the announcement made by the Ruet-e-Hilal committee is at odds with the declaration issued by certain clerics in other parts of the country. As a result, what day you mark a religious occasion is often the result of what part of Pakistan you are living in. This spectacle of conflict has only gained further traction ever since Fawad Chaudhry took charge of the Ministry of Science and Technology. Not one to shy away from the spotlight, Chaudhry's desire to make the moon sighting process more streamlined has meant that he has had to lock horns with the Ruet-e-Hilal committee on a number of occasions.


https://t.co/1PGTvVLynC
*Step 1:* Download app

*Step 2:* Select City and Month (Shawal)

*Step 3* Go to Navigation part and click on Search 🔎 option

*Step 4* Write Moon

*Step 5* Move your phone towards the direction of moon shown in App

*You will find the moon right there*

— Ch Fawad Hussain (@fawadchaudhry) June 4, 2019


After coming into office, Chaudhry set-up a five-member team and told them to formulate a five year lunar calendar for Pakistan since he felt that the Rs4 million spent during by Eid and Ramazan moon sighting by the Ruet-e-Hilal committee is of no real use. For the commencement of the month of Safar, the Ministry of Science and Technology released pictures as evidence to prove that the moon had appeared a night earlier than the Ruet-e-Hilal committee had claimed. Chaudhry insisted that,

"Now the committee should tender an apology (to the nation) for the misstatement (on the moon sighting)."

Now, before one discusses the efficacy of the Ruet-e-Hilal committee, it is important to make one's objective clear. Often people frame this debate from an angle of whether science can replace Islam, and which one should be given preference. Such a concern is inherently flawed, and the fault lies in how this question is structured. This is because this issue is not about pitting Islam against science in an attempt to substitute the religion. This is simply a matter of wanting to make the moon sighting process quicker and more efficient, without compromising on accuracy. This is an important distinction to make.

Since that has been addressed, the next question which arises is whether or not the Ruet-e-Hilal committee is still relevant. Firstly, what religious qualifications does moon sighting even require? At the end of the day, one does not need to be a cleric or well versed in Islam in order to be able to observe whether or not the moon has appeared. The committees insistence that their religious knowledge makes them better suited for the job is wholly incorrect. Furthermore, the fact that these old bespectacled men are the ones responsible for spotting the moon does not inspire much confidence. Secondly, if a lunar calendar can be prepared well in advance, it will only make life easier for everyone involved since preparation and government holidays can be planned in a timely manner instead of having to wait for a last minute announcement.

The fact of the matter is that the Ruet-e-Hilal Committee has now become a constellation of individuals trying desperately to hold onto their waning relevance by imposing their uncalled for 'expertise' upon an entire country. The constant tussle has led to decades of divisions in our religious celebrations. While the exercise of individually sighting the moon must obviously not be relinquished, there is a need to put in place a far more effective and efficient framework in order to rid the entire process of complacency and unnecessary politics. With so many cracks and divides already entrenched in our society today, there is a need to do away with any practices which only further damage the unity of our people. Let the moon sighting be a source of joy rather than a cause for concern.
Facebook Conversations
COMMENTS
Comments are moderated and generally will be posted if they are on-topic and not abusive.
For more information, please see our Comments FAQ