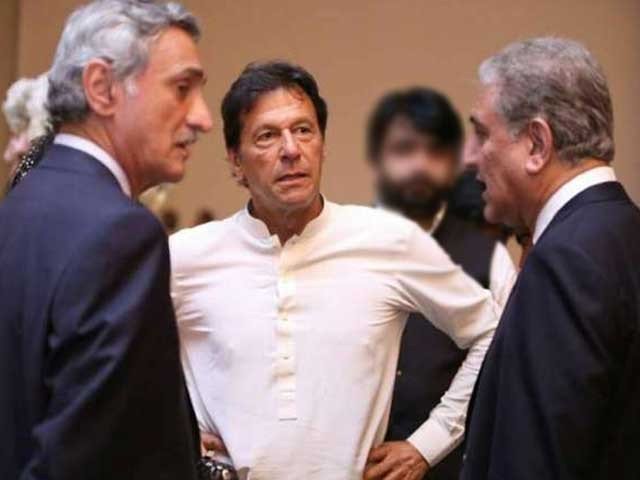 ---
In a party of U-turns and double standards, one man rises to the occasion
For a man like SMQ to finally confess his divergence and oppose the chairman (and PM) so publicly takes guts.
---
Known for beating the democratic and 'ethical' drum, the Pakistan Tehreek-e-Insaf (PTI) has consistently maimed and shamed opponents for destroying the democratic culture within political parties, meant to harness debate and difference of opinion. However, in recent times, under the political authority of PTI, circumstances have changed and the bold narratives of transparency, openness and honesty have long subsided.

It comes as no news that the power centres in PTI have been preoccupied due to a harrowing tug of war; a cut throat competition meant to shamelessly obliterate the rival group. In this scenario, senior member of the PTI and Pakistan's Foreign Minister Shah Mehmood Qureshi finally opened up about the various reservations that come alongside tainted politicians – those specified as thus blatantly by the courts – being put to the fore of the governing bodies, that is briefing the cabinet.

Over the past few years, PTI has been exposed at every little juncture due to its excessive preaching and little evident follow through. Despite strolling in the corridors of power now, the party still has a lot to learn. Positions of authority in the government have been very hard on PTI in that, instead of rising in unison to strive towards a bigger objective, the party has failed to pick up the shambles of what was once a vision of revolution.

One of the greatest rivalries within the party has for long stretched out between the Tareen Group and the Shah Jee Company, and whilst friendly gestures have rarely been exchanged, never before has the heat erupted as openly as it has now. With this public declaration of enmity and opposition between Qureshi and Jahangir Khan Tareen, and the subsequent response of several key ministers and members of the PTI, the party seems to be in a state of tragic disarray.

What is pertinent to note is that Tareen was disqualified by a Supreme Court judgment – the same that disqualified former Premier Nawaz Sharif – following which he resigned from his position as Secretary General of the PTI; but not without a fight. It was only after his appeal was also outright rejected by the SC that he parted ways with his office. Then too his presence – specifically his main role in establishing PTI's regime in Punjab – was eyed with suspicion and disdain in certain quarters, but never by the claimants of a moral high standing within PTI itself.

Imran Khan and PTI not only hailed Tareen's efforts but also defended him to the core at every turn after his disqualification; an act they oft criticised prior to embracing this as a welcome U-turn. If not worse, it is just as bad for PTI to have layered itself amidst the hypocrisy seen in its treatment of Tareen, especially when it continues to pose as a front of great ethics and moral democratic etiquettes.


There's only one man in my life whom I consider my leader & to whom I'm answerable. His name is Imran Khan. I've stood by his side through thick and thin and will continue to do so till my last breath, IA. What others may say for their own strange reasons does not concern me .

— Jahangir Khan Tareen (@JahangirKTareen) April 1, 2019


As an individual closely monitoring the antics of PTI, it is disappointing yet again to see voices of sanity being shunned every step of the way, as well as the observation of a destroyed democratic culture. While it is justifiable to assume that this debacle between Qureshi and Tareen should not have been strung so publicly and openly, it is just as significant to reiterate to the people, the voters, and the party supporters that there still are individuals like Qureshi within the party who are willing to object to immoral and unethical acts of arrogance and ignorance, and who actually believe that wealth, status and rank come second to the law.

However, the public display of support for Tareen and the constant blind worship of Imran serves as a signal to other 'miscreants' like Qureshi in the party, who actually questions when the party does wrong, that they will not be spared for doing so. For a man of Qureshi's stature, PTI adds little to his charisma and personality, but youngsters today vying for political fame may not find this so favourable. It must also be borne in mind that a man of calculated moves and strategically aligned conversations is not so easily stirred, and to finally confess his divergence so publicly and so clearly oppose the party chairman – and the prime minister – not only takes a lot of guts but also reveals a lot of bottled up angst and despair with the current state of affairs.

It is no secret that many claim Imran is blinded by the helicopter services and kitchen surfaces associated with Tareen's wealth, and the latter's continued dominance in government affairs is a direct cause of the closeness he enjoys with the party chairman. Not only does this go against basic democratic norms, it also perpetuates into an unending abyss of double standards shown by the PTI; a direct consequence of bold statements made in the past.

It is not just Tareen who is at fault, for the various others shouldering him are equally blameworthy and must be put into place. But how? If the head of the organisation himself – who also happens to be our prime minister – is turning a blind eye to this conundrum, then there is no way out of this chaos and the party ends up losing even more of its already degenerating credibility.

Going forward, PTI's workers must reprimand and question the top guns frequently if they are to advocate freedom of expression, because in this case the PTI has once again come out as just another party that revolves around the desires and demands of the party chairman – no matter how undemocratic they may be – with robotic cronies always there at his beck and call. If this culture strengthens further, it will bring in the same system that the PTI has so blatantly rejected all these years, and with that comes the beginning of the end.

PTI is still an entity that ignites hope and passion amidst the minds and hearts of millions, yet with every passing day, that belief falters a little. For Imran and PTI, this frail faith and belief is all that should count, and if it does not, PTI will go down as just another political mishap in the historical imbalance of power politics and misgoverned 'democracies' in Pakistan's history.
Facebook Conversations
COMMENTS
Comments are moderated and generally will be posted if they are on-topic and not abusive.
For more information, please see our Comments FAQ