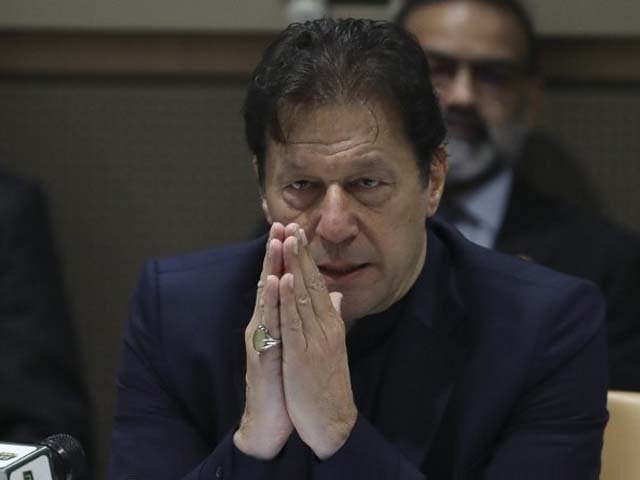 ---
With impromptu statements, Imran offers ammo to critics
The endless screen time Imran is given only provides ample proof of his unending claims and circular statements
---
For Imran Khan, one of the greatest drawbacks of being granted endless screen time is that it only ends up providing ample proof of his unending claims and circular statements. For every U-turn that Imran takes, there is substantial evidence to suggest he may well also have a contrary stance, so much so that he has acceded to not just accepting his flip flop behaviour but has also justified it by terming it as a trait which all great leaders possess. In this context, the prime minister's trip to the United States, for the United Nations General Assembly (UNGA) meeting, has brought to the fore several contrasting statements.

In a session held by the Council on Foreign Relations, there were numerous statements that generated much scrutiny and led to a great deal of backlash in the domestic lobby. Foremost, was his blatant admission of the fact that the Inter-Services Intelligence (ISI) had indeed helped establish terrorist outfits. Whilst there are a wide array of political and defence analysts who may reinforce this notion, it was a needless admission, specifically if we are to rewind just a little to when Nawaz Sharif accepted the involvement of terrorists from Pakistan in Indian attacks. A great hue and cry erupted, frantically led by the then self-proclaimed opposition leader, Imran, on the basis of airing our dirty laundry at an international forum. If the same standards apply, Imran has somersaulted across the shore, perhaps into very dangerous waters.


Officially, Prime Minister of Pakistan #Imrankhan has accepted that Al Qaeda was trained and supported by #PakistanArmy & #ISI and Osama Bin Laden was hidding inside #Pakistan with the support of #PakistanArmy and #ISI.

God Bless Pakistan & @ImranKhanPTI. ISI wont spare him. pic.twitter.com/enP8pRtj6N

— Fawad Rehman (@fawadrehman) September 23, 2019


It did not stop there. On being questioned about the condition of the Uighur Muslims in China, Imran termed it as a matter that could be privately discussed with China, if they deemed it appropriate since China had repeatedly come to Pakistan's aid in times of need and distress. He reiterated China's commitment to helping Pakistan grow economically and move towards prosperity as a justification for their treatment of the Uighurs, that too as part of the same religious obligation that Imran vows to advance, in terms of the Kashmir issue. He stated that China believed in secrecy and privacy, hence, their desire should be upheld and respected. If Imran is so concerned about the Organisation for Islamic Cooperation (OIC) working together to raise a voice for their Muslim brethren in Kashmir, why does this same concern not extend to the Uighurs?

Therefore, Imran should have little to complain about, with regards to the response of the international community, especially from the United Arab Emirates (UAE) and Saudi Arabia, since both have strong economic ties and trade links with India, the worsening of which could prove detrimental to their respective economies. Therefore, their stance of letting India cater to Kashmir as their 'internal' issue gains tract since their economic partner prefers the same secrecy and privacy for the case of Kashmir.

Similarly, in response to a question regarding women rights in Pakistan, and how Pakistan continues to fare poorly in women related indicators, Imran completely went off track and instead began rambling about rule of law and how it was merely a matter of implementing laws and not exactly legislating new ones to protect women. Furthermore, Imran stated,

"So my concept of Pakistan is where our minorities are equal citizens, they have — all their rights are protected. All the women, the weaker sections, the poor people in our country—we have come up with the biggest-ever poverty-alleviation program despite our fiscal constraints."

Lumping women in with the 'weaker sections' in society is a deeply troubling thing to say. Not only did Imran fail to provide a policy outline through which women's rights can be safeguarded, it is clear that he is altogether unaware of the dilemmas faced by women in Pakistan. While answering a question about the victimisation of the minorities in Pakistan, Imran instead chose to give a lesson about Islam.


Imran Khan was asked a pointed question about attacks against minorities especially Shias and blasphemy laws of Pakistan. To which Imran doesn't answer but goes on a monologue about Islam. Blames elites for not being able to implement laws. What have you done to save minorities? pic.twitter.com/saS6uMOEJe

— Aditya Raj Kaul (@AdityaRajKaul) September 23, 2019


Responding to another question, Imran also indiscreetly justified the intervention of the military in civilian matters by deeming it a matter of "moral authority" and a need which resulted from the desire to fill a "political vacuum." For a country that has oft suffered from disastrous decisions asserted by dictatorial regimes, and is still in the initial stages of embracing democracy, such a statement scurrying in from a democratically elected prime minister is worrisome. Additionally, at a forum where national unity should have been exhibited, Imran did not shy away from mocking the status of his political prisoners.

Over the course of his foreign trips, Imran has continued to make massive political blunders that persistently damages his credibility, partly as a consequence of his tall claims, but mostly because of his inability to adhere to diplomatic and international norms. Whilst his charming, casual demeanour may have harnessed support from thousands in his cricketing days, he can no longer steer it to his advantage as a political leader. It is significant that he pays due attention to his experienced aides when moving to address galleries of people, because each and every word counts, not just for the people inhabiting the seats of the arena, but also back home, where his opponents are ready to shred him to pieces.

What must be appreciated, however, is his staunch confidence that translates brilliantly across the screen. But mere confidence without substance will not sustain him in the long run. For Imran, the echoes of his past may continue to haunt him, as he continues to approach the field with his myopic and selfish lens. What he needs is to set a credible standard and then follow through with it, something which Imran has lacked immensely in these past 13 months. If Imran fails to admonish his childish antics, he may find himself in a quagmire of resistance back home.

The only way to salvage what is left of his promises and statements is to extricate himself from his limitless strait of justifications that have hoodwinked him into believing that he is invincible. Because the fact of the matter is, the only immortality that persists is the path leading to the status quo, upon which Imran appears to be treading, slowly but surely, into the pit of his self-constructed defeat.
Facebook Conversations
COMMENTS
Comments are moderated and generally will be posted if they are on-topic and not abusive.
For more information, please see our Comments FAQ