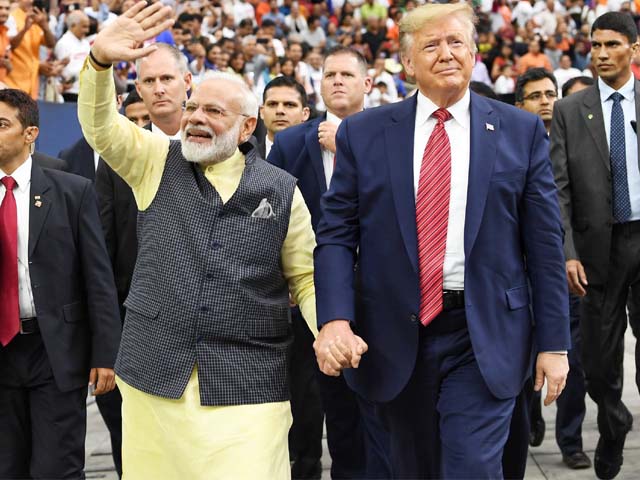 ---
Where does Imran stand in the Trump-Modi bromance?
Imran must bring Pakistan out of denial and recognise that Modi is a force to be reckoned with
---
"Houston, we have a problem." Well, not really. It's more like, "Pakistan, you have a Modi problem." The 'Howdy, Modi!' event, touted as a celebration of the culture and unity of America and India, was nothing less than a grand advertisement and exhibition of the Donald Trump-Narendra Modi bromance – the likes of which one has hardly ever seen before.

The gathering that managed to bring almost 50,000 people to the NRG Football Stadium in Houston, Texas was a radical development on so many different levels. The attendance of luminaries from all sides of the political spectrum – Ted Cruz, John Cornyn, and Steny Hoyer to name a few – not only validated but also confirmed the widespread belief that India features high on the list of long-term American global strategic and economic priorities.

Donald Trump's appearance at the event was the icing on the cake. His showering of praise for Modi and describing the tight bond that existed between India and the United States (US) was enough to erase any doubts anyone ever had in their mind about a relational wrinkle that appeared just a couple of months ago when Trump offered to be an intermediary in resolving the longstanding Kashmir issue – a development that upset way too many people in Delhi at that time.

In an era where personalities and not policies matter in the US, Trump befriending Modi means that the Indian prime minister is the latest entrant to the Trump buddy club that features Vladimir Putin, Benjamin Netanyahu, Prince Mohammed bin Salman, and Kim Jong Un – an elite circle of trust that Trump has managed to create based purely on his raw, impulsive instincts, and against US policy norms and ideals. It sounds ridiculous, but it's true.

At the 'Howdy, Modi!' event, Trump brought up two really sensitive issues and stated that they are common to both India and the US, i.e. border security and the threat of radical Islamic terrorism. His comments received a massive round of applause from those present in the arena. Those comments essentially precipitated any hope that Pakistan might have previously had for Trump intervening in Kashmir or showing any sympathy for the Kashmiris.

The words radical Islamic fundamentalism only point to the fact that Trump has indeed bought into the Indian viewpoint that Pakistan is exporting radical Islamic terrorists into their country. A more tactful president would've been more careful with his choice of words, but not Trump. Since he is a showman, he had to raise these subjects and check the audience reaction, which was resounding, with Modi himself getting up from his chair and appreciating Trump's unbridled rhetoric. The event proved one thing if nothing else – despite Modi and Trump being poles apart as far as their personalities are concerned, it is difficult to tell their politics apart.

Modi is on top of his game. His popularity is surging not just amongst the commoners, but the Indian intelligentsia has also come to admire and support his 'Make in India' slogan – a movement that is quite akin to Trump's 'Make America Great Again.' On the international stage, Modi successfully presents himself as an ambassador of goodwill, and is winning friends all over the world as a result. His gestures, his humility, and his ability to interact are overpowering. His words come across as sweet music to people's ears; his persuasive personality is relentless.

In a word, Modi has pushed himself out of the comfort zone and has made new friends for India. By virtue of his out of the box overtures, Modi is going into this week's United Nations General Assembly (UNGA) meetings armed with confidence and ready to market his country as a suitable location for foreign investment. India is expected to sign several trade deals with the US soon after yet another Trump-Modi meeting today.

Where does all this leave Pakistan? After the Article 370 episode, Islamabad has gone full steam trying to highlight the Kashmir issue at the global level. True, the Kashmiris are hurting, but hasn't Pakistan ridden the Kashmir horse and fell off it several times in the past several decades? How long can Pakistan carry on with this solitary practice of 'enlightening' the world of Indian atrocities in Kashmir? How many more millions of dollars will it take to halt Pakistan's efforts to promote a cause that no one other than Pakistan seems to care about? If anything, the more Pakistan tries to help out the Kashmiris, the more India retaliates and muzzles the poor population of the valley.

Times change and so should nations and their strategies. Yes, Pakistan may have a claim to Kashmir, but is it worth the effort to keep fighting for something that really may never be theirs? Don't Pakistan's teeming millions deserve their leadership's attention and nation's resources instead of them being diverted towards the Kashmir crisis?

Simply put, Pakistan must ease off on its obsession with Kashmir. It cannot carry on with a one-point, obsolete foreign policy agenda. It's now a question of realising the new political realities and adapting accordingly. China, Turkey, and some rich Arab countries are Pakistan's comfort zone. When was the last time an effort was made to forge alliances and create new partnerships with nations and regions that are outside of Pakistan's usual group of "friends"? The level of effort Pakistan has made for Kashmir over the last several years has taken a heavy toll on the country's economy and its image in the comity of nations.

Imran Khan's meeting with Trump yesterday hardly yielded the result Pakistan wanted. Trump offered mediation only if both India and Pakistan consented. We all know that India will never accept third-party assistance, and hence that option is out. The odds of Imran extending an olive branch to Modi at the UNGA are next to none. Having said that, Pakistan needs regional allies because it has issues with all of its neighbours – some geographical and others religious in nature. When will Pakistan shake off unremarkable policies and let go of the demons of the past?

After the 'Howdy, Modi!' show, it is evident that the challenge for Pakistan is to come out of their shell and move past their redundant ideals. Countries succeed and thrive when they find creative ways to survive. The show's organisers came out guns blazing and put their best foot forward to impress upon Trump and the world that India stands with the US as an equal partner in all respects and will do anything to gain the confidence and trust of the world's largest economy.

In these troubled times, it would be advisable that Imran brings Pakistan out of the state of plausible deniability and recognises that Modi is a force to be reckoned with. If anything, Imran should take a leaf out of Modi's playbook. Imran must work with Modi to form an alliance that is geared towards creating a longer-lasting era of peace and prosperity in South Asia. Imran should leverage India's clout on the world stage for the benefit of his own people. But this is not akin to throwing in the towel. In fact, such an endeavour would be an act of great statesmanship. Surely this is a tough task, but then again, 'Uneasy lies the head that wears the crown.' Imran has to learn to beat Modi at his own game.