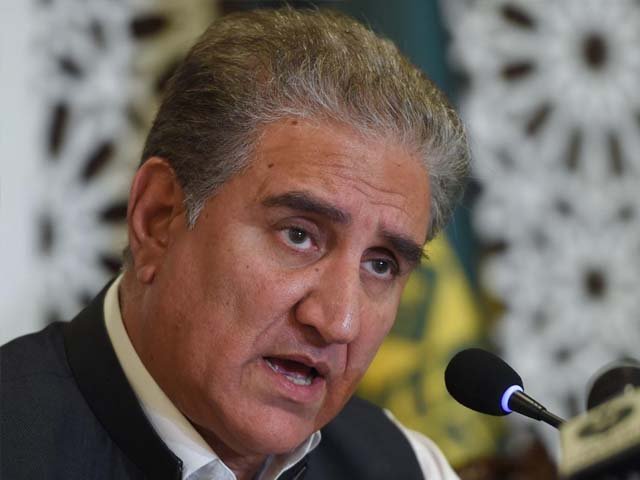 ---
Spilling tea with Shah Mehmood Qureshi: India, Kashmir and the looming 'accidental' war
Before Imran's address at the UN, Shah Mahmood Qureshi discusses the crisis in IoK and the importance of this US trip
---
On an unusually warm Sunday afternoon for late September, the lobby of the Pakistan International Airline (PIA) owned Roosevelt Hotel in midtown Manhattan is abuzz with Pakistani diplomats and American dignitaries; including Senator Lindsey Graham and Zalmay Khalilzad, the architect of the American-Taliban peace deal.

Prime Minister Imran Khan and Foreign Minister Shah Mahmood Qureshi are also in New York City for a packed week of diplomacy, with a particular focus on mission Kashmir, in the build up to the United Nations General Assembly (UNGA) meetings.

On the eighth floor of the Roosevelt, I sat down for an exclusive interview with the man of the moment, Pakistan's Foreign Minister Shah Mahmood Qureshi. He said about Kashmir,

"This is a lull before the storm. Things will explode, they're bound to explode. The way the Kashmiri people's rights are being trampled, there's bound to be a reaction. Don't let this situation simmer. What you have is two nuclear states face to face and anything can trigger an accidental war, which we do not want."

I asked him what can be done to deescalate tensions between the two nuclear states standing on the precipice, as India continues its provocative aggression in Kashmir? His reply was not optimistic,

"I see no room or very little space for bilateral engagement with India. That's why if the world wants things to settle, some sort of mediation or third party facilitation would be required."

The real battle of nerves Pakistan faces this week is whether the international community will prioritize the human rights of the Kashmiri people over the economic dividends that come through friendship with India, a lucrative market of over one billion people. Pakistan's diplomats are playing with a weak hand because India's economic might is a genuine force to reckon with.

However, international public opinion is beginning to turn in favour of Pakistan's narrative as western media outlets report on the ground realities in Kashmir. Moreover, India's image as the world's largest democracy is under a blistering attack via Pakistan's aggressive diplomacy this week.

All eyes will be on Imran this Friday, as he gives the most important speech of his life at the UNGA. Meanwhile, after Narendra Modi speaks at the United Nations, also on Friday, a massive crowd of human rights activists, Pakistani-Americans and Sikhs, are expected to protest the silencing of the Kashmiri people due to the Indian acts of violence.