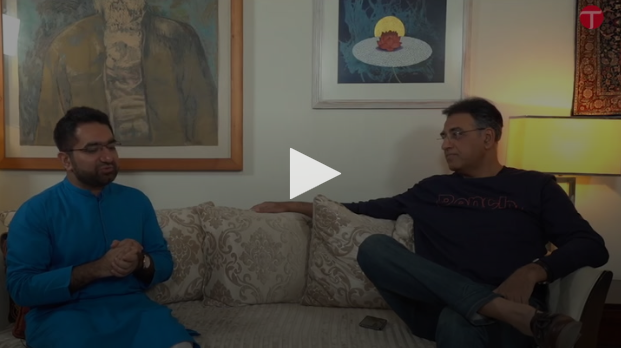 ---
In conversation with Asad Umar: "Pakistan is one of the most difficult countries to run"
Asad Umar talks about Karachi, the 'tabdeeli' agenda and how governing Pakistan brings about unique challenges
---
Interrupting the festivities of his son's wedding, I caught up with the remarkably candid Minister Asad Umar for an interview at his residence in Karachi this weekend. We talked about everything from his substantive reform goals as the Federal Minister for Planning and Development to who's more likely to become a prime minister first, Bilawal Bhutto or Maryam Nawaz. 
"The last time you interviewed me, I was fired after four days," Umar quipped, as we began the interview. "If it happens this time, it'll fall on December 25th, which will be really sad."

Since wedding festivities were in full swing around us, I couldn't resist asking him what requires more compromises, staying in a happy marriage or staying in power as a government. He said,

"If you've married the person for who he or she is and what they stand for you'll be with them through the highs and lows. You will also know when to compromise and when to stand your ground. The same is true for being in the government. If you have clarity on what you want to stand for and achieve, then you know where you want to compromise and when you should say other options are better."

The day before the interview, I spent the morning on Tariq Road and the evening on Twitter, asking people what they would like to ask Umar. Despite his constituency being in Islamabad and the Pakistan Peoples Party (PPP) having a stronghold in Sindh, questions about the governance in Karachi repeatedly came up for him.

"There's no other city in the country which Imran Khan talks to me more about than Karachi. He feels the weight on his shoulders to do something (meaningful) for Karachi," Umar said.

Beyond austerity and stabilisation, everyone now wants to know what the Pakistan Tehreek-e-Insaf (PTI) government has in store in order to transform and reform the country.

"Now we are starting to reach some sort of stabilisation," shared Umar. "There is still a long way to go but soon you'll start to see the implementation of the measures outlined (in PTI's agenda)."