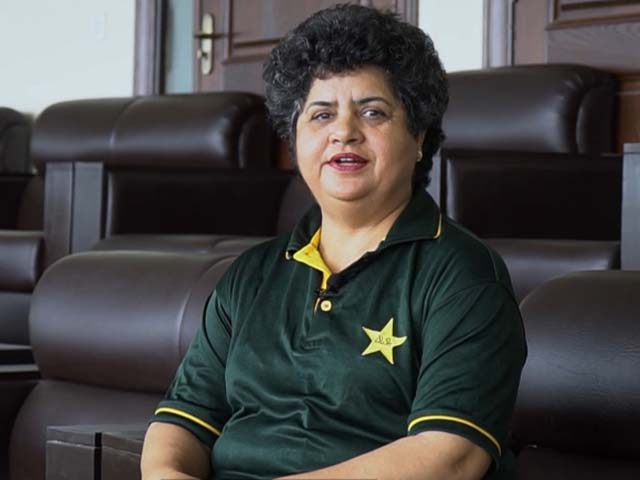 ---
It took 14 years, and a tweet, to finally recognise Pakistan's first female umpire
When Farah started umpiring, people used to laugh at her, ask if her job is just to raise a finger when one gets out.
---
It's strange that when we talk about a certain sport, the first entity we think about is the player, not acknowledging the set-up that gives that person the status of a player. This set-up includes the management, ground staff, the scorer and even people who serve drinks, each role an important part of a player's career. It's never the effort of one individual, it's always team work. 

While watching matches, how many of us take the time to feel the pain of team members who get overshadowed by the players and the game itself. Despite being a fan of sports and a sports journalist myself, I have barely ever paid attention to match referees, scorers and umpires, nor have I ever bothered to look them up, until I heard the story of Humaira Farah.

Many of you might be hearing this name for the first time, but this unsung star from Pakistan has achieved a title not many of us aspire to achieve. She officiated matches when women couldn't even think of opting for sports as a profession in this country and emerged as the first female umpire of Pakistan. The Pakistan Cricket Board (PCB) recently honoured Farah in a tweet, revealing her record for the world to see.


Pursuing doctorate in sports sciences, Humaira has already umpired more than 170 matches

Read more about Humaira Farah, first woman umpire from Pakistan ⏬https://t.co/uma1t2J2Nc pic.twitter.com/MUsO9lj5CA

— Pakistan Cricket (@TheRealPCB) September 11, 2019


Farah has been umpiring since 2005, officiating more than 170 men and women matches in Pakistan since then, and we are hearing about her just now. The PCB and its media team was probably so busy promoting men's cricket that it took them 14 years to introduce this asset to the nation. So what if she is a woman who spent more than half of her life studying sports, overcame all barriers and chose a male-dominant profession? In Pakistan, even players like Sana Mir, having played more than 100 matches and becoming the world's most successful spinner, couldn't get recognition. Can we then expect them to promote sidelined match officials?

Even though it took time, the PCB finally realised Farah's work and gave her recognition. It isn't just PCB; in an interview, Farah stated that the society and her coworkers also took some time to swallow the fact that she is an umpire, or let me put it correctly, a woman too can be an umpire.

According to her, when she first started umpiring, people used to laugh at her and ask her if her job is just to raise a finger when someone gets out. Her view was that when people saw a female umpiring, they concluded that it's an easy job. She said,

"For them, it's just about raising a finger, but for me, it is much more. Do people know that in order to become an umpire you need to be a step ahead of the player. The umpire knows it before the players even realise it."

Farah shared how she studied day and night to grasp all the rules of cricket and appeared in umpiring courses when they were offered for the first time by the PCB in 2005. There were six more candidates in that course and only three passed the final assessment, including Farah, but it was only her who opted for umpiring as a profession while the rest backed off because of the social pressure of getting accepted. And they still think that it is as easy as raising a finger. Really?

When she was qualified to umpire, she still couldn't perform as much as she had to wait for matches she would be called to. Women cricket officially started in 2005 and there were very few women matches that would take place domestically. Farah then had to officiate men's Under 16 and Under 13 matches to keep practicing her skills. She learned to manage her reflexes despite the lack of guidance during the start of her career. Sometimes she used to get injured while umpiring and medical facilities weren't available either. Despite her injuries, Farah used to fulfill her responsibilities until the match ended.

Farah's struggle started the day she decided she wanted to opt for a career in sports. She played hockey in the 90s, when playing any sport was a taboo for a woman in Pakistan. She told me that we used to wear shalwar kameez and a dupatta while playing hockey because trousers were banned for females. She used to wear track pants during practice but had to hide them in her bag. While going home from practice, she used to cover herself and her hockey stick with a chador.

Farah deserves all the appreciation one can give her because not only did she choose a challenging profession but also opened doors for many women in Pakistan wishing to officiate sports. She revealed that after the PCB's tweet, many women called her and met her personally to know more about the profession and how they can join it.

Recently, we've seen female umpires such as Afia Amin and Nazia Nazeer who are taking inspiration from Farah and making their name in the profession. The world is now more accepting of female referees and umpires, with almost every sport moving towards hiring them. The International Cricket Council (ICC) Women World Cup 2017 introduced many female umpires. Now these umpires are officiating men's cricket at an international level. It is important for me to quote the words of Claire Polosak here, the first ever female umpire to officiate a men's cricket match internationally:

"It is really important to promote women umpires and there is no reason why females can't umpire in cricket. It's about breaking down barriers, creating awareness so more females can come into the role."

It is not enough to introduce the country's first female umpire by a single tweet, and that too 14 years late. It is time they make female umpiring a full-fledged career opportunity for women. They should announce central contracts for female umpires so that they don't have to find other jobs and wait for women matches to be held in order to get work. It is also important to promote our female umpires internationally and nominate their names for the ICC umpiring panel so they can also gain recognition like Aleem Dar and Ahsan Raza did.

Lastly, we need to respect and value these women who have served all their lives to make a difference in the society. Their journey is not easy. Don't pass judgments on the basis of gender only because now a woman, with her immense hard work, is capable of declaring you out by just raising her finger.