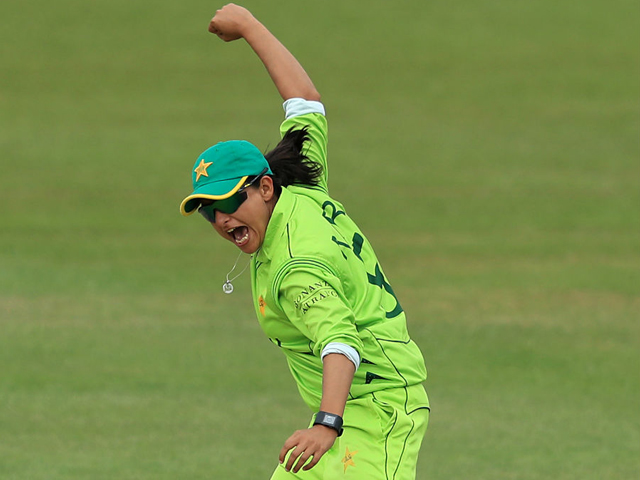 ---
They said women can't play cricket or excel in it – Sana Mir thought otherwise
Her struggle may be unknown to all, her success may seem easily achieved, but nothing could be farther from the truth
---
In Pakistan, who is the first person that comes to a girl's mind when she thinks about playing cricket for a living? You don't have to be a rocket scientist to know that it is none other than Sana Mir, who has been a source of inspiration for thousands of girls struggling to get recognition as sports women in Pakistan.

Mir recently achieved a milestone when she was ranked the number one woman cricketer in ODIs, according to the recent rankings released by the International Cricket Council (ICC).


Sana Mir becomes the first from Pakistan to top the ICC bowling rankings for women's ODIshttps://t.co/Ph1M9tEB4U pic.twitter.com/uzh4mObC5P

— ESPNcricinfo (@ESPNcricinfo) October 23, 2018


This is a feat which is impressive in itself but considering the fact that she's from Pakistan makes this not only an impressive achievement but also a difficult one. I say difficult because girls here do not have the same resources that girls in other countries do. There is lack of basic infrastructure and proper grounds and facilities for these girls to hone their skills from an early age.

Apart from that, due to the gender biases and socio-cultural norms that exist in a strong patriarchal society like ours, the odds of a woman making it into a 'male profession' is already stacked and it is even more difficult when the family does not support the decision.

Considering the hurdles, Mir may have taken a long time to achieve this feat but she has set a precedent for every aspiring girl with a dream. For people in Pakistan, this is a huge achievement but many of us are not aware of what Mir actually went through to attain the number one rank.

Mir started her career as a fast bowler but due to her lack of pace, she had to adapt and evolve into an off-spinner. She herself states repeatedly that it "was a tough decision which left her crying for many nights" as things weren't going right for her in the beginning. However, with perseverance and hard work, this decision proved to be her strength and transformed her into a wicket taking off-spinner.

Mir's struggle may not be known to all, and her success may seem easily achieved, but nothing could be farther from the truth. When she started playing, there were many obstacles that she had to overcome. There was no social media to release footages of her playing so that she could be recognised, there was no facility defined for women cricketers, there was very little or no international exposure, and most importantly, there were limited international tours.


Congratulations #SanaMir for becoming the @ICC top-rated women's cricketer. @mir_sana05 has made her nation proud many a times. The Ex-captain's all-round consistency has been inspiring #Pakistan young girls. Her contributions have been rewarded, rightly. Wish her luck. pic.twitter.com/a6xEEcyND5

— Reema Malhotra (@ReemaMalhotra8) October 23, 2018


I remember the criticism she faced after the disastrous World Cup campaign in 2017, where the team was unable to win any game. I even remember  the time when the entire media was pushing Pakistan Sports Board (PCB) to sack Mir as captain. But to her credit, instead of backing off, she took these hard times as a challenge. Despite stepping down as the captain, she raised her game and did so consistently, such that she was an automatic selection in the squad. In the ongoing 2017-20 ICC Women's Championship, she managed to take 24 wickets in just nine matches averaging at 12.75. Furthermore, she is ranked joint-sixth in the list of all-time wicket takers in women's ODIs.


Proud of Sana Mir! She gave up Captaincy to focus on her game. Proud of our boys in green too. They have true grit.

— Najam Sethi (@najamsethi) October 25, 2018


Mir defined her struggle in a perfect manner in a tweet by translating a verse from the Holy Quran:


Indeed ! pic.twitter.com/k0BOnPYiDj

— Sana Mir ثناء میر (@mir_sana05) October 26, 2018


Even today if you ask a woman cricketer about the difficulties she faced, it would start from family restrictions, to not being culturally accepted, to the laughable amount of money they make as they spend more on their practices. Given all these hindrances, it may repel some from playing cricket professionally but seeing Mir's success may just motivate a girl to go out and achieve her dream, and every hurdle would prove to be worth it.

Moreover, all is not lost as far as recent developments in women's cricket are concerned. Recently, the inclusion of former captain of Pakistan women's team, Urooj Mumtaz, in PCB's newly formed cricket committee proves that the new PCB management has a plan to expand women's cricket and they are giving a voice to the players through her.

Another cricketer broke new ground in the field of commentary when a former member of the national team, Marina Iqbal, recently started her new career as a commentator during the Pakistan and Australia series, becoming the first Pakistani woman to do so.


A new chapter on field. Off to Malaysia to cover Pakistan Australia women Series as A commentator. Its a huge honor for me.
Follow all the matches via Live Streaming and hear me out.#cricketcommentary#PakWvsAusW pic.twitter.com/UNvo1Rz6MU

— Marina Iqbal (@MarinaMI_24) October 16, 2018


These may seem like small steps in the progress of women's cricket but if these trends continue, the potential impact may be priceless and the future of women's game may finally be bright.
Facebook Conversations
COMMENTS
Comments are moderated and generally will be posted if they are on-topic and not abusive.
For more information, please see our Comments FAQ