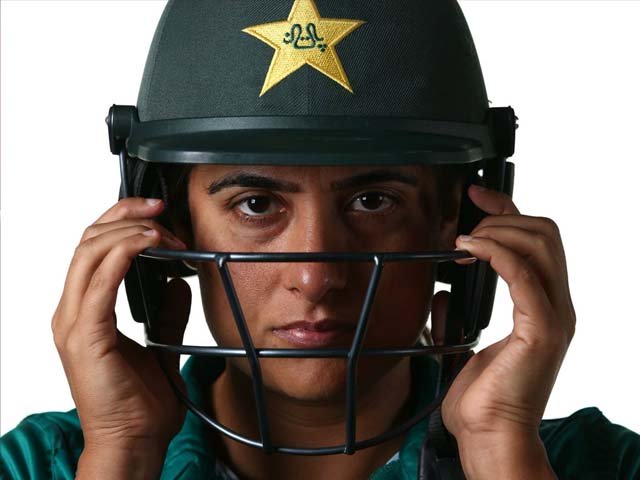 ---
The age of Sana Mir in a man's world
Mir's ascendancy to the summit is remarkable given that she outperformed some of the biggest names in women's...
---
We have entered an age where women can be leaders in every field and research shows that women are outperforming men in many professions. Organisations are encouraging the employment of female bosses because 40 years of research have proved that women are better managers.

The trends are also changing in a country like Pakistan, where more and more women are being given their rights and the liberty to choose their own profession. Yet, it seems that the field of sports still remains off-limits for many women in Pakistani families. But I believe that this mind-set won't last long because we are living in the age of Sana Mir.


Congratulations, @mir_sana05!

She's just taken her 147th ODI wicket meaning that she now has more wickets in the format than any other female spinner in history 👏 👏

Follow live 📝: https://t.co/9WvnQwDlS7
Watch live 🎥: https://t.co/nVRkNN4UK8 pic.twitter.com/TiNjpm9dVI

— ICC (@ICC) May 12, 2019
Sana Mir – from a street cricketer to the most successful women's ODI spinner

Read More ➡️ https://t.co/zLAQRGRlbI#BackOurGirls #SAWvPAKW @mir_sana05 pic.twitter.com/ydi0kLg5go

— Pakistan Cricket (@TheRealPCB) May 12, 2019


People tell me that Mir is a cricketer who represents the Pakistan women's team. But when I see her performances, her passion and her shattering of records, she certainly seems to be more than just a cricketer.

Mir is a rebel. She is a role model. She is a fighter. She embodies the fire which burns in the heart of every woman who wants to achieve something. Her drive and ambition make women and men alike believe that nothing is impossible.

Last week, Mir achieved a milestone which was considered impossible for a Pakistani cricketer to achieve till a few years ago. She emerged as the best ODI spin-bowler in the history of women's cricket by picking up 147 wickets in 118 games. In my opinion, the achievement of this milestone has not received its due appreciation in Pakistan. Mir's ascendancy to the summit is all the more remarkable given that she outperformed some of the biggest names in women's cricket, such as Jhulan Goswami from India, who's salary is four times than Mir's.


From strength to strength, what a champ you are @mir_sana05! We are all so proud of your achievements! You're an amazing role model for women (and men) in Pakistan and around the world! (And makes that square leg six I hit off you in Melbourne so much more special! ☺️✨) https://t.co/VFrGIaskUg

— adnanmalik (@adnanmalik) May 13, 2019
Congratulations to women Pakistan cricket team wonderful T20 win #PAKvSA excellent all round performance @CoolNidadar & brilliant batting @maroof_bismah good bowling by @mir_sana05 really proud to see how amazingly women cricket growing all the best ladies! 🇵🇰 @TheRealPCB

— Kamran Akmal (@KamiAkmal23) May 15, 2019


Mir's feat is undoubtedly a proud moment for Pakistan, especially since the world's best spinner is coming from a country which has been among the bottom ranked nations in the International Cricket Council's (ICC) women's cricket rankings for the past few years. Mir's stunning accomplishment has left behind players from some of the best teams in women's cricket such as Australia, England, New Zealand and South Africa. Cricket lovers and pundits from all around the world can't help but admire and appreciate the female cricketers of Pakistan, but, unfortunately, we ourselves barely acknowledge the achievements of our own women.

Of course, cricket is in the blood of every Pakistani. The popularity of the game can be determined by the number of people that play the game in almost every street in Pakistan. However, our love for the game seems biased and gender specific. When gender becomes a discriminating factor in any sport, it certainly ends up restricting the scope of the game. We don't even show half of the passion and excitement to watch our women's cricket team play that we show for the men's team.

Although, it would be interesting to note that our women's team recently performed much better against South Africa on their turf, than their male counterparts did. The Pakistan women's team secured a record win by a margin of eight wickets in the first ODI. They tied the ODI series 1-1 and currently lead the T20 series 2-1, after accomplishing their highest ever successful run chase in a T20 tournament. Consequently, the men's team crumbled in South Africa earlier this year, losing the Test, ODI and T20 series. The fast and bouncy pitches in South Africa baffled our men, but in the same conditions our women's team is emerging victorious.


Pakistan Women beat South Africa by eight wickets, with 35.2 overs to spare! 🔥

It's their biggest-ever ODI win in terms of balls remaining, and their first-ever victory in South Africa. An incredible performance! 👏#SAvPAK SCORE ➡️ https://t.co/dTn3eTD39C pic.twitter.com/KiVkg7l3fI

— ICC (@ICC) May 6, 2019


Probably what the women's team lacks is a big crowning achievement like what the men accomplished in the 1992 World Cup, the 2009 T20 World Cup and the 2017 Champions Trophy. As a result, the records in women's cricket don't seem to matter to the masses in Pakistan. However, we must keep in mind that Pakistan's women's team started playing cricket about 50 years after the men. Additionally, the number of matches the women play isn't even 20% of what the men get to play in a year, while the investment in women's cricket and in developing its infrastructure in Pakistan is next to nothing. We hardly have any female cricketing legends like the great Imran Khan, Zaheer Abbas, Javed Miandad or Wasim Akram.

Ultimately, women cricketers have to become their own role models. We must realise that despite numerous hurdles and failures, Pakistan cricket has found an outstanding role model in Mir. She is an exemplar who will inspire many generations of cricketers to come, especially female cricketers.

Even in today's day and age, we still think twice before acknowledging and appreciating a woman's achievement, questioning whether or not it abides by our societal norms and our internalised customs. Honestly, it is difficult for our society to digest the notion of women wearing trousers and t-shirts while playing in big grounds in front of a crowd. But if we sidestep such conventional ways of thinking, we might truly appreciate the magnitude of Mir's record. As she herself has said:

"This record is very important for me because it will open a lot of opportunities for girls out there, back home, especially in breaking the barriers in their own minds that they can be the best in the world."

We must realise that Mir's cause is bigger than our norms and supposed 'traditions'.

We must applaud this achievement on public platforms without any hesitation. If a woman can become the best in the world without the provision of basic facilities, and despite not having any role models to follow, she deserves our applause. If a woman can become the best bowler in an age of cricket where the rules are more favourable for batting, she deserves appreciation. A woman who proved that if you have the talent then you can rule the world, regardless of your gender or which country you belong to. In my opinion, Mir is a great ambassador for the country and I proudly honour her achievement because she has proved to the world that if a woman wants to pursue her dreams, nothing can stand in her way.