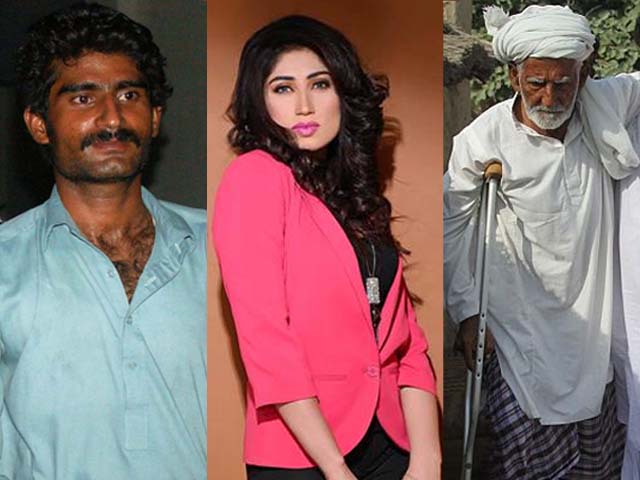 ---
The Qandeel Baloch story: Using the law of forgiveness as a license to kill
The problem does not rest solely on the shoulders of old and exhausted families like that of Qandeel's.
---
In some surreal news, Qandeel Baloch's parents have taken steps to essentially cancel her case. Should they be successful, Qandeel's story will most likely take the same disappointing direction as those of countless other innocent women who fell victim to a deafening patriarchy.

According to an affidavit filed with the Multan courts, Qandeel's parents have asked the court to not only dismiss the murder charges against their sons, Waseem and Aslam Shaheen, but have also requested to the court to wrap up the case as soon as possible. This is because not only have they forgiven him, but they also believe that Qandeel's death does not fit the legal description of an honour killing.


In a tragic turn of events, the parents of #QandeelBaloch have submitted an affidavit in a Multan court saying they have pardoned their sons who were responsible for the tragic murder of Qandeel in her own home, termed as "honor killing" by her brother Waseem in 2016. pic.twitter.com/rt0dEUfbSy

— Raheel Rao (@RaheelARao) August 21, 2019


At the same time, however, the parents continue to insist that they have not forgotten their daughter and claim that, having lost one child already, they don't want to lose anymore. Hearing their claim fills me with sympathy for a brief moment thinking about these old and impoverished parents who had to walk through hell on earth. But then I'm reminded that their son is a self-professed murderer who has not only confessed to murdering his sister for bringing dishonour to their family name, but has continued to show zero remorse.


Keep murdering your sisters, because your fathers will keep forgiving you. #QandeelBaloch

https://t.co/uUGItyGLE8

— Mahwash Ajaz 🇵🇰 (@mahwashajaz_) August 21, 2019


Legally, Qandeel's parents' devastating about-face on the issue is deeply problematic for several reasons. Firstly, it ruins the progress of the past three years. This case, which had been moving at a glacial pace already, took three years to make it to the courts. Since then, there have been 55 hearings, the case investigation officer has been replaced four different times and one attempt has already been made by the parents to have the case dismissed.

All of this chaos could have been avoided if only, instead of Qandeel's family, the police had stepped into the shoes of the complainant. Especially when the law, which was changed shortly after Qandeel's death, specifically provides for the possibility of the police, instead of the family, representing the victim to pursue a case against the accused. Had the police taken over Qandeel's case from the start, we would not be facing the current situation where the victim's family has now changed their mind and wants to forgive their family members who are responsible for killing the victim.

Back in 2016, Qandeel's parents had been very vocal in a call for justice for their daughter. The father had even thrown his support behind the idea of his son facing the death penalty. Even though they have changed their mind now, I remain reluctant to blame the parents for this decision — a decision that, I think, is more complicated than it appears.


Must be a conflicting position for her parents to be in. Forgiveness and grief are so much more complicated than love. However, legal loopholes allow practices like honour killing to prevail in society, which should be condemned. This news is heartbreaking. #QandeelBaloch pic.twitter.com/BW7FkkAnGu

— Zaofishan Qureshi (@zaofishan) August 22, 2019


Most of us vividly remember the immense international outrage and the local public's appetite for justice when Qandeel was murdered in July 2016. However, what most of us don't realise is that, in the three years since her death, there has been an increase and not a decrease in the number of Qandeels in our country. According to a 2017 Human Rights Watch report, the stiffer punishments and laws that were put in place after Qandeel's death have done little to deter the crime of honour killing.

Clearly then, the problem does not rest solely on the shoulders of old and exhausted families like that of Qandeel's. The problem is within our society which subtly sanctions honour killings, giving the impression that there's nothing wrong with killing its women. The problem is within our massively backlogged justice system. This convoluted system subliminally pressures families into withdrawing their cases midway since opting for forgiveness and peace seems much more preferable than spending the rest of one's life on a seemingly futile quest for justice. The problem is with those who treat Pakistan's laws of forgiveness as a license to kill.


That's exactly we have been fearing, justice delayed is justice denied. When you are poor, disabled, old, dependent on children, threatened by remaining sons, this was bound to happen. #qandeelBaloch https://t.co/psRXK5QS4w

— Nighat Dad (@nighatdad) August 21, 2019


Qandeel's case is currently being heard by a Multan model court which plans to announce its verdict within three months. In the next few days, we will find out what the judge has decided regarding the parents' application to have the case dismissed. And although the cautious optimism so many of us felt three years ago has long left us, there remains a shallow, fleeting sense of hope that sanity may still prevail.