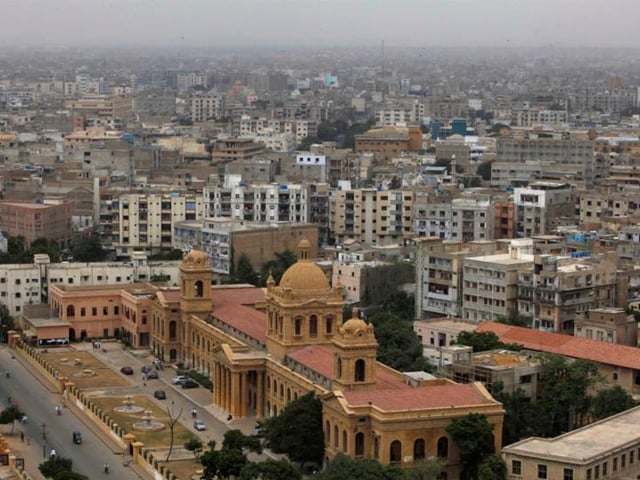 ---
Karachi, a story of neglect since time immemorial
The constant tussle between the provincial government and local bodies has resulted in complete chaos.
---
Karachi has been a story of neglect since time immemorial. Perhaps the only sincere effort that was done to improve the infrastructure of this great city was during General Pervez Musharraf's time when the then mayor of Karachi, Naimatullah Khan, and later on Mustafa Kamal, had tried to restore the glory of Karachi.

For the first time, the denizens of Karachi watched their city beginning to evolve into a thriving metropolis. The 'I own Karachi' initiative, conceived by Kamal and his team, was a brilliant idea aimed at encouraging citizens to be more active and responsible members of the city.

Then came the elections of 2007. The entire local bodies system was rolled back and the city of Karachi descended into chaos, leading to a systematic destruction of its infrastructure, from which it has never recovered. The 18th amendment served as the final nail in the coffin, restricting the federal government from intervening in the affairs of the provinces, hence giving a license to those in Sindh to do as they pleased.

On the other hand, Punjab is privileged to have been governed by visionaries. From Shehbaz Sharif to Chaudhry Pervaiz Ilahi, the chief minister's office in Punjab has been actively delivering services to the people of the province, transforming these urban centres. Lahore has seen rapid development under both the Pakistan Muslim League-Nawaz (PML-N) and Pakistan Muslim League-Quaid (PML-Q) governments. The projects initiated during their tenure were sustainable, aesthetically-pleasing and practically viable. The citizens of Lahore have benefitted the most from the work carried out as a result of the Public Service Development Projects (PSDP) including an improvement in the road network, the mass transit system, rescue services, solid waste management and education. The education system in place in Punjab is far better than the one which has been implemented in Sindh and Karachi. The government of Punjab has a sustainable model in place for delivering timely services to the people of the province which is no where to be seen in Sindh. While we in Sindh survive on drives and campaigns, they have a structured system of PSDP throughout the year.

The prime reason for such a paradigm shift and this stark contrast between Punjab and Sindh is the political muscle the province has enjoyed during the tenure of most federal governments. The stranglehold which the Pakistan People's Party (PPP) has had on Sindh, and Karachi in particular, has led to a total breakdown of systems and services. On the back of a rural vote bank, the PPP get to control the urban centres like Karachi. This has led to the PPP installing an aging chief minister like Qaim Ali Shah, or someone like Murad Ali Shah who, despite being competent and highly educated, is still helpless because he is answerable to the PPP leadership. As a result, Karachi has suffered at the hands of inept, uniformed and short-sighted policies which have led to the city representing a confluence of bad ideas.


Sindh Chief Minister Syed Murad Ali Shah visits Under-construction Tipu Sultan Road Underpass, Haider Ali Interection. pic.twitter.com/2x7PubWaDg

— Sindh Chief Minister House (@SindhCMHouse) July 21, 2019


A brief review of the current plight of Karachi, especially in light of the progress in Punjab, can be an eye-opener for those in the corridors of power.

Water and sanitation

The K-IV project, which was supposed to provide Karachi with 26 million gallons of water has been practically shelved. The fact that after 12 years of trying to get this project off the ground it still hasn't seen the light of day means that it is unlikely to solve Karachi's water woes anytime soon. As a result, the people of Karachi are either surviving on the limited supply that is being provided to the city or are relying on water tanker services. The fact that Pakistan's economic hub is struggling to provide clean water to its residents should be an immediate cause for alarm. This problem becomes all the more complicated when coupled with the fact that Karachi's outdated and depleted sewage system requires a major overhaul. Unfortunately, neither the city government nor the provincial government seems to be interested in remedying the situation. Since the concerned minister and mayor are enjoying an unlimited supply of water tankers at their posh residences in Karachi, why would they be concerned?

Solid waste management

Despite having a Chinese contractor on-board, the massive piles of garbage that have come to define the city continue to 'decorate' the landscape. Bringing in foreign contractors to solve Karachi's garbage problem will not work if there are no effective policies in place. We are relying on cleanliness drives instead of trying to put forth sustainable and long-term solutions. Contrast this with the garbage tax which is set to be implemented and the Waste Management and Rural Sanitation Project (WMRSP) that has been launched in Punjab.

Infrastructure and development

The roads, underpasses and fly overs that are being built by the provincial government are of substandard quality and their construction has little to no involvement of urban planners and traffic engineering experts. A great many of these projects come across as publicity stunts rather than attempts at genuine public service. A lack of urban planning continues to further cripple an already ill-planned city. The gulf between Punjab and Karachi is made all the more evident given that a new development policy for Punjab has been unveiled, while the Rs40 billion development package which has been granted for Karachi restores little hope for Karachiites given the city's poor track record. Simply allocating more funds will not alleviate the entrenched problems which continue to halt development projects in Karachi.


Is there any beautiful green place left in Karachi where I can go hang out? City just a broken brown mess in general. Building fronts haven't been painted. Poles and lines tangled. Roads falling apart. Why do we design such shit highrises?

— Mahim Maher (@MahimMaher) May 17, 2019


Mass transit

Work on Karachi's federally-managed green line bus project is still underway and has been subject to a series of delays. The Sindh government has failed to deliver even a single mass transit project since 2007. Uber and Careem are the only modes of transport available if one has to opt for a dignified mode of travelling within the city. The existing mini bus system is dilapidated and must be replaced with a comprehensive mass transit system by employing the same work force to run modern bus system.

What needs to be done

Although the chief minister of Sindh seems eager to help reform Karachi, he probably has a team of incompetent officers and administrators on board. Instead, he should try to engage qualified consultants, architects, urban planners and traffic engineering experts before initiating any public service project in the city. When an industry is sick, we bring in qualified experts for its revival. The same approach will have to be adopted by Murad if he wants to serve the people of Karachi, and meritocracy must be introduced in all public service departments of the government of Sindh.

Karachi is an industrial hub, a port city and home to migrants from all over the country. Jahangir Tareen's recent statement regarding introducing a new local government system in Sindh provides a little ray of hope for the people of Karachi. The constant tussle and friction between the provincial government and the local bodies has resulted in complete chaos in the province, and consequently in Karachi. A change is therefore badly needed.