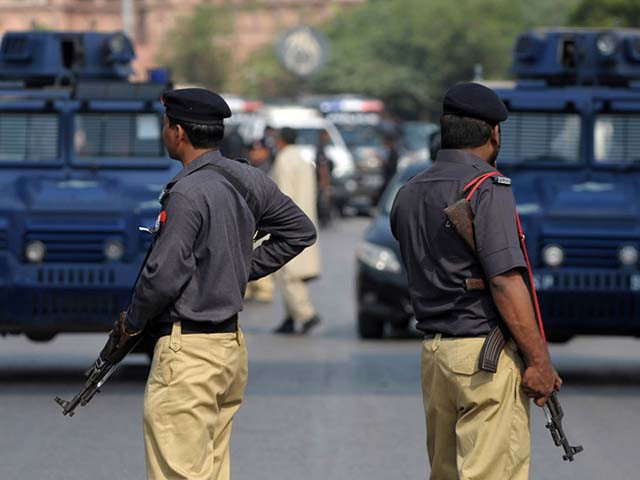 ---
Can Karachi ever rid itself of the street crime epidemic?
It is imperative that a mega city like Karachi has its own police force separate from the Sindh police
---
Most of us living in Karachi either know someone who has, or have personally, been at the receiving end of street crimes in the city. In light of the recent surge in cases, Sindh Chief Minister (CM) Syed Murad Ali Shah has instructed all the law enforcement agencies to increase their efforts to curb this menace before it spirals out of control. But while the CM has presented electronic tagging as a possible solution, such measures fail to address the true root of the problem. Several factors have resulted in this sudden surge in violent crimes.
Rampant inflation and unemployment are becoming two of the primary reasons as to why individuals who are otherwise not involved in criminal activities choose to procure a fire arm and carry out robberies in order to make a quick buck. Some habitual criminals are also speeding up their activities under the garb of the rising prices of commodities.

Furthermore, it appears that our law enforcement agencies have misplaced priorities. At a time when they should be focused on rigorously checking pillion riders on motorbikes, they are busy carrying out campaigns against fancy number plates and tinted windows instead, and providing VIP protocols for the rich and powerful. Given that the Sindh police are already understaffed, perhaps for now they should focus on the incidents putting citizens in harms way in the metropolis. However, even if a street criminal is caught (either by the public or by the police), a weak investigation and prosecution process means that they are out on bail in no time and ready to continue with their criminal activities. This is a hapless situation where criminals are empowered enough to have no fear of the law and feel as though they have a clear assurance that even if they get apprehended, they will be out of jail through the legal route. According to police authorities, out of the 7,179 people arrested in recent months, 3,666 were released on bail while 3,513 were acquitted.
The involvement of serving and former policemen in street crimes is also a dangerous trend. Such individuals know all the ins and outs, protocols and have connections in the police to avoid being caught. When a serving policeman is colluding with criminal gangs, this weakens the police institution altogether.
Additionally, the constant influx of undocumented Afghan refugees in Karachi, and given their poor economic conditions, has meant that their involvement in crimes in the city has also grown with time. Undocumented criminals are harder to trace, and therefore their crime sprees continue until they are caught red-handed.
According to the previous Karachi police chief, Inspector General Imran Yaqoob Minhas, many of the crimes being committed in Karachi are done by people who do not reside in the city, and are therefore able to conveniently slip away and escape to their towns and villages. The presence of the beggary mafia, which comprises mostly of non-locals on the streets of Karachi, is also adding to the crime statistics as they are actively or passively involved in several criminal activities.
A little comparison with other major cities of Pakistan shows just how big the difference is in terms of street crimes across the country. Lahore and Islamabad, despite having their own fair share of crime, are still below Karachi on the crime index. Rates are far lower in these cities than in Karachi for the main reason that the police force deployed in those cities comprises primarily of locals and not individuals belonging to other cities and provinces. It seems that the Punjab police force is also more organised, disciplined and ruthless when it comes to nabbing criminals. Karachi could perhaps replicate the safe cities project being implemented in Lahore and Islamabad.
Now that we have discussed the roots of the problem, we must also address the possible solutions, starting with holding the police force accountable. The station house officer (SHO) of any given locality is fully aware of the criminal activities being carried out in his jurisdiction. He is also aware of the criminal gangs that operate in his precinct. If the SHOs are held accountable and a thorough investigation and audit is carried out, the link between them and the criminals will be broken. Honest police officers are needed to manage the police stations of the most troubled spots. Also, basic sense dictates that in order to apprehend street criminals, Karachi desperately needs investment in smart surveillance practices, and CCTV cameras.
Most importantly, street crimes must now be considered an act of terror and be regarded as a non-bailable offence. Street criminals are misusing the loop hole in our prosecution system to avoid being tried in a court of law and are therefore carrying out their activities without any repercussions. The government must also put an immediate ban on the sale and purchase of used phones without proper documentation (sales receipt and phone box) in order to limit the ability of cellphone snatchers to sell the stolen phones.
Lastly, it is imperative that a mega city like Karachi has its own police force separate from the Sindh police. Educated young men and women must be inducted into the force without any political intervention, and there should be a system of accountability similar to the one that exists in the Pakistan Army.
It goes without saying that many of the problems which lead to street crime in Karachi cannot be addressed overnight, and many of the solutions require the commitment of both the police personnel and Pakistan's policymakers. But all these issues withstanding, the fact that robbers can block the Korangi causeway and loot over 100 people is simply unacceptable. No amount of mismanagement and lack of resources can excuse such incidents and if we fail to act now, such crimes will only prove to be the tip of the iceberg.