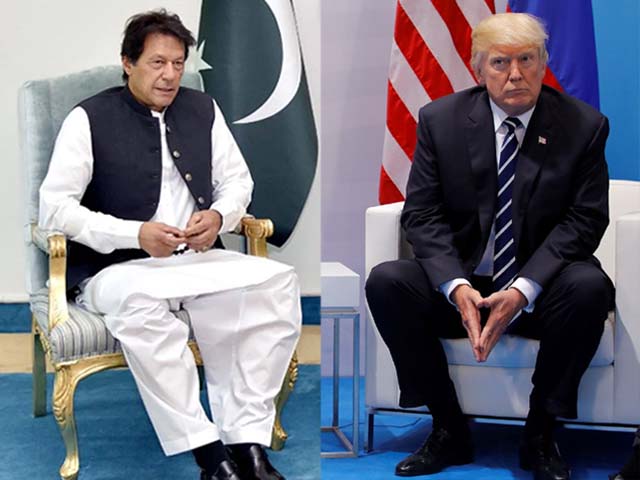 ---
Given the recent spat and strained relations, how will the Imran-Trump meet unfold?
It could either help Pakistan stay afloat, or it could just be a show of solidarity towards regional security.
---
Hoping to assuage strained bilateral relations between the United States (US) and Pakistan, Prime Minister Imran Khan's visit to Washington later this month has been met with enthusiasm from both sides. Despite the initial confusion regarding the visit, the official White House statement highlighted that the focus of Imran's maiden visit will be on 'strengthening cooperation' in pursuit of regional security and peace; its vagueness unsurprisingly echoing previous visits by Pakistan's premiers.

What will undoubtedly be of interest is the sight of Imran and President Donald Trump finally coming face to face after their tense exchange on Twitter last year.


The United States has foolishly given Pakistan more than 33 billion dollars in aid over the last 15 years, and they have given us nothing but lies & deceit, thinking of our leaders as fools. They give safe haven to the terrorists we hunt in Afghanistan, with little help. No more!

— Donald J. Trump (@realDonaldTrump) January 1, 2018
Of course we should have captured Osama Bin Laden long before we did. I pointed him out in my book just BEFORE the attack on the World Trade Center. President Clinton famously missed his shot. We paid Pakistan Billions of Dollars & they never told us he was living there. Fools!..

— Donald J. Trump (@realDonaldTrump) November 19, 2018
Trump's false assertions add insult to the injury Pak has suffered in US WoT in terms of lives lost & destabilised & economic costs. He needs to be informed abt historical facts. Pak has suffered enough fighting US's war. Now we will do what is best for our people & our interests

— Imran Khan (@ImranKhanPTI) November 19, 2018


A quick recap

Trump's vocal criticism last year of Pakistan's alleged record on counter-terrorism and failure to assist the US prompted a speedy response from Imran, who reminded him of the great human and economic losses suffered by the country during the war on terror. Despite longstanding intelligence and military cooperation, including Pakistan's provision of key logistics routes into Afghanistan for US forces, Trump's claim that Islamabad knew the whereabouts of al Qaeda leader Osama bin Laden marked a definitive blow to the nations' steadily deteriorating relationship. The Trump administration's cutback of military training programmes for officers in Pakistan, alongside cancelling reimbursements from the Coalition Support Fund (CSF) are what the US deems to be pressurising tactics, aimed at compelling Pakistan to change its behaviour.

Since then, Pakistan has been teetering on the brink of bankruptcy, with plummeting foreign exchange reserves, a stubborn trade deficit, and its currency at an all-time low against the dollar. Its subsequent reliance on the International Monetary Fund (IMF) and friendly nations for loan packages has perhaps led the US to reconsider its retributive stance, aware that any bailout could go straight into Beijing's pockets. Therefore, urging Pakistan to stay committed to the Afghan peace process remains as high a priority as ever, especially since the Taliban have regained considerable territorial control and violence in the country has worsened. Consequently, rebuilding ties with its historic ally has become an appealing prospect for Pakistan, with mutual acknowledgment that their relationship is on the mend once more.

What to expect from the visit

Imran's upcoming visit is expected to entail discussions on security, energy and trade. Pakistan's recent involvement in the Afghan peace process, including hosting talks in Bhurban last month, has proved to observers in Washington that its influence can facilitate discourse between the North Atlantic Treaty Organisation (NATO)-backed Ashraf Ghani government and the Taliban. If indeed this is evidence of Pakistan's 'changed behaviour,' then a productive meeting between the two leaders could pave the way for a resumption in dialogues about defence; possibly leading to Pakistan becoming eligible to obtain reimbursements from the CSF.

As Pakistan navigates its way through an economic crisis, it must foster an environment that attracts more foreign direct investment (and not just foreign aid), which will come with security, improved industry, an increase in exports, and several other domestic reforms. It must be noted that bilateral trade between the US and Pakistan reached a record high of $6.6 billion last year. Subject to Pakistan implementing further economic reforms, US investment could continue to rise. Although the specific agenda of Imran's visit has not been made public yet, onlookers are hopeful that both countries will be able to look past recent hiccups and appeal to their long-term common interests.

The personalities of both leaders have captured international attention, with fleeting similarities often being drawn between their unconventional backgrounds as celebrities and their competence as politicians. Given their contrasting charismas, it will be interesting to observe the dynamic between Imran and Trump – especially considering the latter's tendency to flout presidential etiquette and develop bonds with even the most unlikely of characters (such as Kim Jong Un). Imran's sobriety matched with Trump's brashness could either help strike some useful dialogue that could tangibly improve Pakistan's economic trajectory, or it could be nothing more than a show of solidarity amidst the countries' continued partnership in regional security. In an era of multi-polarity, with power being distributed amongst old, new and rising giants, Pakistan will need to maximise its support from a range of allies in order to stay afloat. Heated Twitter exchanges aside, Imran's visit to Washington affirms this need and also demonstrates America's eagerness to retain its diminishing influence in the continent.
Facebook Conversations
COMMENTS
Comments are moderated and generally will be posted if they are on-topic and not abusive.
For more information, please see our Comments FAQ