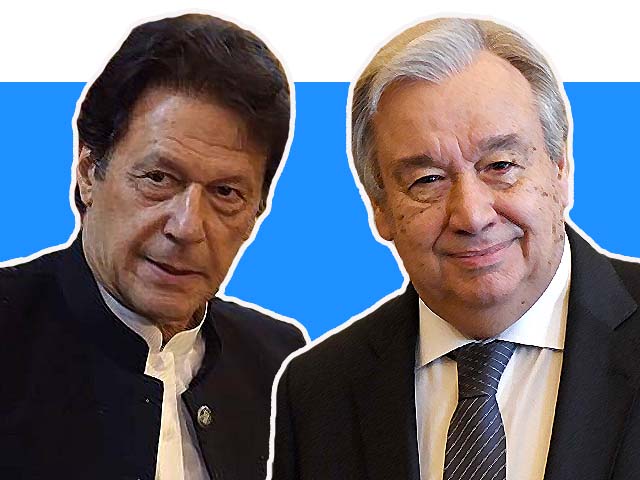 ---
What to expect from Antonio Guterres' Pakistan visit
The safe repatriation of Afghan refugees remains the official focus of discussion for Guterres at the conference
---
United Nations (UN) Secretary General Antonio Guterres will arrive in Islamabad tomorrow, February 16th, to attend an international refugee conference that marks over 40 years of Afghan refugees in Pakistan. The UN chief will also meet Pakistani leaders for talks on matters of mutual interest, giving Prime Minister Imran Khan an opportunity to get international backing on the issue of Kashmir. But in light of Pakistan's long-established mass deportation of Afghan refugees, can it truly claim the moral high ground on Kashmir?  

Aims of the conference

Since 1979, Pakistan has hosted an official number of 1.4 million refugees who fled from Soviet occupation in Afghanistan. Tomorrow, Pakistan will host delegates from 20 countries in collaboration with the UN High Commissioner for Refugees (UNHCR) for a two-day conference. The conference is coming at a critical juncture amid ongoing peace negotiations in Afghanistan, which will bring long-overdue attention to the important issue of displaced Afghan civilians. Guterres will deliver a keynote address that is expected to bring fresh impetus to the cause for voluntary repatriation of Afghan refugees, compelling international donors to make good on their promise to support the host countries, Pakistan and Iran, in this operation.

As prospects for peace and stability in Afghanistan remain uncertain, refugees are invariably questioning how they can be safely reintegrated, and whether they would have access to livelihoods, health and education upon their 'return' (noting that many – including hundreds of thousands of undocumented Afghan refugees – were born in Pakistan). A series of high panel discussions during the conference are likely to address this. But how effective will they be if they fail to address a key issue that casts Pakistan's treatment of refugees in a very different light?

The darker side to Pakistan's refugee policy

As home to one of the largest refugee populations in the world, the UN has praised Pakistan for its "exemplary compassion, generosity and resolve in hosting Afghan refugees for the past four decades". Human rights groups have nevertheless condemned Pakistan for its mass deportation of over half a million Afghan refugees, in what was labelled as "the world's largest unlawful mass forced return of refugees in recent times". The UNHCR was accused of being complicit when it handed out cash to refugees who voluntarily returned without accurately informing them of the safety conditions in Afghanistan. The agency's silence on many who were evicted following threats and abuse from police demonstrates the waxing and waning nature of support that Afghan refugees receive from the international community.

Reconciling hypocrisy

Guterres will also visit Gurdwara Kartarpur Sahib, a symbol of Pakistan's efforts to foster peace with India. This will undoubtedly present an opportunity to address the countries' tensions over Kashmir after it was annexed by Indian forces last year and has since remained under military lock-down. Pakistan's hopes to capitalise on the UN's authority are unlikely to materialise though, given the Security Council's lack of diplomatic involvement in Kashmir and its reluctance to upset an increasingly powerful India. But this also draws attention to the dichotomy that exists in Pakistan's own attitudes towards oppressed peoples, both abroad and at home. Pakistan's discourse on Kashmir appears to be rooted in the respect for the dignity and rights of its citizens, yet it fails to uphold such values in its treatment of Afghan refugees (and minorities in general).

One would be hard pressed to find any country in the world that applies a consistent set of morals in all its political pursuits. The predominant realist view is that foreign policy-making is amoral at best, based entirely on interest-driven calculations and the regular trade-off between values and material gain. So, should we forgive Pakistan for its selective morality over the issue of Kashmir and its policies on refugees? The problem arises when Pakistan's reputation for magnanimity blinds us from acknowledging the stark realities that thousands of civilians currently face at ground-level. Crying against the harsh treatment of Muslims elsewhere, whilst raising no voice for those being forced to return to an unsafe land, effectively silences and delegitimises the suffering of the latter. Although the prime minister had pledged to grant citizenship for all Afghan refugees born in Pakistan, his plans were met with widespread opposition and have not been fully implemented.

This ties in with the wider struggle for political status that ethnic groups from the region have historically faced. For instance, the brutal repression of the Pashtun Tahafuz Movement (PTM) in the former Federally Administered Tribal Areas (FATA), illustrates how indigenous communities too often fall victim to extrajudicial killings by both the Taliban and the state along the Durand Line. The hostile view of Afghan culture as a harbinger of violence and extremism prevails amongst many Pakistanis, which certainly does not help matters. Whilst the safe repatriation of Afghan refugees remains the official focus of discussion for Guterres at the upcoming conference, Pakistani leaders should be mindful of these unpleasant truths before grandstanding displays for peace in Kashmir.