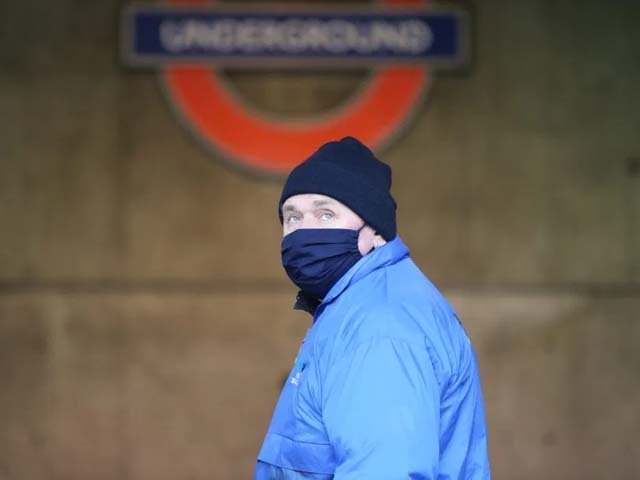 ---
Is Covid-19 redefining UK's relationship with immigrants?
The Covid-19 pandemic has demonstrated that immigrants form the backbone of this country's economy
---
In the lead up to the British general election a few months ago, one lady was handed a microphone on BBC Question Time to
convey
her sheer contempt for people who immigrate to the United Kingdom (UK). With an air of indignation, she complained that an infinitely growing, faceless herd of foreigners has come to drain the country of its resources and threaten its critical health and education infrastructures. She said,
"Surely someone's got to see common sense and say, 'enough is enough'."

As I heard this woman's words echo around the auditorium through my television screen, I was not even shocked. At that moment, my mother entered the house after completing a 12-hour shift of anaesthetising patients at the hospital where she works.

The story of my parents, a Pakistani couple who moved to the UK to build a life for themselves and work for the National Health Service (NHS) is not unique. As one of the largest ethnic minority populations in the country, millions of British Pakistanis share this experience, with tens of thousands working as doctors in the UK. This figure increases further still when accounting for dentists, nurses and other NHS staff. Having witnessed a growing resentment against immigrants from an increasingly vocal chunk of the British electorate, I realised that many voters' objection to free movement within the European Union (EU) was rooted in the deep-seated fear that the country was losing its 'Britishness'. This fear of course extended to non-native English speakers beyond Europe and manifested in rising xenophobic hate crimes against South Asians as well.

The shocking spike in racism against ethnic minorities occurred at a time when Brexit was enjoying the monopoly in Britain's political discourse and news coverage. In the last few years, the country's longstanding relationship with immigrants was becoming increasingly sour and inextricably linked to hostile appraisals of their contributions – or apparent lack thereof – to society. Last December's general election marked a tipping point, when the nation once more placed its trust in the Conservative party to deliver Brexit and 'take back control' of the country's economy, laws and borders. Prime Minister Boris Johnson would be the man to spearhead this operation and bask in the glory of Great Britain's awaited return to sovereignty.

Three months later, the arrival of a full-blown and unprecedented pandemic to Britain's shores unceremoniously dashed Johnson's dreams of becoming a statesman worthy of being uttered in the same breath as Winston Churchill. Bemoaning the government's incompetent and disastrous response to the Covid-19 pandemic, which has since become the subject of international ridicule, the very electorate that put Johnson's party in power now wants blood.

In an interesting turn of events, the once incessant discussion of Brexit now appears totally side-lined as attention has been diverted to a different kind of invader. Merciless in choosing its victims and unscrupulous in its destruction of livelihoods, Covid-19 has emerged as the nation's true enemy. As this country faces the ultimate challenge to its economy and public services, outpouring love for the NHS has seen millions of pounds raised for its charities and an array of businesses providing their support to key frontline workers in the form of discounts, free food and mobile data, to name a few.

Almost overnight, I noticed another trend. The ethnic minorities of Britain who not long ago were made to feel unwelcome in their own homes, now find themselves enveloped in a new narrative that celebrates their heroism as key workers in the battle against Covid-19. Such sentiments, though touching, do not begin to alleviate the anguish felt when statistics show that around 70% of health and social care workers who have died from Covid-19 are from black and minority ethnic communities. Even Health Secretary Matt Hancock expressed his concern at these disproportionate figures, in light of the fact that ethnic minorities make up 44% of the NHS workforce. Indeed, London mayor Sadiq Khan's call for an investigation into this disparity quickly dispelled the myth that coronavirus has impacted all lives equally.

Not only are black and ethnic minority NHS workers over-represented in Covid-19 mortality figures, but reports reveal that large numbers are feeling disproportionately targeted to work in Covid-19 wards in hospitals across the UK. It was therefore disingenuous and frankly laughable that Home Secretary Priti Patel thought to bestow her kindness on key migrant workers by extending their visas for free, when merely three months ago she was the poster-child for the government's stringent immigration policy that is set to implement a vast crackdown on foreign low-skill workers.

Ironically, the very care professionals who were listed under this category are now being relied upon the most as the virus ravages elderly homes and death rates continue to soar, yet their visas have not been extended. More comical still, is the recent – albeit muted – reporting of Romanian fruit pickers being flown to the UK in chartered flights to meet harvesting demands amidst the farming crisis that has resulted from the pandemic. It transpired that less than 20% of British applicants showed interest in job advertisements for fruit picking, compelling employers to look to the EU for seasonal labour (once again).

The Covid-19 pandemic has demonstrated that immigrants form the backbone of this country's economy. From working to 'feed the nation', to treating patients on the frontline, caring for the most vulnerable, delivering takeaway meals to homes during a country-wide lockdown, and providing essential public transport services despite having limited personal protective equipment (PPE). It is now more evident than ever that immigration was never the threat to this country that it was made out to be. Yet as a daughter of two Pakistani doctors who work for the NHS, I cannot help but wonder whether the newfound gratitude for immigrants is here to stay, or if it will only persist for as long as the pandemic does.