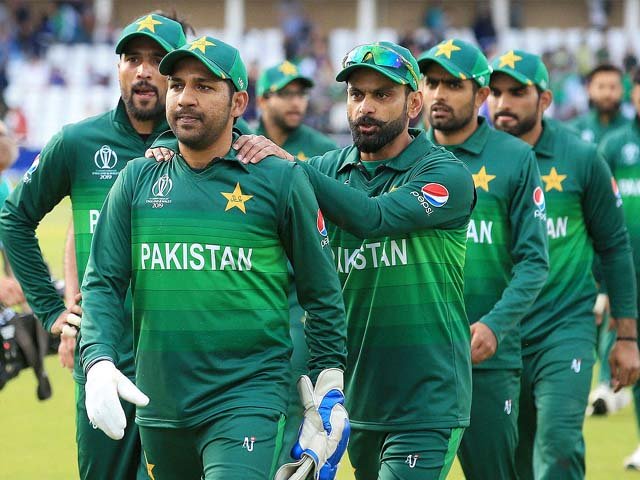 ---
WC2019: With 6 crucial games remaining, can Pakistan make it to semi-finals?
Pakistan squad has been in England and have the advantage of being accustomed to local conditions than Australia.
---
Unpredictable, mercurial and unbelievable are some of the words commonly used to describe Pakistan cricket. Our team can perform like school boys in one match and put on a record defying performance in the next. Be it the 1992 World Cup, the 2017 Champions Trophy, or their remarkable performance against England in the ongoing World Cup, Pakistan seems to summon the help of some higher power to script a fairy tale-like turnaround for them when least expected.

The road ahead

After being demolished by West Indies in their opening game of the World Cup, most of us were very sceptical about Pakistan's chances in the tournament. Yet, the men in green went on to convincingly defeat the hosts in their next match. It was unfortunate that Pakistan's game against Sri Lanka was washed out. It was a game Pakistan could have won and also one where they could have improved their run rate, which is currently the worst out of all the competing teams. At the moment, Pakistan sits at number eight in the points table with three points after three games. Pakistan now have six very important games coming up, but does the team have what it takes to reach the semi-finals?

Let's have a look at the upcoming matches and what we can expect.




Pakistan-Australia (June 12th)

Australia have always been one of the pre-tournament favourites, along with England and India. The team was on a 10-match winning streak which included a series win in India against the host. This came to an end on Sunday when India beat Australia by 36 runs to register their second consecutive win in the World Cup. Australia now have the fourth spot on the points table, with four points after three games. They have a very balanced squad with an explosive top order, consistent middle order, and a quality pace and spin attack. Their ability to do well as a unit in World Cup tournaments and handle the pressure is what makes them stand out from the rest of the teams.

Pakistan, however, will have a good shot at registering a win against Australia today if they can control the opening spell of Mitchell Starc and Pat Cummins. The Pakistan squad has been in England for over a month now and will have the advantage of being better accustomed to local conditions than Australia. Rain will also be a factor in the match since downpour is expected in Taunton.

Pakistan's win probability: 60%

Pakistan-India (June 16th)

The most anticipated clash of the World Cup may possibly be the biggest challenge for Pakistan. They have never won against India in a World Cup and India will have that psychological advantage to go along with the fact that they are a stronger unit, based on their recent form. India are also a much more experienced side as compared to Pakistan, with the likes of MS Dhoni, Rohit Sharma, Virat Kohli and Jasprit Bumrah in their line-up. It's not very often that India's bowling unit is stronger than Pakistan's, but that is the case in this World Cup. Their pace attack and spin department are both looking very dangerous. Bumrah is the number one ranked ODI bowler, while the spin duo of Yuzvendra Chahal and Kuldeep Yadav are also among the top 10 ODI bowlers.

Having said that, it is possible for Pakistan to beat India since we all know that Pakistan, on their day, can defeat any side. Also, Shikhar Dhawan's hairline fracture may rule him out of the match, which may be good news for the Pakistan bowlers. However, statistics indicate that a Pakistan win is unlikely.

Pakistan's win probability: 30%




Pakistan-South Africa (June 23rd)

South Africa's jinx at the World Cup continues in the current edition of the tournament. They have played three and lost three. There have been a number of reasons for their dismal performance so far. Firstly, their number one batsman and one of the best cricketers in the world, AB de Villiers, shocked the world when he announced his retirement a few months before the 2019 World Cup. Their strike bowler Dale Steyn was declared unfit and had to return home without playing a single game. Hashim Amlas poor form in the opening games has been another reason for their dismal performance. Yet, this is still a quality ODI side and one shouldn't forget that they beat Pakistan 3-2 recently at home.

However, Pakistan, in my opinion, are a more well balanced squad now and unless they once again self-destruct, they should win this crucial encounter.

Pakistan's win probability: 60%

Pakistan-New Zealand (June 26th)

After India, this game is going to be Pakistan's toughest challenge. New Zealand are a great ODI side and are, till now, unbeaten in the tournament. They sit at the top of the points table with three wins from three games. Pakistan will have to play out of their skins to beat this very strong New Zealand side. It will again come down to Pakistan's top order handling the opening pace barrage of Trent Boult and Matt Henry. Also, the ability of Pakistani bowlers to take wickets will also come into question and it will not be an easy task to make inroads into the New Zealand top order which comprises of Martin Guptill, Colin Munro, Kane Williamson, and Ross Taylor.

Pakistan's win probability: 40%




Pakistan-Afghanistan (June 29th)

Afghanistan beat Pakistan in the World Cup warm-up match. They have become a formidable ODI side in the last couple of years and a lot of that can be attributed to their spinners. They have probably the best spin attack in the tournament, with the likes of Rashid Khan, Mujeebur Rahman and Mohammad Nabi leading this department. These were the bowlers that helped them outplay Pakistan in the warm-up game. Pakistan will be a little nervous going into this tricky encounter, but I feel they have enough experience and finesse to overcome those nerves and beat Afghanistan in this must win encounter. Keep in mind, Afghanistan have not won a game in the tournament yet and they sit at the bottom of the table.

Pakistan's win probability: 70%

Pakistan-Bangladesh (July 5th)

This is going to be a very competitive game if both sides play to their full potential. Bangladesh has had the best of Pakistan in recent ODIs. The Bangladesh side is much more experienced than the Pakistan squad and has world class players like Tamim Iqbal, Shakibal Hasan, Mushfiqur Rahim and Moshrafe Mortaza to guide them in pressure situations. On the other hand, Pakistan will have the advantage of knowing the conditions better and will play a more aggressive brand of cricket. It will probably be the most important game for Pakistan and one which ultimately decides whether they proceed to the semi-finals or not.

Pakistan's win probability: 50%

According to my analysis, Pakistan should have either nine or 11 points at the end of the group stage. Whether this will be enough for them to make it into the semi-finals is difficult to predict since a lot of factors will come into play, like rain-affected games and net run rate. One thing is certain though, Pakistan will put up a good fight in their remaining games. Let's back the men in green to repeat their heroics from the 2017 Champions Trophy and bring the World Cup trophy home.

All photos: Getty