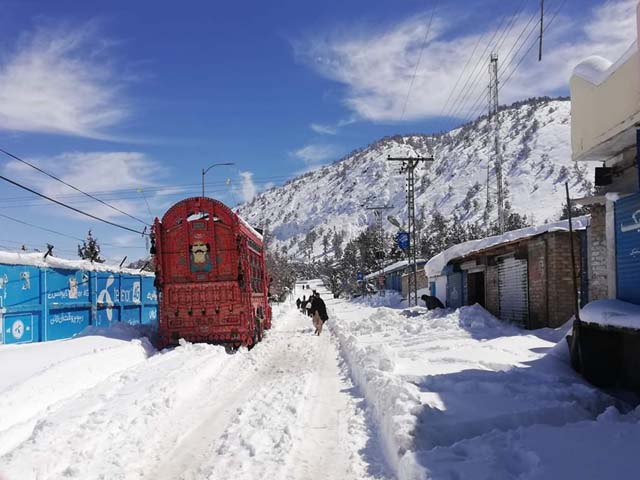 ---
With heavy snowfall in April, climate change has worsened life in Balochistan
Farmers harvesting apples, pomegranate and other seasonal fruits are experiencing a gradual decline in their crops.
---
Ahmad Ali and his 55-year-old mother have had their last meal of the day. They go to bed after offering their Isha prayers. They both have been frugal because they want to save some dry wood for the next day. It has been raining all day and it continues to rain all night. In the early morning, when Ali's mother awoke for her Fajar prayers, it started to snow. The early spring snowfall was surprising for the locals since the valley, which was once famous for its snow-clad winters, has seen a decline in its share of rainfall and snowfall over the last five years, and now the snow has arrived too late.

Ali is 35-years-old and has been working as a waiter at Ziarat's famous Shalimar Hotel for five years. Ziarat, about 133 kilometers away from Quetta, is a holiday resort, widely known for the residency where Mohammad Ali Jinnah spent the last days of his life. The valley usually stays refreshingly cool during the summers and is clad in snow in the winters. Every year, May to September are the peak months for tourism in Ziarat. During these months, Ali earns a sufficient amount, but he can hardly make Rs5000 per month during the off-season. And the winter brings more misery to their poor lives. Since few tourists visit Ziarat in the winter season, his hotel remains closed for three to four months, and he has to resort to wood cutting or travelling to other villages every day to work as a manual labourer.




However, this is not just the story of Ali's home. All the 50 houses in his village, Zandra, are very poor. Most of the villagers are farmers, entirely dependent on rain and snowfall in the winter seasons but, unfortunately, the quantity of both is steadily decreasing in most parts of Balochistan. In northern Balochistan, there has been a 38% drop in rainfall and snowfall over the last five years. As a result of this drastic drought-like condition, the annual rate of production in local orchards has gone down steadily. Thus, part-time work and taking on precarious jobs is often the only way young people can earn money.

During the off-season, almost 40% of the population migrates for four to five months to Quetta and Loralai. Those left behind have no other option but to cut down trees which are used for warming their homes. Over the last three decades, the people of Ziarat mercilessly chopped down trees for firewood. Though Balochistan is producing the bulk of Pakistan's natural gas, Ziarat is lacking in natural gas which could provide cheap fuel for its residents. Consequently, the ill-timed rains in 2019 have only exacerbated their already desperate condition.


#ClimateChange is more and more affecting #Pakistan! Balochistan is facing drought-like situation, many districts affected. We have to jointly try to alleviate consequences of climate change!Where do you witness consequences of climate change in your life? @jam_kamal @aminattock pic.twitter.com/eA1QsJ9ZeK

— Bernhard Schlagheck (@GermanyinPAK) December 20, 2018
Balochistan's famous Hanna Lake has completely dried up. Shocking that this development is not national news #WorldWaterDay #ClimateChange pic.twitter.com/01vxfjuFCW

— SherryRehman'sTeam (@SRehmanOffice) March 22, 2018


After two weeks of continuous rainfall in Balochistan, a late seasonal snowfall hit the Ziarat valley and nearby rural areas on the morning of April 16, 2019. The valley had not received mid-April snowfall for around five decades. After a long period of drastic drought, these rains and snowfall are undoubtedly a great blessing for the local farmers whom the drought had rendered jobless. But the situation is equally alarming for climate change researchers in the province.

According to Ghous Bux, a 40-year-old local Pashtun farmer from the Kawas village of district Ziarat:

"The drastic drought (which lasted) for around two years added a lot to our miseries."

Hundreds of farmers who have been harvesting apples, pomegranate and other seasonal fruits for decades have also been experiencing a gradual decline in their crops for more than two years now.

Another local farmer, Ameer Mohammad, a thick beard man in his 70s, sips on Ziarat's famous green tea and says:

"We heard from our ancestors that a drought and ill-timed snowfall are 'bud shagoon' (bad luck). It will have a profoundly negative impact on our crops in future."

The poor, illiterate farmers are unaware of the fact that these widespread climate changes are the result of deforestation. The slight reduction in green cover over the hills is having a perceptible impact on the amount and timing of rain and snowfall. The presence and longevity of juniper trees in the Ziarat valley has contributed to the weather patterns and ecosystem of the entire region. These trees had been playing many important ecological roles from helping to mitigate climate changes to providing a hub for a number of rare species of plants and animals. The rapid cutting down of these trees has led to a climatic shift.

Abdul Rehman, a local Pashtun farmer, said that when he returned to Ziarat in late February, after a three-month long stay in Quetta, he wasn't hopeful about his harvest. He said:

"Our orchards lie in the vicinity of Chashma, a spring which provides water to nearby towns. Most of the farmers here have been experiencing an acute decline in their production of fruits and trees. During my stay in Quetta, I got a chance to learn how practical actions are helping those people experiencing the effect of climate change. I want to teach other farmers and fruit merchants about modern agriculture techniques."

The government of Balochistan has not declared Ziarat and other parts of northern Balochistan as being calamity-hit areas. Yet they require emergency measures as clarion call. According to Dr Mustafa Ali, a former officer of the Balochistan forestry department:

"Illegal wood cutting is the major cause which has hampered forest preservation. Wood from juniper and other such trees has widely been used for fuel and the construction of huts. Under the 1997 Act of Environment Protection, the former government of Balochistan launched a project for juniper forest conservation in Ziarat that aimed a slight rise in nurseries and legally zoned the area for the purposes of animal grazing and wood cutting. Villagers and farmers should personally work on the improvement of water reservoirs near their orchards in rainy season and give rise to plantation. The massive flooding in the entire province is due to the slight reduction in forests."

Since climate change is so deeply interlinked with the deforestation crisis, one cannot be resolved without genuinely addressing the other. Ending deforestation is our best chance to help conserve wildlife and preserve our climate patterns. The new government of Pakistan should prioritise the preservation of Ziarat's juniper forests since it is one of the easiest and most cost effective ways to curb global warming. The central and provincial governments should encourage people to adopt more sustainable practices like using less wood products, using renewable energy resources for fuel in the winters, and planting more trees. If such policies are implemented, we can achieve the goal of zero deforestation in the next five years.

(All photos by author)
Facebook Conversations
COMMENTS
Comments are moderated and generally will be posted if they are on-topic and not abusive.
For more information, please see our Comments FAQ