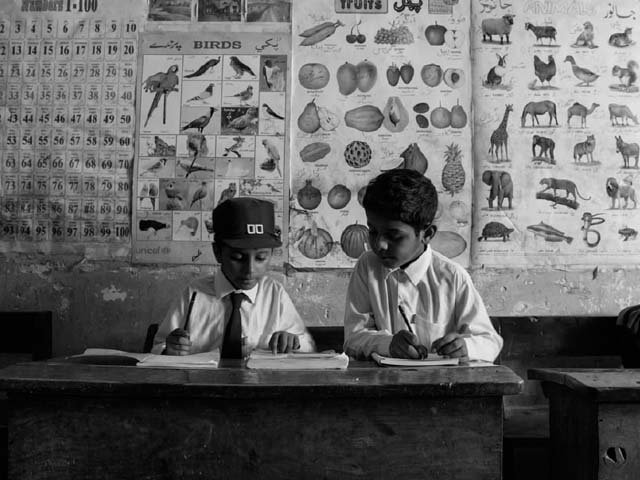 ---
The flaws in our education: Why are Pakistani students struggling with mathematics?
The major factors behind students falling behind in maths are lack of proper practice and low-quality curriculum.
---
Mathematics is perhaps the most powerful instrument of knowledge in the world. History proves that all ancient civilisations emphasised the importance of maths, and it is the one science that seeks to improve one's ability to perceive and think.

Maths may not help teach us how to love someone or how to forgive an enemy, but it gives us reason to hope that every problem must have a reasonable solution. Consequently, maths plays an important role in the development of countries because of its ability to penetrate into all sorts of human affairs, whether social or economic.

Students are often weak in maths as they don't have enough motivation to study the subject (perceived as boring or difficult) and this ultimately results in their educational downfall. When children are forced (either by their parents or teachers) to learn complex algebra, computations or geometry, they further lose motivation to study these topics.

Generally speaking, students are very interested in studying subjects such as geography and history, but not maths. This is partly due to a 'server problem' that develops in children's computational skills because of an emotional or intellectual lag. Sometimes, an unpleasant school or college environment also contributes to this lag. Even though students across the globe may have this problem, it is even worse in Pakistan because of the serious defects in our educational system.

In 2017, a report published by Alif Ailaan titled 'Powering Pakistan for the 21st century' emphasised the pitiful state of education in maths and science subjects all across the country. According to published statistics, the average maths score for grade four students in the National Education Assessment System examination was 433 out of 1,000. Furthermore, the report deduced that a majority of the students scored very poorly in computations and geometry.

At the primary level, 2.3% of students could not perform well in numeric operations, while this percentage fell to 1.1% for students during matriculation. This situation is quite alarming and unequivocally highlights the lack of emphasis our educational policy experts and teachers place on learning outcomes. The major contributing factor behind students falling behind in maths is low-quality curriculum content and poor solution manuals.

In Pakistan, the courses that are being taught to children at the primary level are far beyond their learning skills because without proper practice and sufficient time for solving exercises, they aren't equipped to move on to the next chapter. Unfortunately, they are usually forced to move on.

To make things worse, the content being taught is far greater in quantity than the hours allotted to teach it. As such, even highly skilled teachers feel overburdened because the administration forces them to teach content they do not have enough time to teach.

However, the problems don't end here. A majority of the teachers hired to teach these subjects are unskilled, unfamiliar with new ways of teaching, and unaware of course goals. They choose to stick with traditional ideas such as the idea that there is nothing more to maths than numbers, equations or algorithms.

They also rely far too much on solution manuals and also encourage their students to depend solely on these manuals. It is understood when hiring a teacher that sufficient knowledge of a specific subject is mandatory for effective teaching. Therefore, all textbook boards of Pakistan and educational institutions should take strict action against this reliance on solution manuals.

Undoubtedly, the education system in Pakistan is languishing away. There is a lack of appropriate and consistent educational policies and reforms. Our new government certainly needs to pay attention to this.

Initially, perhaps the Parliament should pass laws pertaining to the goals and operation of our education system. The next step would be to redesign and reform the curriculum and rewrite the textbooks. A team of teachers, education specialists, and subject specialists should be hired under special supervision of the education ministry, while the math book content should be decided on the basis of the number of hours allocated to teaching and also the number of students in every class. This is important because in a class where student numbers are low, teachers can give more individual attention to each student.

Secondly, our educational policymakers should strictly take notice of the inappropriate and often illegal recruitment of teachers. Newly hired teachers should be trained according to these new rules and instead of dismissing senior unskilled teachers, training programs should be organised in educational institutions in order to get senior staff on board with the latest advancements in science and technology.

The literacy rate in Pakistan is far from ideal and improving this is the responsibility of the government and private sector alike. Despite the severe negligence of our past governments, the private sector has been active for decades and several NGOs continue to struggle for the cause of education.

Among these, Aahung, the Pakistan Alliance for Maths and Science (PAMS), the Balochistan Education Foundation (BEF), the Taleem Foundation, the Mirpur Education Sponsorship Program (MESP), the Aasthan Latif Welfare Society (ALWS), the Rural Education and Development (READ) Foundation Pakistan and hundreds of others are working to raise the literacy level, specifically in the rural areas of Pakistan.

Over the years, PAMS has grown to be one of the leading educational NGOs working for quality education, especially in science and maths all across the country. PAMS is a registered 75-member non-profit organisation, and was an initiative of Alif Ailaan as a part of its educational campaign across Pakistan. Since then, it has organised 139 activities in schools, colleges, and universities, including six science festivals. In 2018, it worked in 37 districts nation-wide and organised science festivals in Thar, Faisalabad, Hyderabad, Swat, Mardan, Gwadar, Lodhran, and Laar district.

Moreover, in order to promote mathematical skills in students, it introduced a new concept called the 'math-a-thon' – a one-day event encouraging school and university students to come up with new ways of explaining mathematical concepts. In March 2018, the PAMS was called to present its recommendations at the penultimate Council of Common Interests (CCI) meeting with the then prime minister of Pakistan. Five of the six recommendations given by PAMS had been accepted by the prime minister including a change in textbook content.

Since its very inception, Pakistan has had a socially stratified education system: one that makes sure that only the rich have access to quality education and are able to benefit from high-earning opportunities. This approach continued to lend power to the private education sector and weakened the educational standards in government-run schools.

The recent efforts led by these NGOs and the Government of Pakistan will help to strengthen the entire educational system and hopefully, quality education will soon be accessible to rich and poor alike.