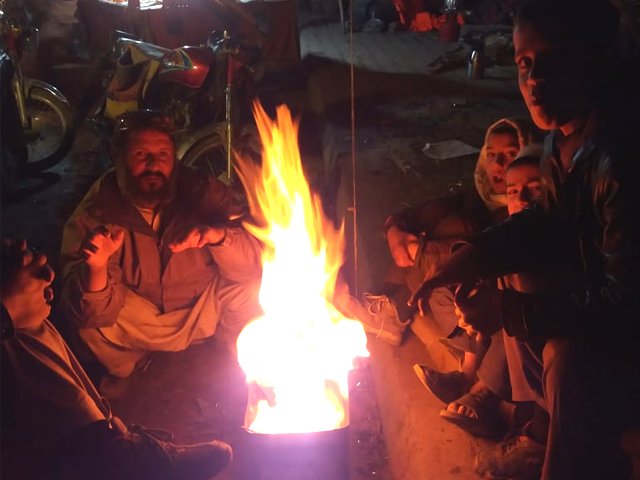 ---
While Balochistan's natural gas keeps the rest of Pakistan warm, its own residents are freezing in silence
With gas shortages and loadshedding lasting for days, people are miserable and neglected during the cold winter.
---
On a cool and sunny November afternoon, Ahmad Habib sat behind his shop, located in Quetta's main Liaquat Bazar, accompanied by a handful of other local shop owners. They sat together, enjoying the traditional kahwa with gur (jaggery), a drink designed to keep their bodies warm for long.

Unlike the past four years, this year's winter is warm and appealing, mainly due to an abundance of sunny days. More often than not, mid-November is a time when the strength of the heat gradually weakens and cool, dry wind arrives for an extended stay. These cool winds slowly whisper and signal the arrival of rain and snowfall on the mountains, and in the valley as well, making this a great time to visit Quetta, particularly places like Hanna Lake, Wali Tungi and Bolan. As a bonus, Quetta also gets its most colourful sunsets in the winter.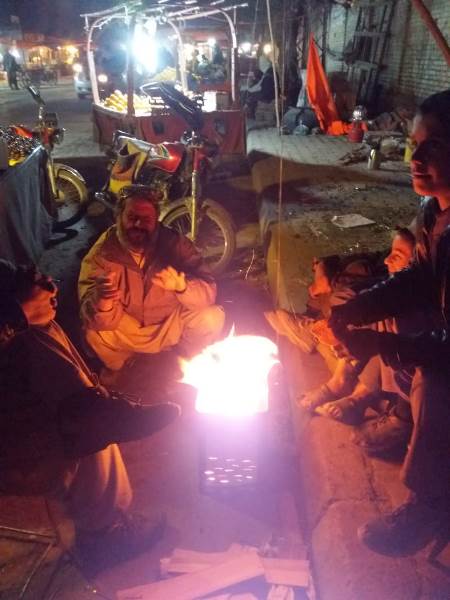 Once the snow season kicks off, the Lak Pass and other highly elevated routes across the mountains are closed due to heavy snowfall. Here, the temperature in winter can make it unbearably cold, especially due to gas shortages and power loadshedding that can last for two to three days.

"The local traders too are finding it hard to get by. We have imported the latest brands of gas heaters from Karachi, Faisalabad, and Gujranwala due to the expected cold and dry winter. These new brands are equally equipped with thermostats that automatically cut off the flow of gas a few seconds after the flame is extinguished, as a safety measure. But it is unlikely for the sunny days to continue by the end of November," said Akram Mengal, as he sat beside Habib.

Mengal owns a chain of stores in various parts of Quetta, being in the business of trading gas and electric heaters since 2005.

"As a consequence of increased gas prices, our businesses are affected and people here are more willing to buy electric heaters, hot fans, even traditional stoves, rather than gas heaters to keep their places warm and to prepare food. However, the cost of these gas heaters is far too high when compared to prices over the past two to three years – approximately 600 to 1,000, depending on the size and brand," continued Mengal.

Natural gas is one of the primary sources of energy in most urban parts of Balochistan which is why gas heaters are considered integral, whereas rural areas are still lacking in better facilities and are forced to rely on traditional coal stoves, angethi (furnace) or wood fires. However, it is worth mentioning that these traditional ways of heating have widely come into re-use in most parts of Quetta and nearby areas due to severe gas loadshedding.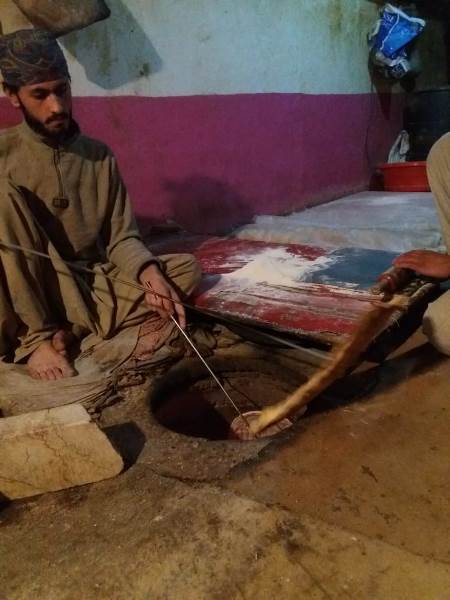 The excitement of the people of Quetta was not pervasive when the Economic Coordination Committee (ECC) of the cabinet decided to not subject consumers to any gas loadshedding in Balochistan and Khyber Pakhtunkhwa (K-P) in the ongoing winter season. The plan presented by the petroleum division under the Ministry of Gas and Petroleum promised to bring an overwhelming change in the old ways of natural gas supply this winter, and approximately 150 to 200 millimeter cubic feet (mmcf) of liquefied gas will be injected into the system to stop gas loadshedding in Balochistan and K-P. It has been reported that acute gas shortages in the extreme cold weather (minus six to 10 degrees celsius) have resulted in casualties for local residents, particularly women and children, over the past four years or so.

In September 2018, the ECC had increased natural gas prices ranging from 10% for the lowest slab consumers to a shocking 143% for the highest slab domestic consumers, while the increase ranged from 30 to 57% for commercial and industrial consumers. This will surely boil down to a steady rise in the prices of electricity, coal and other sources of energy. However, domestic gas consumers have already been overburdened because they have to pay an additional Rs94 billion in the ongoing fiscal year for gas utilities.

"It is quite obvious that the emergency measure carried out by the new government led to more problems than solutions. The ECC's recent decision to inject a large amount of natural gas in the system will also not be beneficial for the middle and lower middle classes, because such a high amount of gas is too far from their approach," said Mrs Shaista Khan, a senior science teacher at the Islamia Girls' High School, Quetta.

As she rushed home with a large bundle of examination papers in her hand as well as her two school-going daughters with her, Mrs Khan continued,

"This year we forced the school administration to arrange the annual exams in mid-November, because last year the school's management did not provide gas heaters in the classrooms and little kids were forced to solve their annual papers as their bodies shivered in the severe mid-December cold. It is not unlikely that a majority of local citizens will go live with their relatives in Sindh and Punjab for this winter. I am also planning to leave along with my family in mid-December and will be back in March next year, though those who do not have relatives in other cities will stay behind to face the harsh weather with no proper sources of energy and fuel, and have to pay a major part of their monthly salary on gas and electricity bills. Either way, the provincial government will not pay attention to our longstanding social and economic problems".

Many provincial and federal government officials argued in the past that the current situation in Balochistan should be treated as a clarion call. According to officials in the Oil and Gas Regulatory Authority (OGRA),

"We are working hard to ensure excellent services are provided to gas consumers all over the province, mainly in Quetta. Moreover, in order to prevent gas theft and meter tempering, gas meters over 10 to 15-years-old are being replaced with more advanced and speedy meters".


On the contrary, a large number of local domestic gas consumers have reportedly been accusing the Sui Southern Gas Company (SSGC) of demanding Rs10,000 to Rs40,000 on false charges of meter tampering. Though these so-called speedy gas meters were widely rejected by consumers in Sindh and Punjab over serious technical faults, similar cases have been reported in various parts of Quetta, such as Sariab Road, Satellite Town and Pashtun Abad.

These stories are not unique. Their variants can be found in other districts and hundreds of villages across Balochistan, especially in the Kalat, Zhob and Ziarat districts. Kalat is located 136 kilometers from Quetta and is known as a historic city of Balochistan. The district has been witnessing gas loadshedding and low gas pressure for the past four years, while temperatures have been falling from minus 10 to minus 14 degrees celsius.

Meanwhile, Ziarat, the district once famous for its dense juniper forests, a tree that only grows an inch per year, has seen vanishing junipers due to the widespread cut-off caused by these shortages. Over the last three decades, the people in Ziarat have mercilessly chopped these juniper trees to use them as firewood, due to the severe negligence of the SSGC. The beautiful valley of Ziarat has no natural gas facility, and despite loads of promises in the past, no gas pipeline project is under consideration here so far. The hills of Ziarat look almost barren now, and this reduced tree coverage is having a perceptible impact on the changing climate, the annual amount of rainfall and the scourge of deforestation in the entirety of Balochistan.

Despite the fact that Sui, Dera Bugti and other parts of Balochistan have the largest amount of natural gas reserves in the country, people here are miserable, uncomfortable and neglected during the extremely cold winter. The less we expect, the more we are neglected. Is there an end in sight to our troubles?

All photos: Saadeqa Khan
Facebook Conversations
COMMENTS (8)
Comments are moderated and generally will be posted if they are on-topic and not abusive.
For more information, please see our Comments FAQ