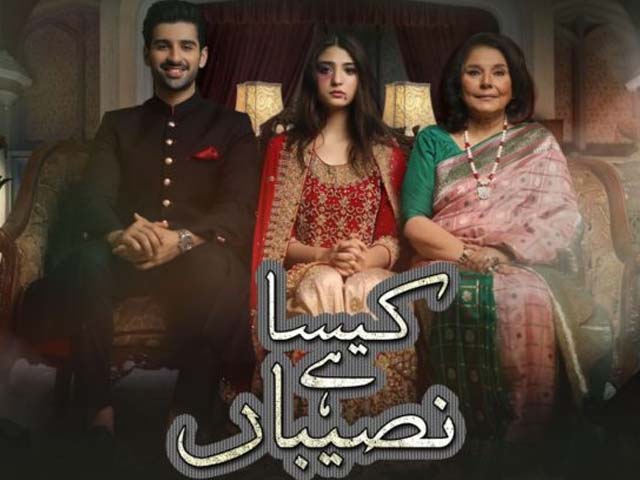 ---
Four reasons to watch Kaisa Hai Naseeban
The drama takes on a sensitive topic in such a nuanced manner that it ensures the story reverberates with the audience
---
Recently concluded drama serial Kaisa Hai Naseeban is currently basking in the success of being Pakistan's most watched drama ever. Brilliantly scripted by Samina Aijaz and well directed by Ahmed Bhatti, the heart-wrenching drama revolves around the tragic story of a girl who finds herself trapped in an abusive marriage. Through a thought-provoking narrative and well-developed characters, the show highlights the importance of tackling physical abuse and other domestic wrongdoings.


The story centres on the character of Maryam (Ramsha Khan) whose father, Jamal (Waseem Abbas), is eager to get her married, hoping that it will provide her with a comfortable and secure future. Jamal's sister Musarrat (Uzma Gillani) proposes that her son, Ahmed (Muneeb Butt), should wed Maryam. Enticed by the supposedly luxurious life that Ahmed lives in Malaysia, Jamal agrees to the union after gaining his daughter's approval. However, after the nuptials, once she is whisked away to Malaysia, Maryam slowly begins to realise that her aunt and Ahmed lead a life plagued by financial insecurity and have lied about their monetary situation.




Although heartbroken by the deception at first, Maryam decides to stay after her aunt emotionally blackmails her by saying that the honour of the house is now in her hands. Taking advantage of the innocent girl, Ahmed and Musarrat make her work like a slave, forcing her to not just do the household chores, but also making her earn a living for the family by working at a restaurant while Ahmed relaxes at home. On top of that, instead of being thankful, Ahmed regularly verbally and physically abuses Maryam.




The story kicks into gear when Maryam decides to take a stand and build a new life for herself on her own terms.

Although there are many reasons behind the immense popularity of the drama serial, here I have listed four reasons as to why Kaisa Hai Naseeban is so beloved by the viewers.

1. A story which resonates

We all love watching stories that we can relate to and, unfortunately, most of us have heard stories similar to Maryam's. The spectre of domestic abuse has long haunted Pakistan's family dynamics and there are many reported cases of women being mistreated, either at the hands of their in-laws or their spouse. Marital abuse is often cited as being the reason behind a divorce, although most of the time women silently endure the physical punishment out of fear of what people might say if they tried to raise a voice. Hence, the fact that Kaisa Hai Naseeban touches upon a sensitive topic in such a nuanced manner ensures that the story reverberates with the audience.


2. A strong message for the viewers

While being an engaging watch, the drama also manages to drive home some salient and important ideas. It leaves the audience with a lot to think about, such as the notion that parents ought to be very careful when marrying off their daughters and should do a thorough background check of the husband to be, even if he is from their own family. They should not consider their daughters as being a burden which they would be relieved of only after their marriage.




Furthermore, the drama also emphasises just how important it is for parents to support their daughters during both good and bad times. Maryam manages to come out of the traumatic phase of her life and does well in her career because her father decides to stand by her. The most important lesson that the drama teaches us is that we as a society must stand up against marital abuse. As a result of Maryam's initial silence about the abuse inflicted on her, she ends up losing the most precious asset of her life, her baby. Hence, the show serves as a lesson for every family to tackle abuse the very first time it happens.




3. Powerful performances

The casting directors should take a bow because they have managed to assemble a stellar cast which is a great mix of veteran and younger actors. Abbas and Gillani in particular shine in their respective roles. Khan steals the show in every episode due to her sheer versatility as an actress. Her transformation from a meek and timid girl into a resilient and strong-willed woman adequately displays Khan's range as a performer. Butt also brings the right level of malice and fleeting charm to his antagonistic character.

4. An impactful ending

Arguably, the best part of the serial is its final episode. It is an emotional and heart wrenching finale, but at the same time is also a very satisfying conclusion to the saga. The ending draws a parallel between the protagonist and the antagonist, making us strongly believe that good eventually triumphs over evil.




Perhaps the only thing I did not like about this drama is that there is too much domestic violence shown on screen, which is quite insensitive and disturbing at times. Too many unnecessary slaps and excessive verbal abuse has been repeatedly shown in many episodes and could have been avoided.

Apart from the aforementioned shortcoming, Kaisa Hai Naseeban is a terrific drama populated by meaningful characters, a very realistic, eye-opening story and an extremely satisfying conclusion. I hope that our drama industry keeps weaving together such thought-provoking narratives in the future to help raise awareness about domestic misdoings and injustices.