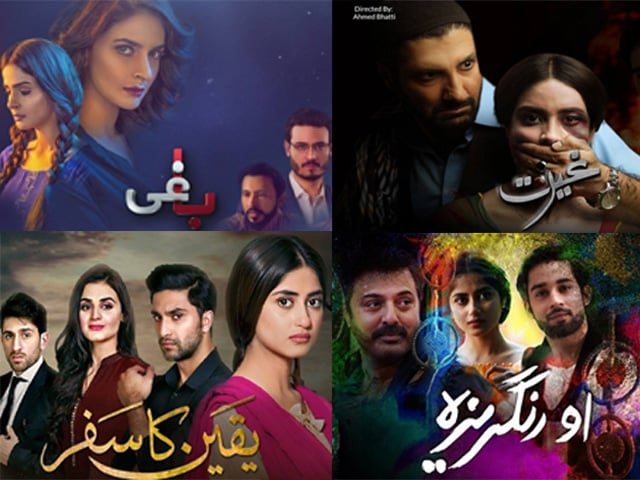 ---
The best Pakistani dramas of 2017 that kept us glued to our screens, and what awaits in 2018
From O Rungreza to Baaghi to Yaqeen Ka Safar, 2017 gave us some thought-provoking, captivating and unique serials.
---


Pakistan has seen a rise in its drama industry, as every year we get to see different, thought-provoking stories unfold on our screens. This year, too, had a lot of interesting dramas with strong messages and unique characters.

While we await 2018, there are certain upcoming dramas that have caught my eye. Here is a list of the best dramas of 2017 and the dramas we are looking forward to in 2018.





1. O Rungreza

Written by Saji Gul and directed by Kashif Nisar, this Sajal Aly, Bilal Abbas and Irsa Ghazal-starrer has been the top favourite of the year. It raked in high ratings and Sajal and Bilal have been absolutely phenomenal in it.

O Rungreza's strongest part is its ground-breaking heroine. It breaks the mould of the standard, weepy damsel who revels in her victimhood and expects a man to be her knight in shining armour. One of the many reasons why O Rungreza is a game-changer is because of how Sassi (Sajal) is seen as strong and flawed in view of the male hypocrisy. Saji Gul has beautifully captivated the essence of a strong woman and has also shown, through various characters, the problems with toxic masculinity and submissive feminineness.


2. Baaghi


Written by Shazia Khan and Umera Ahmed and directed by Farooq Rind, Baaghi stars Saba Qamar as the late social media starlet Qandeel Baloch. Saba's powerful acting and empathic portrayal as "Kanwal" Baloch made Baaghi an instant hit as well as an important drama of the year. It was very brave of Saba to take on this role and bring the attention of the regular misogynist audience towards the actual plight of someone like Qandeel, a middle class girl working towards social mobility via the entertainment medium. The play also stars Osman Khalid Butt, Ali Kazmi, Sarmad Khoosat, Khalid Malik and Saba Faisal in key roles.


3. Yaqeen Ka Safar

Written by Farhat Ishtiaq and directed by Shahzad Kashmiri, the play became a sleeper hit over a period of time. Due to its intense theme and the onscreen presence of fresh faces such as Ahad Raza Mir and Sajal Aly, the serial was applauded by majority of the viewers. Ishtiaq masterfully crafted a popular romance and Ahad and Sajal's chemistry drove many audiences into crazy fandom.


4. Ghairat

Written by Edison Idrees Masih and directed by Ahmed Bhatti, Ghairat is the story of what happens when the men of the family are obsessed with 'honour' and use it to manipulate the women of the family. It also explores many other important themes such as internalised misogyny and economic independence.

Starring Iqra Aziz, Syed Jibran, Fazeela Qazi and Muneeb Butt, it did have some editing problems (some of the double episodes were far too lengthy for comfort), but overall, for its strong performances and important themes, Ghairat is on the must-watch list of the year.


5. Daldal

Written by Qaisera Hayat and directed by Sirajul Haque, Daldal stars Zahid Ahmed, Armeena Khan, Muneeb, Abid Ali and Amna Abbas. The core theme of Daldal is human trafficking and the consequences of illegal immigration.

Zahid stars as Shuja who leaves Pakistan because he is frustrated with his circumstances. He illegally immigrates to England where he imagines he will earn in 'pounds' but unfortunately ends up facing many troubles there. For a powerful message and equally strong performances, Daldal was one of the strongest dramas of the year.





1. Aangan

A serial set during the Partition era, Aangan is based on a story by Khadija Mastoor. It is written by Mustafa Afridi of the Sang-e-Mar Mar fame and is being directed by Ehteshamuddin (Preet Na Kariyo Koi, Udaari). It's set to star Mawra Hocane, Ahsan Khan, Sonya Hussain, Sajal and Ahad. Encasing as some of the biggest names in the business, this serial is one of the most awaited ones of 2018.

2. Aangan

Written by Faiza Iftikhar and directed by Qasim Mureed, this drama is about a loud, squabbling Punjabi family who lives together and fights together. While the main plot is typical, the dialogues are extremely powerful and high-paced. The banter is funny and intelligent and by way of humour touches upon various serious themes. The cast includes Mansha Pasha, Samina Ahmed, Qavi Khan, Paras Masroor, Uzma Hassan, Noorul Hassan, Hassan Ahmed, Iffat Umer, Zainab Qayyum and Waseem Abbas.


3. Meeras


This upcoming drama stars Saboor Aly, Mohsin Abbas Haider, Savera Nadeem and Fahad Sheikh. It is written by Hina Aman and produced under the banner of Big Bang Entertainment. From the teasers and the trailers, it looks like it will be a very interesting watch.


4. Dar Si Jaati Hai Sila


Starring Yumna Zaidi, Noman Ijaz, Saman Ansari and Sakina Sammo, this play is written by Bee Gul and directed by Kashif Nisar. The central character, Sila, is someone who does not want to marry her fiancé and is always afraid and nervous of making the commitment. Her father lives abroad and blames her mother for any fault that happens in the house. Joi (Noman) is harassing both the mother and daughter while he pretends to be a well-wisher of the family. For the classic predatory behaviour and how silence is often the biggest hurdle in getting justice for victims, this is a good drama to watch and observe.


5. Pagli

Starring Hira Salman, Noorul Hasan Rizvi, Asim Azhar and Hina Altaf, Pagli is one drama that you can binge-watch later but continue watching for its strong dialogues and intriguing storyline. Based on a novel by Shoukat Thanvi, the serial revolves around the character of Gulrukh who suffers from a dissociative fugue. For a unique storyline and Hira Mani's wonderful performance as well as the banter between Asim and Mahmood Aslam, Pagli is something to look forward to every week!


While we bid farewell to 2017 and thank it for giving us some thought-provoking and captivating dramas, we are anxiously waiting to see how the aforementioned serials will fare in the coming year, and by the looks of it, we will be spending a lot of time glued to our screens.

Happy New Year!