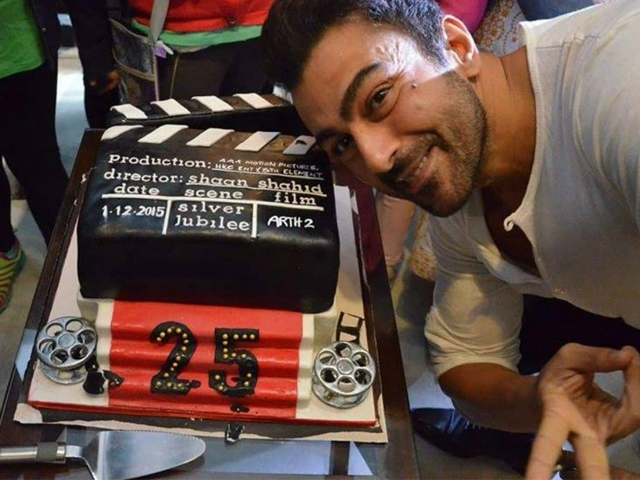 ---
Does Shaan Shahid think he can bully people into saying nice things about Arth 2?
He blamed his manager for tweeting outrageous things from his account & yet refused to fire his manager or take action
---
It has been a great couple of years for the Pakistani film industry. We've finally gained some solid footing and have managed to get audiences excited about Pakistani films. Dukhtar, Moor and Saawan have received critical acclaim for being sensitive, powerful films, whereas commercially successful ventures like Na Maloom Afraad, Actor in Law, Punjab Nahi Jaungi and Jawaani Phir Nahin Aani have attracted large audiences to the cinemas, which has been, especially for Pakistani movies, a rare occurrence in the past.

Not only is there a gradual progression in quality, script and cinematography, there is a definite increase in the volume of films being produced. All in all, things are looking up for the Pakistani film industry.

The industry itself has changed for the better as well. Thanks to social media and multifarious channels, our actors, directors and other crew members are now exposed to raw public opinion, and lots of it. They are bombarded with opinions in a much faster way than they were ever before, and it often becomes a test of their courage and patience that they now have to survive in an all-changing, volatile, fast-paced communication medium.

Not only do they have to survive, they have to remain relevant. Older film actors and actresses have a tougher time utilising and navigating through social media. Where in the olden days these celebrities would be able to get away with saying anything to anyone, social media, a great equaliser, is a much harsher judge.

And as the adage goes, "The internet never forgets". Because hello, screenshots.

Shaan Shahid, Pakistani film star and controversy's oft-favourite child, has a film in the theatres these days, titled Arth 2. Inspired by Mahesh Bhatt's film of the same name, the film is written, directed and produced by Shahid himself, and I find it lovely and refreshing that he's actually doing soulful, romantic movies instead of war films where he was often, as I like to call him, Commander Killjoy.

I have been a long-time fan of Shahid, despite his various comments and controversies. I remember my breath catching in my throat when I saw his beautiful face sprawled across the billboards in Karachi for a mobile company ad. Shahid's star power is as irrefutable as it is massive.

But at the end of the day, what Shahid, or his managers, as he insists, have been doing with his social media platforms is nothing less than appalling. As a film star who has thousands of followers on Twitter, Instagram and Facebook, Shahid often takes to these platforms to 'connect' with his fans. And of late, in lieu of connecting, he usually ends up spewing extremely politically incorrect balderdash.

The internet, however, like the North, remembers.

First, Shahid's films Yalghaar and 021 did not fare well critically. Then, a couple of years ago, Shahid bashed Mawra Hocane for supporting the Bollywood film Phantom, and called for the #BanMawra campaign. He also lambasted many actors for going to India to act in Bollywood films. Yet here he is, basing his own production on a Bollywood film.

Of late, he has been bashing 'reviewers' and bloggers for giving his film bad reviews. Ironically, Shahid is himself found retweeting and sharing problematic opinions on his social media pages.


So Shaan Shahid ko Karachi Aur Karachi walas say problem hai... pic.twitter.com/OaWx60ozwV

— Fahim Farooq (@fahim_parekh) December 25, 2017
All these stupid posts are coming from his personal Facebook profile and not page. Just did all my checks.... too farigh 🙄 pic.twitter.com/h5nkVCvY2n

— Bano (@BanoBee) December 25, 2017


If this wasn't outrageous and unprofessional already, he then proceeded to blame his manager for tweeting things from his account, and yet offered a strange explanation about why he wouldn't fire his manager for posting something so terrible:


My Managment Handel's the account and this is not what we wrote but a local journalist wrote it and we posted it

— Shaan Shahid (@mshaanshahid) December 25, 2017
Why should I fire him ? Just because somebody didn't like what he tweeted ? How cruel is that . Try sacking people who took your freedom , future, and your vote !!!..I I don't think so.

— Shaan Shahid (@mshaanshahid) December 25, 2017


It is perplexing to see why Shahid is behaving the way he is, and has in the past. Is it because he is afraid of his film crashing? Does he think he can bully people into saying nice things, or does he honestly not understand that everyone on social media may not necessarily subscribe to his opinions?

The film, and media industry in general, is a brutal, volatile business. It makes and breaks people within minutes. The process has especially accelerated and is more open to the public since the advent of social media and communication technology. The idea of a celebrity culture has taken a different shape and meaning, and stars are now often made by the kind of connection and engagement they have with fans and other stars on social media.


"Please don't critcize my movies, they are a masterpeice." - @mshaanshahid pic.twitter.com/Jccu0MjKbB

— Shumail (@Shumyl) December 25, 2017


This is why managers are expected to know how to handle these situations and not tick off people who disagree with them. However, Shahid has not gotten the memo, and instead insists on riding this social media wave in the most old school way possible.

So dearest Shahid – your fans love you and believe me, we want to continue loving you. But you can't treat people like this, you absolutely cannot. The 90s are over. The days of the angry Jutt are long gone, and while your bullets will definitely not kill any villains like they did in your movies, your social media posts will surely kill the hero in our hearts that we have loved for so long.