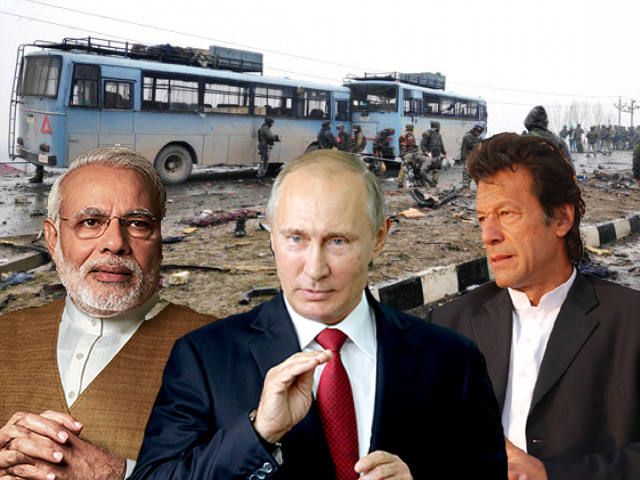 ---
How the Kashmir crisis threatens Russia's interests in Pakistan and India
The Indo-Russian alliance will endure. While Russia's partnership with Pakistan is more like a marriage of convenience
---
The world watched with bated breath as Pakistan and India narrowly escaped full-blown military conflict last week. But the Kashmir crisis demonstrates more than a bitter dispute between two nations. This volatile frontier provides a springboard from which a historic rivalry between two nuclear states could culminate, with potentially seismic consequences for its surrounding neighbours.

Moscow's readiness to mediate the tensions therefore comes as no surprise, with Pakistan Foreign Minister Shah Mahmood Qureshi welcoming Russian Foreign Minister Viktorovich Lavrov's offers to host talks. As an ally of both countries, pressure mounts on Russia in particular, to abate tensions in a messy region where its interests and investments become further embedded.

Russia has offered to mediate the crisis between India and Pakistan, in just one of many latest moves to expand its influence in the region. After sustained efforts at broadening key alliances in Central and South Asia, last week's military stand-off in Kashmir showed the Kremlin just how quickly things can go pear-shaped. Striking a balance between maintaining its stable partnership with India whilst developing bilateral trade and military partnerships with Pakistan, proves difficult in such moments, prompting urgent appeals for de-escalation and conflict settlement.

The toxic love triangle

In a phone call with Modi last week, Vladimir Putin showed eagerness to strengthen military ties with India, despite already being its biggest arms supplier. But against the backdrop of improved military relations with Pakistan – ranging from the sale of helicopters, conventional equipment supplies, joint military exercises, and a naval cooperation accord signed last year – it is no secret that Russia is widening its reach beyond the Indian subcontinent, and further into warm waters.

Russia's preoccupation with naval expansion, which also explains its military interventions in Syria and the Ukraine, are in large part attributed to its unfortunate geographic position between ice and unfriendly borders. With North Atlantic Treaty Organisation (NATO)'s continued encroachment from the West, and the rise of China in the East, Russia is surrounded by traditional rivals whom it must tirelessly work to counterbalance. Consolidating power within its historic zone of control therefore entails the need to forge new alliances southwards, which will inevitably upset its pre-existing ones.

Russia has sought to bolster diplomatic, trade and military ties with Pakistan much for the same reasons that it is engaging in peace talks with the Taliban and maintaining its uncomfortable strategic partnership with Iran: to ward off encirclement from China and the West, and to prevent instability from what it regards to be hostile Islamisation on its border (chiefly from the Islamic State). Whilst China and Russia share a common interest in the latter, India is less willing to make distinctions between types of extremism, conveying suspicion of any growing links with Muslim countries in general.

The Kashmir crisis demonstrates the precarious nature of Russia's interests in South Asia, which could one day become difficult to disentangle should another military standoff between the nuclear states escalate into full-blown war. Swooping in to become chief mediator before such circumstances arise could therefore save Russia from having to choose between India and Pakistan in the future, though it is likely that the Indo-Russian alliance – which is economically more beneficial – will endure. Russia's partnership with Pakistan, on the other hand, can be seen more as a marriage of convenience as it enables both countries to make the most of what the other has to offer.

A balancing act

Nevertheless, a violent conflict between India and Pakistan could jeopardise Russia's aim of effectively competing with China for natural resources and trade, as well as breaking into a new market for its gas exports. Similarly, for Pakistan, several initiatives including a $10 billion offshore gas pipeline, a Russian-assisted North-South gas pipeline between Karachi and Lahore, and at least 200 joint ventures across multiple industry sectors, have proven that the strategic partnership with Russia is currently indispensable.

Yet the Memorandum of Understanding (MoU) between both countries' state banks to promote financial cooperation is still hindered by artificial barriers, and bilateral trade expected to reach around $800 million by the end of the financial year is slower than anticipated. A lot therefore needs to happen for there to be a flourishing partnership between Russia and Pakistan.

Imran Khan has expressed Pakistan's need to enhance economic, trade, defence and energy cooperation with Russia, especially as it breaks further away from its longstanding alliance with the US. And whilst launching a war may have been politically expedient for the Narendra Modi government (amidst looming national elections in India), regional stability is the only way to guarantee the realisation of both Russian and Pakistani ambitions.

As these geopolitical realities continue to unfold and Russia's priorities in South Asia change, it must be prepared for pushback from India. This has taken shape in the latter's desire to form exclusive bloc arrangements with the US, Australia and Japan, rather than welcoming initiatives closer to home such as One Belt One Road (OBOR). So, in the meantime, Russia must tread carefully by ensuring it does nothing directly inimical to India's interests, reflected in Putin's immediate condemnation of the Pulwama attack and his assurances of continued cooperation in counter-terrorism.

All too aware of the regional dimensions of the longstanding Kashmir conflict, Russia's best strategy will be to amp up anti-terrorism rhetoric and offer greater support to Pakistan's counter-terrorism operations alongside China, whilst maintaining an open dialogue with India for collaborative efforts in achieving peace. Whether they will come to fruition, however, remains to be seen.