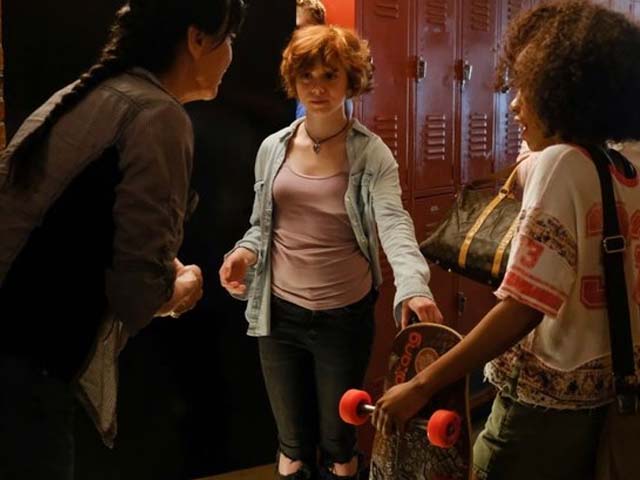 ---
Will the new Nancy Drew movie maintain her 80-year-old status as a feminist icon?
Historically, Nancy Drew films have earned mixed reviews, with fans being disappointed with her portrayal on screen
---
From the year 1930 till 2003, the Nancy Drew series, comprising of 175 novels as well as 34 revised stories, has captured the hearts of its readers, particularly female readers, who found the tales of the brave female detective very intriguing.

Although many authors tried to evolve the heroine's character with changing times, culture and audience's perception, throughout eight decades the central idea of the books stayed true to the original one that was created by Edward Stratemeyer.

The Nancy Drew books have been brought to the screen before by various filmmakers. The latest director to join this league is Poison Ivy (1992) famed Katt Shea, who brings to us Nancy Drew and the Hidden Staircase.

The trailer of Shea's upcoming project has been released, showing the decades-old young detective but with a modern twist. The private investigator's manners, ethics, and even wardrobe are all modern now. However, she is still showing other women that there is another way to live.




In this new version, Nancy Drew (Sophia Lillis) appears to be a 'daddy's girl'. It further depicts her as a clever student, who can't drive but loves to skateboard and play the detective because she believes:

"Delivering justice, it's my duty…"

The trailer reveals that in this particular adventure, Nancy after moving to a new town, is bored and in search of excitement. After she discovers a viral video of the creepy Twin Elms, she starts getting ready to solve her latest mystery: a haunted house

Nancy's great observation skills are put to the test as she along with her friends meets Flora (Linda Lavin), the owner of the haunted house, who reveals the ancient folklore attached to the house.

According to the trailer, Nancy discovers a secret passageway behind the old bookshelf in the house. She also gathers some clues such as a black Mercedes roaming around the Twin Elms. As with all mystery stories, someone tries to interrupt the investigation by threatening and scaring Nancy away.




The movie portrayals of Nancy have historically always earned mixed reviews. As with all movie adaptations of popular books series', fans of the series were usually disappointed with the portrayal of Nancy on screens, as compared to in the books. We can only hope that this version does not let us down.




The screenwriting team of Shea's film comprised of Nina Fiore and John Herrera who became famous for writing the scripts of the popular television shows The Handmaid's Tale and The Vampire Diaries.

From the trailer, the dialogues don't appear to be particularly catchy or witty. The script attempts to create a protagonist who isn't exactly imprudent, but does enjoy her independence.




The screenwriters have tried to make her character charismatic by making her out to be a brave and logical young woman, who is capable of multitasking. Avid readers of the series will however definitely miss Ned Nickerson – Nancy's boyfriend who helps her in uncovering the mysteries throughout the book series.

It (2017) star Lillis, who gained increasing popularity through her Sharp Objects (2018) character, clad in ripped jeans and a strawberry-blonde pixie cut depicts an extremely 21st century version of the once formally dressed Nancy.




One thing that continues to hold true with this latest adaptation is that Nancy has always been and continues to be an icon of feminism and a role model for young girls everywhere, telling them that girls too can be brave and clever. Girls too can be heroes.




All in all, Nancy Drew and the Hidden Staircase appears to be perfect for all those who love to watch movies about supernatural occurrences and detective stories. But only time will tell if fans of the book series are finally satisfied with the portrayal of Nancy on screen.




Nancy Drew and the Hidden Staircase is coming to theatres on March 15, 2019.

All Photos: Screenshots