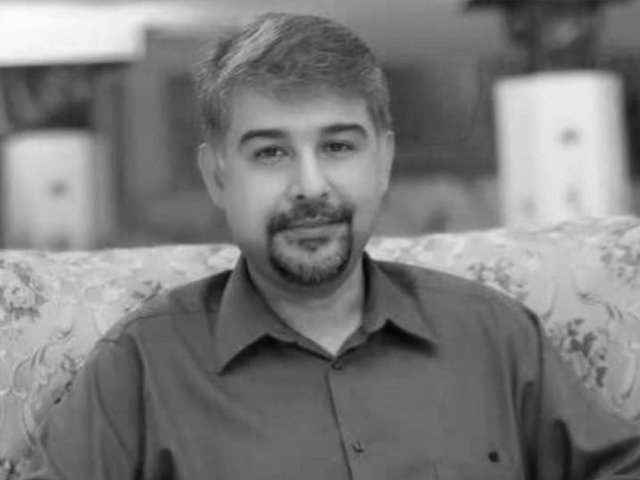 ---
Ali Raza Abidi – Another sane voice silenced in a city marred with blood
When it comes to nabbing street criminals who usually roam around on motor bikes, our law enforcers seem incapable.
---
Ali Raza Abidi's cold blooded murder has left a huge void that will probably take ages to fill. His untimely death has not only taken away a young enterprising politician from us, but has also saddened the culinary world, the blogosphere and the Boston University alumni.

Abidi was the father of three beautiful daughters and a handsome young son; he was also a loving husband, an obedient son and a thorough gentleman. His friends and colleagues loved him dearly for his gentle and cultured demeanour. I was also fortunate enough to meet him a couple of times and found him to be extremely down to earth and helpful.

His colleagues from his Muttahida Qaumi Movement (MQM) days have a plethora of fond memories associated with Abidi. As a member of the National Assembly of Pakistan, Abidi stood up for the rights of the people who sent him to the legislative assembly. Switching roles from a politician to becoming the chief executive officer of the famous Biryani of the Seas (BotS) was Abidi's forte. The patrons of BotS remember him as someone who loved to cook and serve.


Our last dinner together with Ali Raza Abidi along with Wajih Sani, Faizan Lakhani at his restaurant. May his soul rest in peace. He will be missed. pic.twitter.com/IrmNON5de1

— Murtaza Solangi (@murtazasolangi) December 25, 2018


It takes a couple of bullets and hired hitmen to snatch away enterprising people from us. Hakim Saeed, Parveen Rehman, Sabeen Mahmud, Shahid Hamid, Amjad Sabri and Azfar Rizvi are a few prominent names from a long list of victims who were mercilessly gunned down in broad daylight in the very city they had been serving with their sweat and blood. When men and women of such stature are targeted by these brutal assassins, the act of such criminals not only affects several families but also shuts down avenues of learning and progress.

The city of Karachi has gone through turbulent times when dozens of citizens were killed in a single day over ethnic, linguistic, religious or political reasons. The bordello of blood that Karachi was facing came to an instant halt after Sindh rangers backed by the Pakistan Army stepped in and systematically eradicated all major criminal groups operating in the city. After almost a decade-and-a-half, the people of Karachi experienced absolute peace and tranquillity.

The recent events, including the targeted killing of two workers of the Pak Sarzameen Party (PSP) and now the murder of Abidi, have left a big question mark on the performance of our law enforcement agencies. Defence Housing Authority (DHA) is generally known to be a peaceful neighbourhood as compared to the rest of Karachi, however, many major killings of late have taken place in the District South, especially in neighbourhoods that are known to be fully secured.

In such 'secure' areas police can be seen actively stopping cars to remove tints and fancy number plates, but when it comes to nabbing street criminals and hitmen who usually roam around on motor bikes, our law enforcers seem incapable of eradicating the menace. This recent wave of targeted killings should be taken seriously before more precious lives are taken away and the city descends further into chaos and lawlessness. The entire route of Abidi's assassins can be traced using the footage from the surveillance cameras installed on almost all intersections of DHA Karachi. The solution to this menace is simple: install a network of CCTVs covering the entire city and deploy smart monitoring solutions.

https://twitter.com/SherySyed_/status/1077652681106341888

What happened was unfortunate, saddening and infuriating. Let's not go back to being the city where lives are cheap and terror takes precedence. For Abidi, let's put an end to these 'na-maloom afraad' (unknown people) once and for all.

Abidi will surely be missed for a very long time by his family, friends and colleagues for the selfless man we all knew him to be.