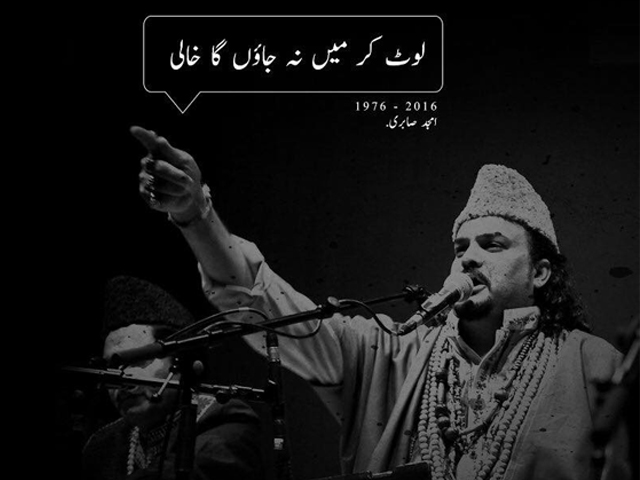 ---
Remembering the king of qawwali: This world is a hollow and soulless place without you, Amjad Sabri
Many believed that his voice was so mesmerising that it had the power to soothe the souls of its listeners.
---
This Ramazan, we witnessed emptiness on our TV screens. You could just tell something was missing, and that hollowness is because of Amjad Sabri's untimely and heartbreaking death last year.

His regular appearances on TV helped him popularise his Sufi renditions. Sabri changed the face of qawwali, devotional music, and other Sufi renditions permanently. He spent his life singing praises of Prophet Muhammad (pbuh), continuing a centuries-long tradition of musical veneration up until his assassination.

He was a sincere performer and perfected the art of holding his audiences' attention, a skill that is rare in today's world. He had an unmatched ability to establish and maintain a genuine connection with the people in his audience and performed with the finest artistry.

The late qawwali star lived a humble life in a modest neighbourhood of Liaquatabad, Karachi, and socialised with all segments of the masses lovingly and sincerely. He created a niche of his own genre and was loved by millions of Muslims and non-Muslims all around the world. It will not be an exaggeration if I said that Sabri was a qawwal whom both Shias and Sunnis loved equally.

Let us think of all that Sabri has given to us over the years; hours of interactive appearances on television, soul-touching renditions, and the inspiration to live a life that is simple, beautiful and within a religious code of conduct. For all that he has given us, what could one possibly give the qawwali king in return?

This can be particularly difficult for his family members or close friends, but it must be done. Though Sabri has gone, we can keep his memory and legacy alive by honouring him one way or another.

So here are a few ways by which we can honour him today:

1. If one is an ardent Sabri fan, feeling aggrieved over his untimely death is normal. Being unable to open up to the pain of losing him to a targeted killing is acceptable. Thus, make a strong resolve to stand up against violence. Condemn the act and muster the strength to reject any sort of criminal activity.

2. Even the warmth of a candle can keep our fondness for the late qawwal alive. The candle can act as a symbol of his memory and a way to cherish his vocals. Therefore, don't shy away from it, light a candle and say a prayer for his soul.

3. Charity brings comfort or consolation during times of great distress or sadness. Whenever there is a loss in the family, we prefer to give some charity or sadqaon behalf of the dead. Charity is to give to others what belongs to you. Therefore, it will be an honest way to mark Sabri's anniversary by distributing clothing or food among the destitute and orphans.

4. It is vital to mark his grave so that visitors can locate it easily and for that, there is a need to keep the grave area clean. To create a welcoming environment for visitors, place flowers in the area as they are a great way to pay your respects.

5. Handwritten manuscripts of famous people are considered a national treasure. Many famous poets wrote their poems on torn scraps of paper, envelopes and other fragments of things they used. The late singer was no exception, which is why there should be a collective initiative to preserve the handwritten documents of his Sufi poetic works.

6. Reaching out to the grieving family is an effective way to recognise the devotional singer. Meet with his family and let them share stories about his life with you.

7. Some streets are named after famous or distinguished individuals and some people are directly associated with the street, usually after their deaths. It won't be unusual to commemorate a person like Sabri by naming a street or neighbourhood after him.

Let us not forget that Sabri was a celebrity, an icon and a national asset. The late Sufi singer was larger than music or poetry. He gave the world such popular and thematic renditions that it won't be difficult to find a couplet from his hits to engrave on a bench of a city park, in galleries or on a stone at a roundabout.

8. Sabri's voice and devotional renditions have been admired by qawwali lovers across the globe. Many believed that his voice was so mesmerising that it had the power to soothe the souls of its listeners. We celebrate countless events in our lifetimes and a great way to honour Sabri would be to listen to his qawwalis while we celebrate. Here are some of his best performances:






9. Not many people know that the late Sabri was a cultural activist and a member of the Arts Council of Pakistan. Literary and cultural organisations should make it a point to observe his anniversary by organising events like lectures and symposiums to highlight his life and works.

10. A journalist researches and spreads news of public interest in spite of the obstacles that arise in their work. They make every effort to create awareness. Thus, it is obligatory for these journalists to write something on the late Sabri by highlighting how he changed the face of Sufi poetry.

Sabri was not a regular Pakistani. He was a personality and a celebrity loved by all. His brutal murder was not one that could have not been avoided. The 'whys' and 'wherefores' behind his death may always remain unresolved, yet one must question the guardians of law – how long will Karachi have to see its people turn, plot and sacrifice themselves to the dragons of death?

We miss you immensely, Sabri sahib!