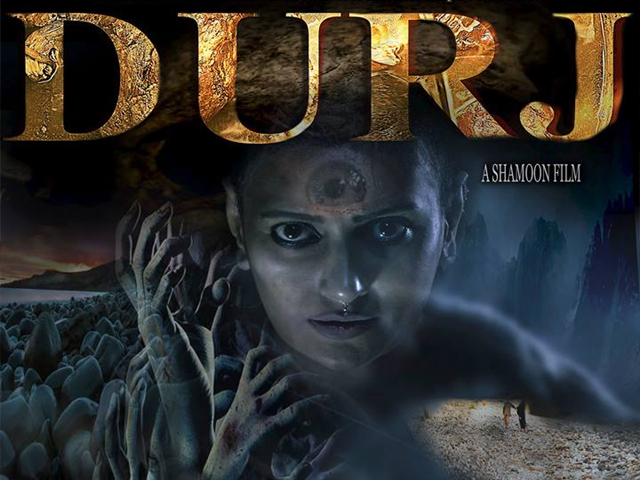 ---
Durj: An intense Shamoon Abbasi, a terrifying cannibal and so much gore – Pakistani cinema, brace yourself!
The trailer is impressive on multiple levels.
---
Shamoon Abbasi has come a long way from playing a comic character (Mohammad Shafiq Masood) in PTV's drama to portraying a furious villain. He is increasingly improving his acting game and matching the calibre of superstars of Pakistani cinema. It seems they are in for some competition!

The trailer of Abbasi's upcoming movie recently released. With an unusual name, Durj's trailer is brilliantly made and people's anticipations are firing up. The movie is said to be based on true events and given the 'cannibal' nature of the trailer, it will definitely be intriguing.




Here are four reasons why people should anxiously anticipate for Durj:

1. Stimulating experience for Pakistani cine-goers

From the trailer, it seems we will witness something we have never seen before on the silver screen in Pakistan. There are a few bone-chilling shots in the trailer that makes one curious as well as alarmed because it is not usual to see gore in Pakistani movies. Moreover, it seems that the movie has multiple plots simultaneously running which might coincide at a point.




It might be too soon to say but it is possible that Pakistan might be entering into a different genre game.

2. Abbasi – the master of disguise

Abbasi plays a fearsome character and manages to make an impact even in the trailer, which only adds on to our excitement to see him in the movie in this new avatar. He is not only the acting force behind the movie, he has also written and directed it. Talk about being multi-talented!

In the few scenes that we see in the trailer, he appears terrifying and intense. It is not even about what he says or does but only the way he looks on in the trailer that sends chills down your spine. We don't get to see such characters in Pakistani cinema and viewers will surely be surprised to see him.




3. An enthralling and eye-opening story

We have recently seen many Pakistani movies coming out that lean towards the rom-com genre. While there is nothing wrong with these kinds of movies as they do generate a lot of audience and provide good entertainment, we do need movies that push our limits and give us something to remember.

The trailer does not give much away but it seems that the story is about a Pakistani cannibal man (played by Abbasi) who is in hiding. Myra Khan narrates the story in the trailer and talks about how her husband is kidnapped and it seems that he was taken by these cannibals. The police is now after them and they fear that these cannibals might increase in number if they do not put an end to them.

We get to see glimpses of human flesh, blood and bones, which might put off a lot of people. However, if you have seen Dexter, Hannibal or even the Saw trilogy in the past, this will be a piece of cake.




Apart from this, the trailer of Durj is loaded with meaningful and strong dialogues which will only add to the movie's impressive outlook.

4. Visually remarkable

In order for the story to make an impact, you have to present it well. Durj's trailer highlights that the filmmakers have paid close attention to visuals. It showcases some very picturesque sights and they are shot really well.

From scenes shot during the night to close-ups, the camerawork is spectacular and really grabs the viewer's attention. There are also scenes shot outdoor in the valleys and mountains that provide a backdrop for the heinous crime taking place in the movie.




On the whole, I find the trailer of Abbasi's Durj impressive on multiple levels. Produced by Dodi Khan and Sherry Shah, the movie also stars Shah, Dodi, Nauman Javaid and Hafeez Ali. Hopefully the movie will prove to be a gateway for new ideas and will have a positive effect on Pakistani cinema.




The film is set to release in 2019.

All photos: Screenshots