 ---
McGregor can pass racist and Islamophobic insults, but Nurmagomedov can't react to it?
Yes, this is a fighting sport, but even great fighters should not be forgiven for being racist or Islamophobic.
---
"Let's talk now", said Khabib Nurmagomedov, as his fists pounded Irish fighter Conor McGregor. In the ring, the Russian fighter humbles his opponent. Ten minutes later, the cocky Irishman taps out. The fight is over. The Russian has won it convincingly; an easy victory after a much hyped fight.

But wait, the fight is apparently not over yet for the Dagestani fighter, also known as The Eagle. Despite a dominating victory, he is still angry. That anger needed only a nudge in the right (or wrong) direction, and that push was provided by McGregor's training partner Dillon Danis, who apparently kept hurling abuses at Nurmagomedov.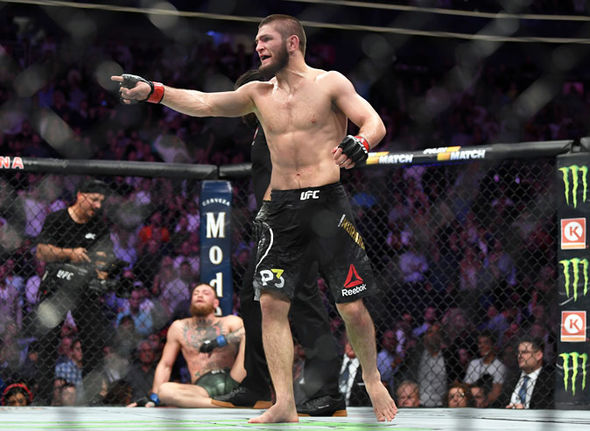 Jumping out of the Octagon, The Eagle left the nest and attacked McGregor's team. A massive brawl erupted, and pure chaos ensued. As wild punches were thrown around, for a second I began reminiscing over the good old days where a 'phadda' (fight) erupting was the highlight of the day.

https://twitter.com/TeamBeqa/status/1048806088152424448

A lot has been said and commented upon after the fight was over and the brawl stopped. However, some context is necessary to make sense of why things got so out of hand to begin with. Ultimately, anger is a human emotion, and is completely normal when a person feels attacked, either physically or verbally.

Just imagine the adrenaline rush the Russian fighter must have felt as he won one of the biggest fights of his career. More importantly, it is important to note that this was a personal fight for the champion, given that McGregor constantly threw racist and Islamophobic slurs at him during the build-up of what was billed the greatest match in the Ultimate Fighting Championship (UFC) history.

Am I justifying what Nurmagomedov did? Not at all. The brawl itself should not have commenced, but one must acknowledge that it did not occur in isolation, and that the reasons for why the fighter broke down cannot be ignored. And if you choose to ignore it the way UFC President Dana White did, then you're being equally unfair.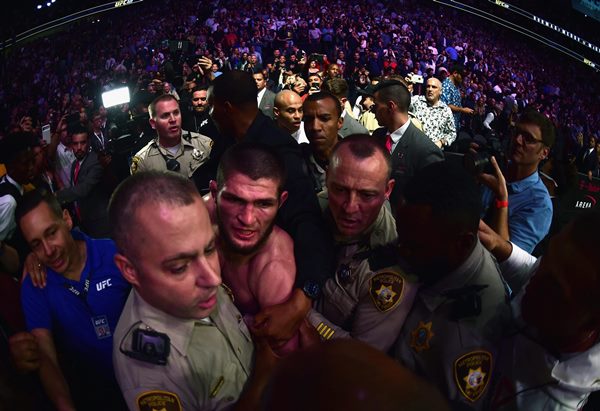 Earlier this year, the Irishman threw a steel dolly at Nurmagomedov's bus; a deliberate and targeted attack in which several other fighters were hurt alongside the lightweight champion. After this incident, White called it,

"The most disgusting thing that has ever happened in the history of the company."

But after much talk, McGregor was set free, with White claiming the attack was in retaliation to Nurmagomedov slapping McGregor's teammate Artem Lobov. The footage of the bus attack was subsequently used in official UFC promotional videos. White then defended the footage by saying it was fair and a part of McGregor's storyline, and all was forgotten as the world celebrated the much anticipated return of the Irishman.


What one has to keep in mind is that McGregor is a superstar. Whether you love him or hate him, the massive fan following he brings to the game cannot be ignored or denied. The enormous amount of revenue his fights generate can also not be dismissed. In short, McGregor is monetarily too valuable to the UFC for him to suffer any real consequences for his actions.

However, a line must be drawn when a fighter not only consistently mocks the religious faith of his opponent, but also insults his father and his country, which is exactly what the Irishman was doing in the lead up to the fight. McGregor scorned Nurmagomedov's Islamic faith by offering him a bottle of whiskey, despite knowing he does not drink alcohol (because he explicitly stated to McGregor that he does not drink). As if that was not enough, he then called Nurmagomedov's manager a "terrorist rat".

Ultimately, all that racism disguised as "trash talk" backfired for McGregor. Nurmagomedov had one chance to hit him where it hurts, and he used all the anger generated inside him by the Irishman to his advantage. Much was said about McGregor's striking prowess before the match, but what actually happened during the fight itself was complete annihilation as he was battered by his opponent. For much of the fight, the Irishman was dominated by the Dagestani, who eventually cornered him in a precarious situation and pummelled his face. But the Russian was in no mood to let him off the hook, as he kept the pressure and his grappling strength overpowered his adversary. Knowing he was no match for Nurmagomedov, McGregor eventually tapped out to a rear naked choke.




I must say, if anything, all the remarks McGregor passed about his rival make him seem incredibly immature and ignorant, especially after his defeat. This is why athletes need to stay humble and give respect to their opponents, whoever they may be. After all, mocking and insulting a person's religion, family or country won't do you any good while you lose in the fighting ring.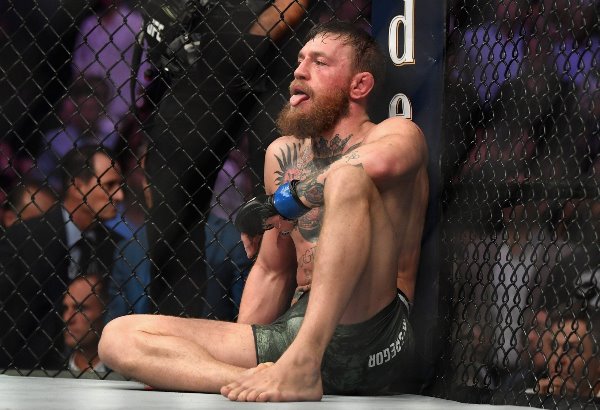 Nurmagomedov proved this by defeating McGregor where it counted. But he is also a devout Muslim, and all the personal attacks deeply impacted him, for he is only human. In the ring, he was a composed fighter, but after the match, he gave into his emotions and leapt over the fence.

Unlike McGregor, such aggressive behaviour is not typical for the Dagestani, who also apologised in the post-match press conference for his behaviour. Most importantly, looking at the bigger picture, the UFC administration definitely needs to redefine what counts as "trash talk" and when those currently non-existent limits are crossed.




Yes, this is a fighting sport, but even great fighters should not be forgiven for being racist or Islamophobic. If McGregor genuinely believes he is a great fighter, then perhaps he can learn from this.