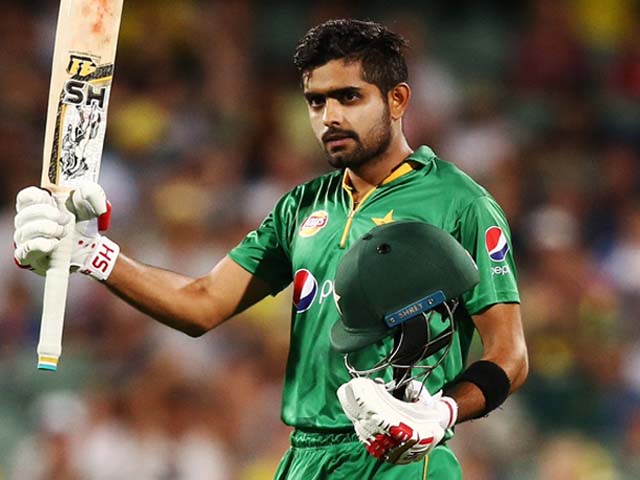 ---
Is Babar Azam a 'selfish' batsman?
A pretty looking half-century or century is not enough for a player currently regarded as Pakistan's best ODI...
---
Pakistan have now lost 10 consecutive ODI matches. A 4-0 drubbing against England, the top ranked ODI team, is not surprising as I had predicted a 4-1 defeat in my previous blog. We were below par in all three departments: bowling, batting and fielding. But many positives have also emerged from this series.

The highest run-scorer for Pakistan in the series was Babar Azam. He scored 277 runs at an average of 55.40 and a strike rate of 99.64. However, did those figures help the team in winning any game? If not, then why so?

While Azam's classy batting is very pleasing to watch, it lacks that final punch.

To be precise, my concern is with Azam's selfish batting approach. Azam's century against England in the fourth ODI was the slowest of the seven centuries scored in ODIs at Nottingham since the 2015 World Cup. Azam's century came off 104 balls, while England's Jason Roy smashed a 100 off 75 balls. The first 50, scored by Azam came off 49 balls. The next 50 was even slower and came off 55 balls. In contrast, Roy's first 50 came off 43 balls and his next one took only 32 deliveries.

Instead of upping the ante, Azam slowed down the tempo of his innings by playing dot balls and taking singles. Whereas the England opener Roy went ballistic, hitting a six and then a four to reach his well-deserved century.


Babar Azam's 100 off 104 balls today

The slowest of the 7 centuries scored in ODIs in Nottingham since the last world cup. Previous: 94 balls Joe Root vs NZ.

And the second slowest of 21 centuries scored in 50 overs cricket in Nottingham since the last World Cup.

— Mazher Arshad (@MazherArshad) May 17, 2019
Below are Babar Azam's 25 consecutive balls before reaching hundred. The maximum scoring shot was single. It won't be wrong to suggest that his go-slow approach on the world's best batting pitch has hurt Pakistan.

1 1 1 1 1 1 1 0 1 1 0 0 1 1 0 0 0 1 0 1 1 1 1 0 1

— Mazher Arshad (@MazherArshad) May 17, 2019


This proves two things. Firstly, Roy wasn't playing for his personal milestone, unlike Azam. Secondly, Roy obviously has the power-hitting game which Azam lacks. After reaching his 50, Azam should have accelerated the pace of his innings given that Nottingham is the highest scoring ground in England.

Moreover, England have twice amassed scores in excess of 400 at this very ground. They scored 444 runs against Pakistan and 481 runs against Australia, which is the highest total in ODI history. Additionally, in the ongoing Royal London One-Day Cup 2019, there have been three scores of over 400. Considering all these statistics, and given the nature of modern ODI cricket, Azam should have ideally made an 80-ball century.

At the end of Pakistan's innings, commentator and former Pakistani cricketer Ramiz Raja called Azam's century a "selfish" one.

https://twitter.com/iMMujahidMalik/status/1129737904702590976

Even during the final ODI, Azam played at a pace of his own liking, conveniently ignoring the situation and failing to understand the need of the hour. His 80 from 83 balls should have been at a brisker pace. Perhaps he needs to learn from his captain Sarfraz Ahmed, who was looking for boundaries even though he could have easily slowed down to reach his century.

So, is Azam really a selfish batsman or does he simply lack the ability for power-hitting?

Well, in the fourth ODI he made 15 runs off eight balls after reaching his century. That means that if the intent is there, he can improve his strike-rate. But it seems that personal accomplishments tend to outweigh the team's best interest. I know that his arsenal lacks the big shots, but if he doesn't even attempt those kinds of strokes then it just looks plain selfish. The England series was only a reminder to us that Azam hasn't really worked on pacing his innings.

In the 2017 Champions Trophy final against India, he made 46 runs off 52 balls. This was a slow innings, taking into account that Pakistan had wickets in hand and at least a run a ball was required to keep the tempo high after Fakhar Zaman's dismissal. Another example is Azam's century against Australia in the fifth match of the 2017 ODI series. Pakistan had to chase a target of 370. Azam came at number three, and his first 50 took 75 balls which, according to the situation, was too slow. His next 50 runs came off 32 balls. The first 50 was selfish because the required run rate was above seven runs per over. By the time he reached his half-century, it was too late as the asking rate had gone further up. It would have helped the team if Azam had scored a half-century of 30 balls rather than a meaningless century off 109 balls.

To further dissect Azam as an ODI batsman, we need to have a look at some interesting statistics.

In 64 ODIs, Azam has scored nine centuries, four of them against West Indies, two against Zimbabwe and one each against Australia and England. Of the nine centuries, eight have been scored batting first and six have been scored against relatively weaker oppositions. The sole hundred while chasing came against Australia, but in a losing cause.

Against the top five teams in ODI cricket, Azam averages almost the same, regardless of whether Pakistan are batting first or second. But crucially, his strike rate drops significantly when Pakistan are chasing, from 88.57 to 80.43 . While chasing against the top teams, Azam has provided only a supporting role in the matches won by Pakistan. While batting first, he was the top-scorer four times out of 16 games and all four of those games Pakistan lost.

There is no doubt that Azam is a fine player but he hasn't performed for the team when the pressure is on. Also, whenever he reaches closer to a milestone, his strike rate slows down. This needs to be stopped. I hope Mickey Arthur gives him a stern talking to because it is much needed. The World Cup is ever so near and we need Azam to play some match-winning knocks.

I would like to see him perform against the top ranked teams and also during tough situations. In the top order, Pakistan cannot rely only on Zaman to play better than a run a ball if we have to chase down a total in excess of 300 or 350. A pretty looking half-century or century is not enough for a player regarded as Pakistan's best ODI batsman at the moment. It's time to aim higher than that.
Facebook Conversations
COMMENTS
Comments are moderated and generally will be posted if they are on-topic and not abusive.
For more information, please see our Comments FAQ