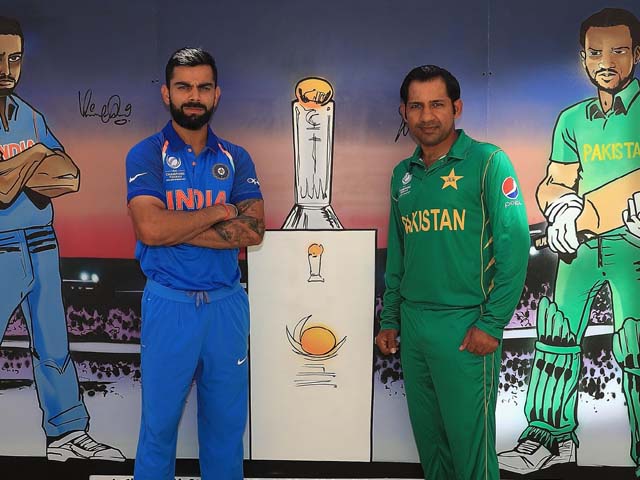 ---
Pakistan has never beaten India in a World Cup match, but is that about to change?
Experts say the team which handles pressure better will win the game, and that is true. But is it really that simple?
---
June 16, 2019. The game we've all been waiting for is now just one day away. Will India make it 7-0 wins against Pakistan at the World Cup? Does Pakistan have a chance this time? Well, whenever there is a Pakistan-India game, cricket experts say that the team which handles pressure better will win the game, and that is true. But is it really that simple?

Let's look at the World Cup history between these two nemeses and attempt to decipher why Pakistan has not been able to crack the Indian code.




In their encounters from 1992 till 2015, Pakistan have batted first only once. In the other five matches, the green shirts unfortunately lost the toss and had to chase, which every Pakistani cricket enthusiast knows is the teams' Achilles heel.

1992 World Cup

India batted first and made 216. In their reply, Pakistan only managed 173 and lost the match by 43 runs. The most striking and disappointing thing about Pakistan's batting was their ultra-defensive approach. Javed Miandad made 40 runs off 110 balls with a strike-rate of 36; a strange innings to say the least! On the other hand, Sachin Tendulkar made a match winning contribution with both bat and ball, earning him a much deserved Man of the Match award. Hence, Pakistan's defensive mind-set cost them the match.




1996 World Cup

Both Saeed Anwar and Aamer Sohail were batting fantastically in pursuit of India's 288 during the quarter-final played at Bengaluru. After the departure of Anwar, Sohail kept thrashing the Indians, but before he could take Pakistan over the line, Venkatesh Prasad clean bowled him. From there on, Pakistan faltered and lost all their momentum. The rest of the batting succumbed to the pressure of the game and failed to carry on the good work done by the opening pair. If anything, this shows just how vital it is for Pakistan's middle order to deliver.




1999 World Cup

This match was almost identical to the 1992 game. India again won the toss and set a target of 228. Other than Anwar and Moin Khan, Pakistan were once again too defensive in their batting approach. They kept losing wickets and showed their vulnerability while chasing in a pressure match. As a result, Indian won this battle rather comprehensively and it was evident that Pakistan had failed to learn from their previous mistakes.




2003 World Cup

Thankfully, this time around, Pakistan finally won the toss and batted first, but in reply, the Indian openers, Virender Sehwag and Tendulkar, went berserk in the first five overs. For the second successive time in an India-Pakistan World Cup contest, Shoaib Akhtar's extra pace went in India's favour as Tendulkar smashed Akhtar all around the park just for fun. Even though Akhtar got him out in the end, by then it was too late and India cruised along to a comfortable six wicket win. It is clear that the Indian batsmen are always ready to take on our pacers and this presents our bowling attack with a dilemma.




2011 Word Cup

A team that drops four catches of their opponent's main batsman simply does not deserve to win. Pakistan dropped five catches in total and if it weren't for the appalling fielding display, things could have been different. Chasing 261, the opening pair of Mohammad Hafeez and Kamran Akmal played with positive intent. But after the departure of Hafeez, runs dried up and wickets kept tumbling at regular intervals, thanks to the nervous and negative batting approach by the likes of Younis Khan, Asad Shafiq and Misbahul Haq. Once again, poor batting and sloppy fielding came back to haunt us.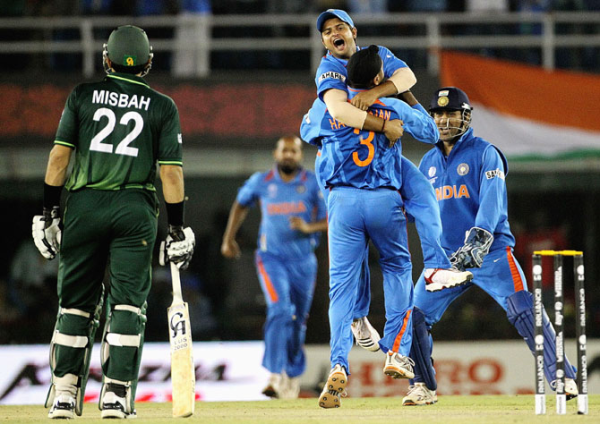 2015 World Cup

This was certainly the weakest Pakistan team to ever face India in a World Cup match. The batting line-up of Ahmed Shehzad, Younis Khan, Sohaib Maqsood was no match for the mighty Indians. Moreover, Pakistan's spin attack featuring Yasir Shah, part-timer Haris Sohail, and Shahid Afridi was pretty poor. Simply put, this contest between the two arch-rivals was quite easy to predict.




Lessons to be learnt

From these defeats we can derive certain recurring patterns. It is apparent that Indian seamers have regularly exploited conditions outside of the sub-continent, while a defensive approach by Pakistani batsmen has often been their undoing. In terms of fielding and fitness, India have greatly improved their standards after the 2000's, and when it comes to mental strength and performing under pressure, India are far ahead of us. Extra pace has not worked for Pakistan against India at the World Cup and it will be interesting to see what tactics Mickey Arthur employs with regards to the bowling.

Tendulkar has stood out for India, winning three Man of the Match awards in five World Cup games against Pakistan. After his retirement, Virat Kohli has taken on his responsibilities very well. For Pakistan, this should be a lesson. One or two of our batsmen will need to step up and play a special innings to match the occasion. In terms of bowling, Mohammad Amir is the one who in the recent past has always stepped up his game against India, and he is in red-hot form, so India better watch out. But even with Amir's presence, support from other bowlers will be critical.




Who is the favourite?

On paper, India is the more balanced side and has a superior batting and bowling line-up. They have a world class bowler in Jasprit Bumrah and an effective swing bowler in Bhuvneshwar Kumar as well as two wicket-taking spinners, Yuzvendra Chahal and Kuldeep Yadav. Additionally, they are a better fielding unit.

Another thing that may suit the Indian team are the conditions at Old Trafford, a venue where they have already won against Pakistan in the 1999 World Cup. So besides the psychological advantage, the ground offers swing and seam in the early overs, which the Indian pace attack has the capacity to exploit much better than their counterparts.

Amir, Wahab Riaz and Hasan Ali will need to be at their best to compensate for their comparatively weaker batting unit. Whether Shaheen Afridi plays remains to be seen; however, Shadab Khan should definitely make it into the playing 11. Who he replaces is not sure yet. I'd drop either Shoaib Malik or Asif Ali instead of dropping a pacer to make way for Shadab because I believe that Pakistan must play with five genuine bowlers.

Game plan for Pakistan

We are nervous chasers, and against India in such a pressure match, one would think Pakistan should bat first. But batting first in overcast conditions where the ball is moving around, and considering India has a great fast-bowling attack, will not be an easy.

Hence, Pakistan will face a dilemma as to whether to bowl first or bat if they win the toss.

Fakhar Zaman must play his natural game because on his day he can be dangerous. Mohammad Hafeez should target the Indian spinners as he is great against spin, while Imamul Haq and Babar Azam should look to anchor the Pakistani innings.

In terms of bowling, Amir should target Rohit Sharma's pads as he has gotten him out twice in that fashion, and for Kohli, bowling a line around the fourth stump should do the trick. Get these two big fish early, and Pakistan are in the game!

All photos: Getty