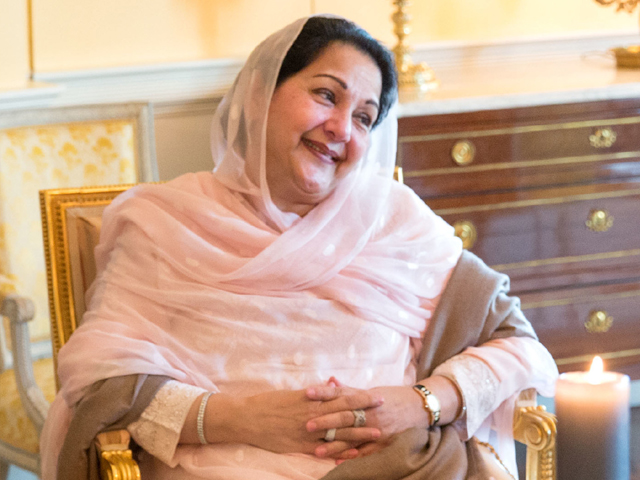 ---
RIP Kulsoom Nawaz: An embodiment of 'when they go low, we go high'
When Nawaz couldn't be by her side, she displayed more political acumen, bravery, intelligence than most politicians.
---
The death of Kulsoom Nawaz, three-time former first lady and wife of former Prime Minister Nawaz Sharif, is a loss deeply felt by all, but especially by those who have an inkling of her role in our political history. Kulsoom was diagnosed with throat cancer in August 2017, and she passed away in London at the age of 68 after fighting a long and strenuous battle. The entire nation prays she rests in peace.

Kulsoom will undoubtedly always be remembered as the woman who stood against the military dictatorship of Pervez Musharraf, and pushed him on the back foot by not bowing down to his fascist tactics. At a time when her husband could not be by her side, she displayed more political acumen, bravery and intelligence than most male politicians in the country.

Kulsoom was a highly educated woman; after getting a Masters degree in Urdu literature, she went on to acquire a PhD in Philosophy. Her status as an academic meant she was regarded highly in literary circles, with famous authors like Qurratulain Hyder acknowledging Kulsoom's intellect. Her learned status allowed her to help Nawaz in writing and delivering balanced speeches in the 90s, and when Musharraf staged a coup against her husband and placed him behind bars, she ended up being the one taking charge of the Pakistan Muslim league-Nawaz (PML-N). As president of the PML-N, she resisted Musharraf's martial law and brought the opposition together under one platform with the help of the late Nawabzada Nasrullah Khan.

Though the PML-N and the Pakistan Peoples Party (PPP) were political foes at the time, Kulsoom successfully managed to convince them to set the past aside and work for the restoration of democracy in the country. She then launched a countrywide movement against Musharraf and his unconstitutional martial law, and it was the pressure of this movement that compelled Musharraf to free Nawaz and his younger brother and send them into exile.

After the Musharraf era, Kulsoom kept a low profile and stayed away from the political horizon. However, she continued to advise Nawaz on political matters and also began preparing Maryam Nawaz to embrace the role of the future leader of the PML-N. She convinced Nawaz to include Maryam in the decision-making of the party, and despite disapproval from within the family and the ranks of the party, she succeeded in getting Maryam a place on the table. Maryam's transformation from a mother and a housewife to the political heir of the PML-N is thus the result of Kulsoom's efforts. Those who knew Kulsoom closely could tell that Maryam was the shadow of her mother, and that her political acumen was a gift passed down through her.

As the first lady of Pakistan, Kulsoom lived a dignified public life and chose to maintain an honourable silence, despite her family being regularly targeted by political opponents for the sake of petty point scoring. However, her silence should not be confused for indifference or inaction. The nation once again bore witness to Kulsoom's return after her husband was disqualified by the Supreme Court, as she won the by-election for a seat vacated by her husband. Unfortunately, her illness meant she could not take oath as a member of the National Assembly after her victory.

What will undoubtedly compel us to look back in shame is the reaction of certain political opponents during Kulsoom's illness, which remained the case till the end of her days. There is partisan divide, and then there is the behaviour displayed by followers and members of the Pakistan Tehreek-e-Insaf (PTI), who termed her illness a political stunt and a gimmick to gain public sympathy.

There were countless politicians, TV show hosts and journalists who did segment after segment and wrote column after column claiming that Kulsoom's ailment was being faked in light of the struggle faced by her husband and their daughter; a clear lie that many in the nation came to believe. Not only has her death proven these critics wrong, it also shows how low we have sunk as a society and how divided we have truly become, that a woman fighting cancer needed to actually lose her life in order to prove she was really ill.

In her last days, not only was Kulsoom fighting for her life, she also had to fight the victimisation of her husband, her family, and their political party, and also bid a permanent goodbye to loved ones as they were imprisoned while she breathed her last.

Most of the propaganda against her illness came from people like Sheikh Rasheed, whom Kulsoom identified as a turncoat during the protests against Musharraf and was denied re-entry into the party. It became evident that Rasheed held a personal grudge, but watching the likes of Imran Khan, Hamza Ali Abbasi and Aamir Liaquat mock Kulsoom and accuse the PML-N of faking and pretending in order to sway public opinion will always remain a stain on the political face of the PTI. Given that Imran's own mother fought a battle against cancer, one expected more respect and maturity from him and his party. Even after her death, people like Abbasi are spreading hatred by riling people up and suggesting that the loss is being exploited by the PML-N.


#KulsoomNawaz Inna lillah e wa inna aleyhey rajioun. May Allah have mercy on her soul. Its a request to please not disrespect the deceased by politically manipulating her death & giving opinions like Nawaz & Maryam should be freed because Kulsoom sahiba died etc etc. Please! pic.twitter.com/QdrfGN0Zx6

— Hamza Ali Abbasi (@iamhamzaabbasi) September 11, 2018
#KulsoomNawaz Absolutely disgusting how some people r using Kulsoom bibis death to gain sympathy for Nawaz & Maryam & trying to portray them as tragic heroes. Shameful... Utterly shameful & disgusting. May Allah have mercy on Kulsoom bibi's soul & may Allah give us some decency.

— Hamza Ali Abbasi (@iamhamzaabbasi) September 11, 2018


Kulsoom's life is perhaps the best answer of how to deal with such attacks. She was the embodiment of 'when they go low, we go high', as she never criticised her attackers and graciously left the world with a smile. She reminded us all that it is possible to be successful in politics and stand up for what is right in Pakistan without stooping to the level of others and bashing opponents for the sake of setting political scores. Kulsoom's efforts for the PML-N will go down in our history books, and she will always be remembered as the woman who bravely fought for Pakistan's democracy, and became a symbol for that fight till she drew her last breath.

May Kulsoom finally rest in peace.