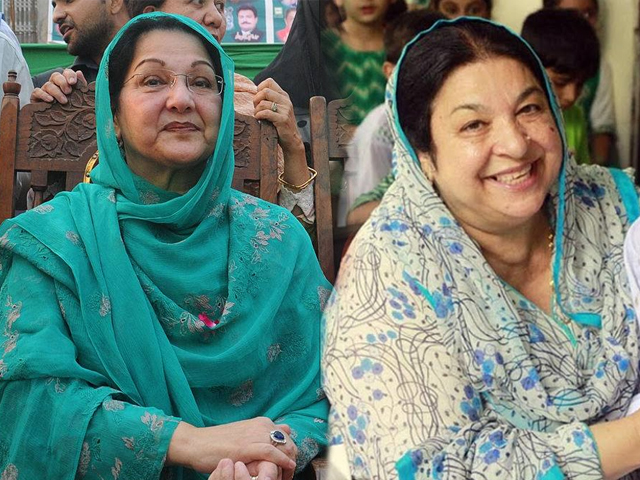 ---
Is the NA-120 by-election a preview of PTI's prospects in the upcoming 2018 elections?
Can we make some projections based on this result for 2018 elections? Can PTI make inroads into PML-N's vote bank?
---
The voters of NA-120 have given their verdict and have elected Kulsoom Nawaz by a healthy, though reduced, margin of around 14,000 votes.

Although I have been following elections for decades now, I don't recall any election of an individual seat in which the stakes were so high. Normally by-elections are predictable and frankly boring affairs. This by-election, however, was anything but boring or even predictable.

It is said that all politics is local and one should exercise a lot of caution in extrapolating the results of one seat to predict the future general elections. Like all constituencies, NA-120 has its own local dynamics which are crucial in determining the voting pattern and the eventual outcome.

However, given the fact this was the ousted prime minister's home seat, which he had won numerous times in the past, the symbolic importance became extremely high. It became a clash of two narratives and an ultimate litmus test of Nawaz Sharif's personal popularity.

The narrative perpetuated by Pakistan Muslim League-Nawaz (PML-N) was that the prime minister had been unfairly dismissed through an establishment orchestrated court trial and that in reality he was still popular. In fact, some of the PML-N leaders had also claimed that his popularity got a boost after the Supreme Court (SC) verdict. "Respect my vote" became the main slogan of this narrative. Implicitly, this narrative also assumed that corruption was not a big issue and even it was, the electorate either presumed him innocent.

The counter narrative was that Nawaz was corrupt and the SC verdict had widespread public support. Imran Khan actually framed this election as a "referendum" on the SC verdict and went on to say that voting for his party would be a way to support the SC judges.

Besides deciding between these two narratives, this seat became an ultimate test of Nawaz's personal political standing and even of PML-N's future prospects in the upcoming 2018 elections. If PML-N lost this seat, then one could reasonably predict that its star was on the wane, because if your own local constituents reject you in such a crucial election, then your future electoral prospects in other urban areas would also diminish. Moreover, sensing the changing winds, the so-called electable would also desert you near the election.

The results have come in and PML-N should be relieved without being pleased. There is no reason to be excessively happy about this victory because their narrative that Nawaz's popularity actually got a boost has been thrown out of the window. PML-N has not been able to increase its tally of votes which was a crucial criterion for the vindication of this narrative.

However, PML-N should still be relieved because it has won barely two months after the SC judgement and at a time when their party was and is still experiencing an internal rift. Their local powerful leaders such as Shehbaz Sharif and Hamza Shehbaz did not actively participate. Moreover, Pakistan Tehreek-e-Insaaf's (PTI) entire thrust was on winning this seat and it tried hard to sell the Panama Leaks verdict. Hence PML-N was on a weaker wicket on several counts.

This victory albeit with a reduced margin is still comfortable and has ensured that PML -N's own vote bank is largely intact in its core constituency as it has behaved like it would in a normal by-election.

PTI's narrative would have been vindicated if it had either won the seat or lost it with a very narrow margin. In case of a loss, it also needed to increase its vote tally compared to the last election. In 2013, it had won 52,000 votes and at a time when it did not focus so extensively on this seat. This time, it had several advantages such as a favourable SC verdict (which had given them a huge "moral" advantage), extensive support of some major channels in the electronic media and an internally divided PML-N.

Clearly, it has not managed to fully capitalise on these advantages. The consolation for them is that the margin of defeat has lessened but at the same time, their vote tally compared to 2013 has also reduced, despite the fact that at this time, they focused exclusively on this seat and campaigned hard. Their narrative, just like PML-N's, has been thrown out of the window.

Even their logic, based on a reduced defeat margin, which revolves around "grounds are shifting" and that "PTI has made inroads" is not correct because they had to win a larger number of votes as compared to 2013. They have improved their vote share, which is different from increasing a vote bank, in a by-election which had a lower turnout, but this does not mean that they have made inroads.

In my opinion, Nadeem Farooq Paracha summed it best in the following tweet,


PMLN didn't get any extra sympathy votes & PTI didn't gain any glory votes. It was basically 2013 all over again - though lesser turnout.

— Nadeem Farooq Paracha (@NadeemfParacha) September 17, 2017


Thus, can we make some projections based on this result for 2018 elections? Can PTI actually make inroads into the PML-N vote bank?

Frankly, PTI will find it difficult to make inroads into the PML-N vote bank unless and until their supporters change their basic attitude. With all due respect, their attitude towards the common man is extremely condescending and during the campaign, they kept on referring to PML-N supporters as jahil (illiterate) and khotas (donkeys). After their defeat, their comments on social media platforms reeked of an even more condescending attitude:


Election me kon khara hai campaign kon karra hay vote kisay jara hay kuch nai pta bss #SHAIR.
(JAAHIL AWWAM ZEHNII GHULAAM) #NA120

— Faizan Shahid Shrazi (@497_shahid) September 17, 2017


https://twitter.com/frm242/status/909567876692135936

https://twitter.com/iamdrkhush/status/909575933098708992


Lahoris now call urslvs Lantis u provd u r curopt to the level.Lazim hy k tum gadhey khao or gadhey hi tum pe hukumat karen. #Lahore #NA120

— Adil Rafi Khan (@AdilRafiKhan) September 17, 2017


https://twitter.com/Rameen_8/status/909627238131388416

On WhatsApp, I received pictures such as the following, from disgruntled PTI supporters, once again showing their frustration and condescending attitude:




Secondly, PTI also need to expand its core message. The results also highlight a schism between what the PTI-supporting urban, white-collar classes consider important and what others consider important. Issues such as corruption and international scandals resonate more with the former and therefore a successful election strategy would require PTI to expand its message beyond corruption in order to win voters from other demographics.

While a match between PTI and PML-N has ended up being a stalemate, for Pakistan Peoples Party (PPP) it has proven to be completely disastrous. It is a real shame that a party which had won this seat in 1970 and 1977 by extremely comfortable margins now finds itself completely decimated in Lahore and also in Punjab as a whole.

The responsibility of this rapid descent into oblivion completely rests with Mr Asif Ali Zardari, as it was during his incompetent rule that PPP lost Punjab completely. Frankly, I am foreseeing a complete loss for PPP in Punjab in the 2018 elections.

What was even more shocking was that a candidate backed by Jamaat-ud-Dawa (JuD) actually ended up securing the third position. Although it was well behind both PML-N and PTI, the fact that it actually won more votes than PPP is a cause for concern for any reasonable person. I was also shocked when Hamza Ali Abassi of PTI actually tweeted the following:


#NA120 US/IND say he is a terrorist, i know Hafiz Saeed as a righteous man. Huge respect for Milli Muslim League for getting 4k+ votes.

— Hamza Ali Abbasi (@iamhamzaabbasi) September 17, 2017


This tweet merely reconfirmed my opinion about the reactionary outlook of PTI and its prominent members.