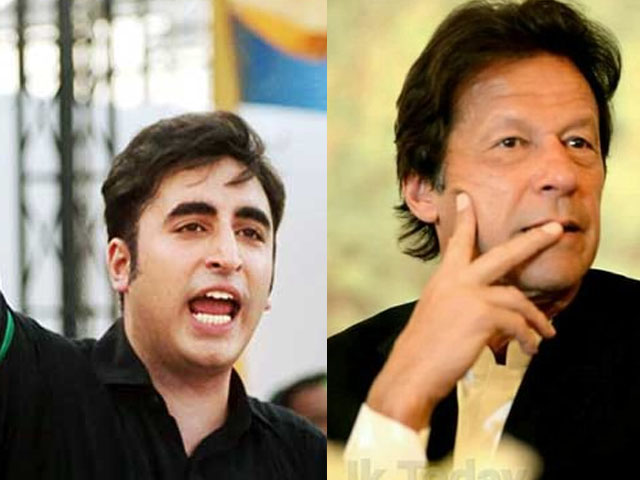 ---
It all comes down to PTI vs PPP: Will Imran Khan win the 2018 elections?
If PTI wins the 2018 elections, can it replicate the tremendous progress seen in K-P in all four provinces?
---
Due to a fairly recent conflict between Babar Awan (read the main pillar of Pakistan Peoples Party (PPP)) and co-Chairman Asif Ali Zardari, Awan left PPP to join the Pakistan Tehreek-e-Insaf (PTI).
The end of a two decade-long association with PPP was a shocking piece of news for the opposition in the National Assembly. Furthermore, Awan is not the only individual parting ways with PPP, as a couple of others have decided to do the same as well. The Member of the Pakistan National Assembly (MNA) Noor Alam Khan also joined the PTI, whereas former state minister Imtiaz Safdar Warraich from Gujranwala has decided to quit PPP and is set to join PTI officially as well. All three individuals were considered close allies of former President Zardari.
But that didn't stop PPP candidate Saeed Ghani from winning the PS-114 Karachi by-polls, securing a lead of more than 5,000 votes over the Muttahida Qaumi Movement-Pakistan's (MQM-P) candidate, Kamran Tessori. Ghani was followed by MQM-P's Tessori, who anchored 18,106 votes. Pakistan Muslim League-Nawaz's (PML-N) Ali Akbar Gujjar came in third with 7,175 votes to his credit, while PTI's Najeeb Haroon bagged 5,942 votes. PPP seems set and ready to make its place in Sindh in the upcoming general elections.
While PPP and PTI are sailing smoothly through 2017, PML-N, on the other hand, is having quite a tough time. Yesterday, the Supreme Court announced the joint investigation team (JIT) report result in which the Sharif family was declared guilty of corruption, money laundering, tax evasion and illegal sources of income. Only time will tell what fate has in store for the ruling government.
Meanwhile, Imran Khan can be seen rallying support for Nawaz's oust. The man just doesn't give up, and in a way, we have him to thank for holding the Sharif family accountable. If Nawaz does step down, PTI or PPP could be possible victors of the 2018 elections. The important question here is  - if PTI does win the 2018 elections, will they be able to replicate their tremendous Khyber Pakhtunkhwa (K-P) provincial results in all four provinces?
In 2014, a public survey by Gallup reported that public satisfaction in K-P was the highest (57%) as opposed to that in Punjab and Sindh.
The K-P government has prohibited ministers, chief ministers, government officials and other white collar employees from intervening in policing issues, and hence the K-P police are not marred by political activity. Furthermore, the first online FIR system was introduced in K-P. As reported on news channels, some of the police stations in Peshawar have been centrally converted into model police stations.
An ambitious agenda has also been finalised by a PTI coalition which is to be implemented after the 2018 elections. The projects will strengthen revenue collection from K-P and establish efficient institutions that will improve governance in the province.
Shaukat Khanum Memorial Cancer Hospital (SKMCH) and its branches have been serving numerous individuals across the country for a long time now. No other party chairman has done such great work in such a short span of time. Thanks to Imran, medicine and treatment is free in all government hospitals of K-P and the government has also launched a campaign called Sehat Ka Insaf that aims to fight polio.
Furthermore, the Tameer-e-School project was initiated by the PTI government to raise funds for K-P schools. Girls are generally not encouraged to pursue their education, hence in order to ensure that they attend school, the K-P regime allocated a stipend of Rs200 to every school-going girl.
If Imran strategises and sticks to his promises, he could prove to be a successful prime minister and a worthy leader.
On the other hand, we have Zardari, who is clearly not satisfied with the way things are panning out in Sindh.
In retrospect, PPP has not done much for the betterment of Sindh. Rural Sindh is the only zone where the party's votes are assured. As a result of corruption and mismanagement, the party has witnessed a slow disintegration.
A while back, a survey covering the entirety of Pakistan was conducted, in which 33% voted for PTI, 19% for PPP and 17% for PML-N. The following question was put forth to the survey participants,
"If elections were held tomorrow, which political party you would vote for at the federal level?"
This question was asked on a provincial level and 40% voted for PTI in K-P, 50% for PPP in Sindh and 43% for PTI in Punjab.
Despite the prevailing governance problems across Pakistan, Sindh is the only province that seems to be going backwards in terms of introducing better policies to ensure an effective administration.
The PPP government could have redeemed themselves through the Benazir Income Support Program (BISP)  wherein around 1.8 million people are given a stipend of Rs5,000 every three months. This amount is transferred into their accounts; however, beneficiaries have been unable to withdraw it.
As for Nawaz and PML-N, their party has been marred by the ongoing corruption charges. Although we can't deny Chief Minister Shahbaz Sharif's achievements in Punjab, the question still sticks – what role is being played by PML-N when it comes to other provinces?
All I can say is that PML-N may have succeeded in leading Punjab, but has failed in leading the nation.
It's as if we have been conducting social experiments to see which leader does what and whether they succeed or not. Nawaz and Zardari have already gotten enough chances, it's time we give the captain a chance and I sincerely hope he doesn't let us down.
[poll id="763"]