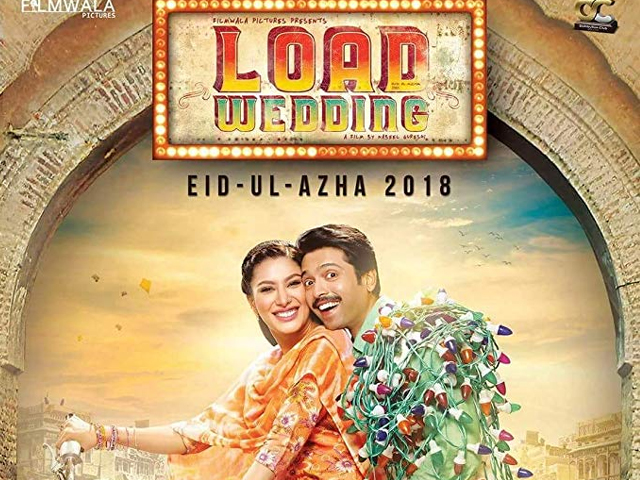 ---
With a wafer-thin yet bipolar plot, Load Wedding cannot decide what it wants to be
The new trend is make films with an average script and comedy, and follow it up with a social message in the climax.
---
With films like the Na Maloom Afraad series and Actor In Law under his belt, Nabeel Qureshi has not only entertained audiences but has also pulled off three of his ventures thus far. It won't be wrong to say that Qureshi is a filmmaker for the masses, with Na Maloom Afraad being a genuine entertainer, whereas its sequel – loaded with toilet humour – also received appreciation, though not as much as the original.

So what happens when a director known for mass entertainers tries something new and moves towards a different genre, with a film that centres on a social issue? The answer would be Load Wedding.


The film seems to be based on a wafer-thin, yet bipolar plot. Raja (Fahad Mustafa) and Meeru (Mehwish Hayat) are in love but circumstances – such as Raja's father dying and Meeru getting married – keep them apart. However, Meeru's husband dying right after her marriage is a quick resolve to the angst, giving our protagonists the chance to be together. Till the interval, the film presents itself as a typical romance, until the leading couple get together.




After the interval, however, the plot takes a U-turn to focus largely on the issue of dowry as Raja tries to get his sister married, and highlights the issue whilst ridiculing a certain infamous TV game show host.




The "romantic" first half of the film drags a bit; it feels too slow, and the audience seems bored while presented with illogical scenes, such as when Raja stalks Meeru. I mention illogical and hard to believe, for this 'stalking' sequence takes place on the narrow streets of Niraali, their village, and no one seemingly finds it odd that a grown man is following a girl around. What Pakistani village did they base this on? Given the cultural context, the scene just feels problematic.

Admittedly, I am still wondering what the writers were thinking when they wrote Raja telling Meeru that it was his luck and the outcome of his prayers that she was widowed. I cannot be the only one who feels that not only is the dialogue quite pointless, it is also rather insensitive.

Performance wise, Mustafa is brilliant, as always. Comedy is his forte, but he also does justice to his emotional and romantic scenes, and is an example of perfect casting as he is entirely believable as Raja. Hayat, on the other hand, is also excellent, as she handles a difficult character with ease and makes the love story between her and Mustafa's character very believeable.




Samina Ahmed performs well, but the same cannot be said for Noorul Hassan, who needs to broaden his range. Fahim Khan, on the other hand, was exceptional and brings an exciting element to what turned out to be a boring film.

There are many scenes in Load Wedding that do not make much sense and feel forced. One particular flashback scene was added only for the cameos and that's pretty much it, as the entire scene lacked substance otherwise.

Additionally, the honeymoon scene made me recall a specific episode from a 90's Pakistani sitcom titled Guest House, where a sister-in-law (Bushra Ansari) ruins her brother's honeymoon by tagging along the newlyweds to Murree. On a side note, the cinematography showcasing the setting in Murree is purely bogus and torture to the eyes.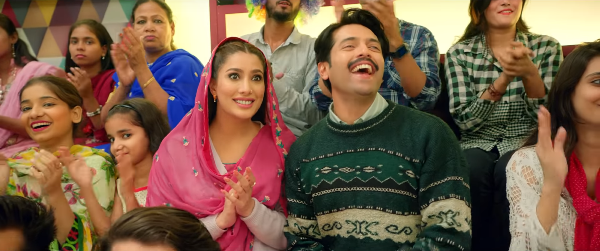 Many emotional moments in Load Wedding give the impression they have been added only to make the audience cry, which unfortunately does not work, as the pacing of the film does not allow the audience to connect with the characters emotionally. The film also shows Meeru as a polio worker, with polio being another issue raised in the film with no punches.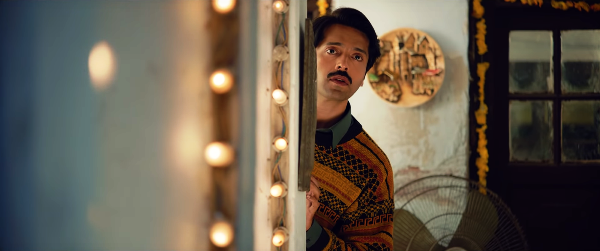 The only highpoints in the entire film are as follows:



Fahim Khan's game show sequence,


The climax, which reminds you of Madam Noor Jehan's song Aaj aur kal.




Both combined take up around 30 to 35 minutes of the entire film, which, along with the performances, are what will keep you in your seat. The remaining hour-and-40 minutes of the movie will try to make an impact, but keep on missing the mark.

The new trend in Pakistan seems to be making films with an average script and subpar comedy, and follow it up with a social message in the climax so people leaving the cinema do so talking about the important message shared. The same was last seen in Mehrunisa V Lub U. Safe to say, using a formula does not work, so Qureshi should perhaps have stuck to what he is good at.

Overall, Load Wedding is most definitely a one-time watch, and given the other options available at the moment, it can easily be skipped altogether.



All photos: Screenshots
Facebook Conversations
COMMENTS
Comments are moderated and generally will be posted if they are on-topic and not abusive.
For more information, please see our Comments FAQ