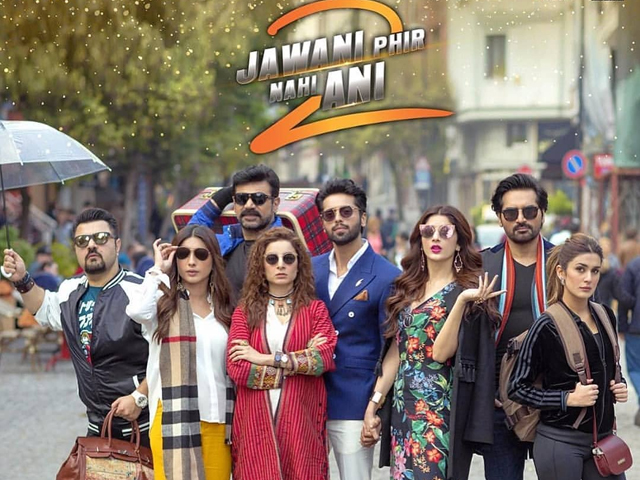 ---
Jawani Phir Nahi Ani 2 is one of the finest comedies to come out of the Pakistani film industry
Hats off to Chaudhry as it's undoubtedly better than its prequel. The film is smartly written, conceived and...
---
Very few sequels receive more appreciation than the original film itself. For instance, Na Maloom Afraad was brilliant when it was released, but Na Maloom Afraad 2 was not as crisp, witty or smart as the original. The same goes for the Hera Pheri series across the border; part one was phenomenal, but it only went downhill after that.

Jawani Phir Nahi Ani 2, the follow up to 2015's Jawani Phir Nahi Ani, had all the winning elements on paper; from an intriguing trailer, stellar cast, and actually funny jokes, the film seemed set to emerge victorious at the box office, despite the many local releases this Eid. After watching the movie, I was pleasantly surprised for a change to see the sequel not only meeting but exceeding all my expectations.



Jawani Phir Nahi Ani 2 starts off three years after the prequel ends. Pepe's (Ahmed Ali Butt) brother-in-law, Rahat (Fahad Mustafa), invites the former's and Sheikh's (Vasay Chaudhry) family to attend his wedding in Turkey. When in Turkey, Pepe and Sheikh discover their friend Sherry (Humayun Saeed) is in mental asylum. They rush to meet him, and to their complete surprise, the management of the asylum grants Sherry's custody to them. Sherry is shown to be suicidal because of an incident that took place earlier in his life, and strangely enough, what follows in the film involves a mixture of a big fat wedding, the Indo-Pak equation, some duplicity and a whole lot of situational comedy.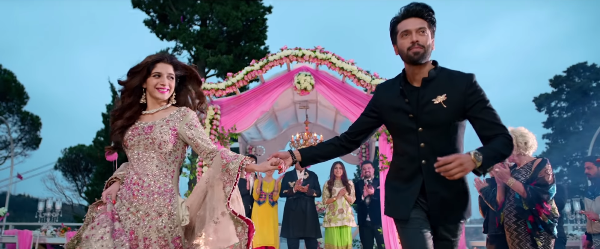 Every single actor in the film does justice to their characters. Saeed and Mustafa both deliver brilliant performances sure to impress viewers due to their sheer talent. Saeed comes across as the biggest surprise; not only are his emotional scenes moving, his comic timing is brilliant! This is undoubtedly one of the finest performances of Saeed's career, as he manages to excite the audience with gusto. Mustafa, on the other hand, looks dashing and dapper in every scene, and is purely exceptional in the climax.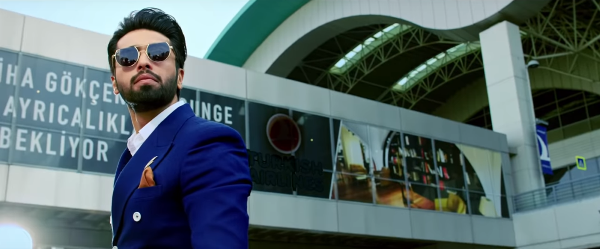 Butt is amazing as Pepe and contributes effortlessly to the comedy, while Chaudhry too has some wonderful and funny one-liners. Sohail Ahmed is in complete form and gives a performance in complete contrast to his character in Punjab Nahi Jaungi. Kanwaljit Singh is also first-rate and plays his part very well. Out of the female leads, Sarwat Gilani makes the most impressive appearance, as her performance is excellent. Kubra Khan looks cute, while Mawra Hocane is strictly subpar.

The dialogues and screenplay turn out to be the backbone of the film, making Jawani Phir Nahi Ani 2 one of the finest comedies to come out of the Pakistani film industry. Hats off to Chaudhry for writing this film, which is an out and out entertainer likely to elicit smiles and laughter from everyone in the audience. It ups the ante of the entire industry, as the film is smartly written, conceived and executed. The film is undoubtedly better than its prequel.

The music of the film is perhaps the only disappointing element, as there is nothing special to recount there. Out of all the soundtracks, Tillay Waali Jooti and Behka Re are the only tracks worth listening to.



Jawani Phir Nahi Ani 2 is a 165-minute long roller coaster ride, and yet it never drags. Nadeem Baig smartly handles the lengthy film with his great direction, and keeps on adding interesting twists and turns throughout the film – along with some exciting cameos – to keep viewers engaged; a feat rarely seen in Pakistani films. Baig has definitely hit the bull's eye!




For those who like to be entertained by films that are actually witty, Jawani Phir Nahi Ani 2 is a must watch. Yes, the film's plot is not likely to attract an award nomination, but there is no doubt about how thoroughly entertaining it is. This Eid, we've finally received a genuine treat for Pakistani cinemagoers. Those who enjoyed commercial films like the Housefull or Golmaal series need to get out there and give Jawani Phir Nahi Ani 2 a try. You will not regret it!


All photos: Screenshots