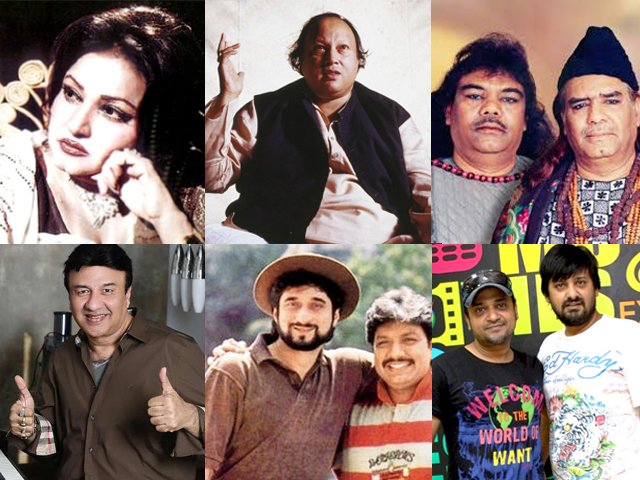 ---
From Dil Dil Pakistan to Dil Dil Hindustan
India's going through a fad of remaking their own songs and ruining their own classics, and are too busy to steal...
---
They say, imitation is the sincerest form of flattery, which is partly true. Imagine a comedian friend in your group, making fun of the way you walk or the way you talk or some of your special behaviour. Everyone will have a laugh at your expense but you might still be able to enjoy it too.

However, I am not sure if plagiarism (an obvious kind of "imitation") is the best form of flattery. Imagine a music director or a writer spending hours and hours of their time on creating something original and someone casually takes it, rephrases or re-tunes it a bit and releases it under his own name. I would not expect the original creator to be amused or flattered.

The news of an Indian film plagiarising the qawwali Tajdar-e-Haram made rounds last week and Shumail Maqbool Sabri, the son of Ghulam Maqbool Sabri of Sabri brothers, has taken legal action against the producers of the film. Ethicality of the issue aside, legally there is very little chance of him making something out of it as copyright laws between the two countries aren't really in favour of the artists.



This is not the first time an Indian film has copied Pakistani music and it won't be the last time either. Even Pakistani films have indeed copied Indian music, albeit less frequently than India has. That could also be a function of the less rampant film industry of Pakistan. Indian music directors have copied Pakistani pop music more often than music from Pakistani movies, as pop music is the strength of Pakistan.

Counting the songs that have been copied will make this piece a tiring and lengthy read. There are ones which have been heard and facepalmed by a vast majority and then there are subtle and hidden gems. For example, would you think Laxmikant-Pyarelal copied Nayak Nahin Khal Nayak Hoon Main from a Pakistani film song? Probably not. Unless, you have heard the typical casio strings in the first 10 seconds of the 1974 Mehdi Hassan classic Tere Bheege Badan Ki Khushbu Se from the film Sharafat.



Or a relatively more known copy of 1992 song Larrka Badnaam Hua from an Umer Sharif movie in the form of Munni Badnaam Hui in Dabangg. Ironically, Bappi Lahiri had already copied this song in the late 90's, which went unnoticed.



One song being copied multiple times is not a new occurrence either. Hassan Jahangir's Hawa Hawa has recently been copied in an Arjun Kapoor film, which makes it at least the fourth time the song has been used in an Indian movie. Interestingly, the massive hit of Jahangir itself was copied from an Iranian song called Havar Havar from the 60s.




Similarly, Nusrat Fateh Ali Khan's (NFAK) Akhyan Larr Gayyan was copied in two movies, Bal Brahmachari and Darrar, both times by the same music director, Anu Malik. This could be laziness or really the best form of flattery.



Nusrat sahab has always been the favourite of Indian music directors. There are hardly any music directors of the 90s and 2000s who didn't attempt a Nusrat song. From Malik (Akhyan Larr Gayyan, Piya Ghar Aaya, Allah Hoo Allah Hoo, Ye Jo Halka Halka Suroor Hai) to Viju Shah (Dam Masst Qalandar Masst) and Nadeem-Shravan (Kinna Sohna Tenu, Sanu Ik Pal Chaen Na Aavay), everyone thought NFAK songs were available for free.

Most of them actually ruined the original classics. Real and copy are clearly evident when NFAK himself gave music for Kachhay Dhaagay and Aur Pyar Hogaya and created music which is still hummable. Very recently, another Nusrat classic has been reproduced to death by many random singers. Thanks to the notorious viral video of a girl dancing in the car, Mere Rashk-e-Qamar gained popularity like never before and was eventually, officially, used in an Indian movie. It was sung by Rahat Fateh Ali Khan but that too did not come close to the original rendition.



One very interesting take on plagiarism is copying the lyrics for a different tune, which is also relatively uncommon. Noor Jehan's Tere Dar Par Sanam Chalay Aaye from 1959 was copied in Mahesh Bhatt's Phir Teri Kahani Yaad Aaee; however, the entire song had a different tune and tempo versus the original, and honestly, was not bad.

Another such attempt was a rather unknown Indian song from the 1999 film Bade Dil Wala titled Baant Raha Tha Jab Khuda copied from 1979 Waheed Murad film Nazrana, with the same lyrics and a faster tempo, although similar tune.



At times there is a method to all this madness. Some songs are officially taken from the song owners. In Cocktail, Aziz Mian's Main Sharabi was used; however, his son Imran Aziz was a part of the song and was officially credited for it. Similarly, Annie Khalid's Mahiya and Mustafa Zahid's Tou Phir Aao and Tera Mera Rishta were officially taken by Indian films, and the singers were on board for the projects. That, however, did not happen to Ali Zafar's Chhanno and Rangeen or Abrarul Haq's Billo.



With a continuously deteriorating relationship between the two countries in the last few years, affected artists getting their due credit seems rather difficult. Pakistani pop music industry has been flourishing. Coke Studio has been instrumental in creating new stars. Indian public has magnanimously accepted it and their multiple attempts at creating their own Coke Studio have failed. With the ban on Pakistani artists in India, the probability of Pakistani music being plagiarised in India might increase.

The good thing is, Indian music industry is going through a fad of remaking their own songs, hence, they are busy ruining their own classics and don't seem to have much time for ours these days. By the time they are done ruining their music, one can only hope that the relationship between the two governments will improve and Pakistani artists will be back in Indian movies. After all, it's Naya Pakistan!

Until then, I leave you with the "extremely original" song from an Indian film called Yaadon Ka Mausam and the song is titled Dil Dil Hindustan. But be warned, Youtube it at your own risk. It cannot be unseen!


https://www.youtube.com/watch?v=KHeQUtRsMLU
Facebook Conversations
COMMENTS (18)
Comments are moderated and generally will be posted if they are on-topic and not abusive.
For more information, please see our Comments FAQ