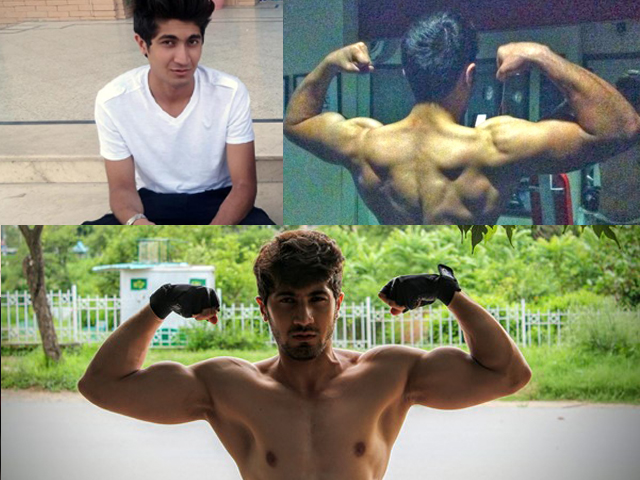 ---
Bony to beefy: How I transformed from matchstick skinny to buff
Many obstacles came my way but the one thing that motivated me to become fit was the day I learnt I had scoliosis.
---
We all have our own desired fitness goals, whether it is six-pack abs or big muscular biceps. But only few are able to achieve their targets. This is an account of how I was able to overcome my setbacks and eventually transform my thinly-framed body into a muscular one.

My motivation behind working out

One day after coming home from school, my mother noticed something weird about my back; like an extra bone has been attached on the right side. I inspected it myself and felt there was something wrong for sure. Those days, I used to have lower back pain and didn't know the reason behind it.

We decided to get it checked by a professional doctor, so my mother and I went to my uncle who is an orthopaedic surgeon. He told us that I have scoliosis, which is a spinal deformity involving a lateral curvature in your spine.

"It's not a serious concern but to get to know the degree of the curvature, go for an X-ray," he said.

Fortunately, the X-ray result wasn't too bad and it meant that I was out of any danger.

"Exercise karo," my uncle advised me.

After coming home, I started my research on scoliosis to know more about it. I learnt that other than surgery, there is no cure. And even surgery is a very complicated process and not worth the risks. I wasn't in a great deal of pain; it was more of an aesthetic issue as the condition had caused a rib hump. So after conducting my day-to-day research, I found many scoliosis related content that explained the benefits of different exercises and came to the conclusion that my uncle was indeed right; exercise is the best option to improve my disorder.




Therefore, the motivation to start working out began.

The beginning

At first, I began working out at home. My workouts consisted of body weight exercises – push ups, chin ups and different dumbbell exercises. The dumbbell exercises I did were from Men's Health and other bodybuilding websites.

From there on, workout after workout followed; it may not have been very intense or challenging but nevertheless I made a start. A pull-up bar was also installed in my home. For a year, I consistently worked out and there was considerable improvement.

Setback number one

My class fellows and friends were impressed with my change in physique. But unfortunately, an accident occurred leaving me with a fractured left arm. Funnily enough, it was my own dog which scared me, due to which I started running towards the road. A fatal mistake but luckily I got saved as the van was travelling at slow speed, thanks to a newly made speedbreaker.  The left arm speared into the van and left me unconscious for a while. All those gains from the exercises day in and day out had gone to waste.

This was a significant setback. However, I still didn't lose hope and kept going.

Started going to the gym

It took a few months to for me to recover from the fracture. After recovering, I started training and working out at home for two to three days per week.

However, I decided to join a gym to train properly.

First two months of gym went well but I wasn't happy with the results. Four months later, I had packed good amount of lean muscle. So after six months of working out, I could see evident results.




Setback number two

Before I could add more muscle to my body, another setback came. Due to a medical issue, I went through a minor operation and took a month off from training. I was devastated and thought to myself, 'why is it that whenever things seem to be going well, there is always some mishap waiting to happen and all of a sudden I'm back to square one'.

But I still didn't give up.

Major breakthrough

After post-surgery recovery, my goal was to start going to the gym again and also to look after my food intake. My diet included a lot of meat and eggs to meet my body's protein requirement in order to gain muscle. On some days, I was eating six to eight eggs per day, even though I was not a fan of eggs. But I had to; there was no other option as eggs are essential for muscle building.

Training got more and more intense with each workout. I was fully dedicated and made full use of the time spent at the gym. After every workout, I used to pose and flex to see whether I have improved my body or not. And the mirror showed the improvement.

Bodybuilding had become my passion. All I could think of during the boring class lectures was gym. When I was as thin as a matchstick, I used to think that I will never be a big guy. But bodybuilding made me realise that if you have the will and dedication to achieve your goal, then nothing can stop you.




I have listed below seven things that helped me gain muscle and hopefully will help anyone trying to do the same:

1. Proper form
When I started working out in the gym, the objective was to make sure the form is perfect. There was no ego-lifting. There are exercises like barbell bicep curl or the dumbbell bicep curl where you can compromise on good form but messing up your form on squats and deadlifts could result in an injury. So avoid that.




2. Challenge yourself
I made sure I was challenging myself in the gym by increasing the weights or increasing the number of repetitions. At the beginning of my transformation journey, I wasn't pushing myself and just going through the motions. If your workout is too easy, your body is not going to improve. Getting out of my comfort zone maximised my muscle gains.




3. Meat
My diet consisted of a lot of meat. I'm a big meat eater so this was not a difficult thing. Be it beef, mutton or chicken, boti is everything to me.

4. Eggs
A key part of my diet was eggs. It doesn't matter if you don't like eggs because you have to sacrifice your likings or taste for muscle gain.

5. Eat a lot
In order to increase size, I needed to eat a lot. Throughout the day, I made sure I was eating enough. Going to the gym and working out is only one part of the equation. If you don't eat, your muscles simply won't grow. It is as simple as that.

6. Consistency
Consistency is the key to any goal you want to achieve. I was consistent in going to the gym and also in my eating habits. If you have any assumptions that going to the gym a few times a month is going to change your physique, then I'm afraid you are completely wrong. Make sure you do not skip the gym otherwise it will become a bad habit and eventually you'll lose interest and the motivation to workout.




7. Change in lifestyle
Eating healthy and exercising should be part of your lifestyle. There is no shortcut or easy fix. I had to work hard four to five days a week and remain patient. If you want to join a gym for only a few months then you will not be doing yourself any favour. Make a promise to yourself that exercise and a healthy diet have to be a part of your life throughout. There is no end to this. You have to keep going. Gym and eating like a caveman were enforced to be a part of my life. In short, it was a change in lifestyle that helped me pack on serious muscle.

Lessons learnt

Many obstacles came my way but the one thing that motivated me to become fit and keep going was the day I learnt I had scoliosis. And I turned that into my strength. I defeated it by remaining consistent and putting in all my effort into changing my body for the better.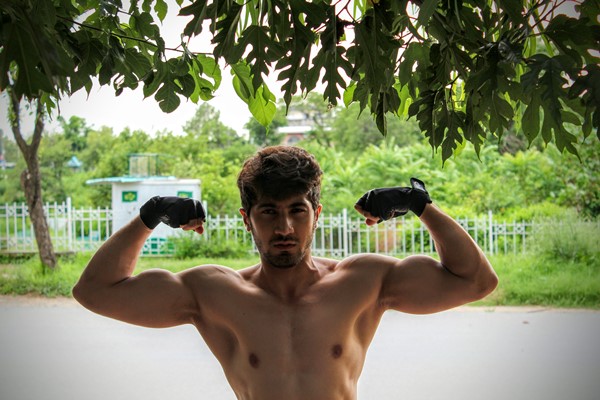 We all have our weaknesses or flaws but what we don't realise is that they can be our strengths if we are willing to go the extra mile. It takes time to achieve your goal and no matter what, never give up!

All photos: Jawad Jamil