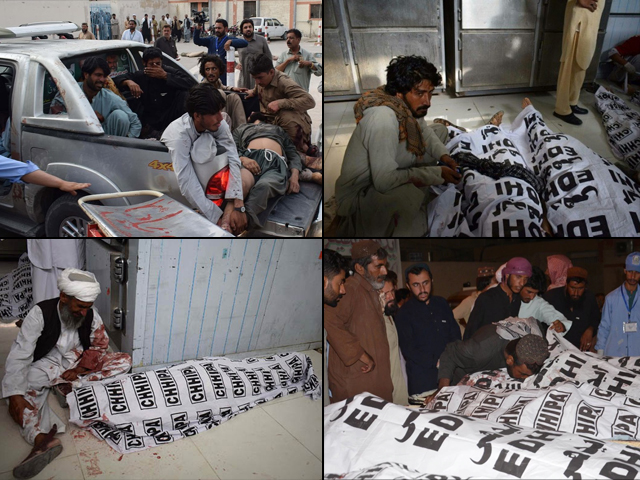 ---
No one knows what is really happening in Balochistan
No security, no lab for evidence, no emergency medical protocol, and no media to show what is actually happening there
---
Last Friday's suicide attack in Mastung was the one of the deadliest attacks in Pakistan's history.  The death toll from the attack now stands at 149 with more than 200 people wounded. Nawabzada Siraj Raisani, candidate of the newly emerged Balochistan Awami Party (BAP) and a favourite of the state, was among the dead. The slain Raisani's son was also killed in a bombing on July 29, 2011 in Mastung football stadium.

Let's take a look at recent terror attacks in Mastung, a district located about 50 miles southwest of Quetta.

In early June of this year, two suicide bombers attempted to storm a security checkpoint, killing three security personnel. The Islamic State (IS) claimed responsibility for the attack.

On May 12, 2017, at least 25 people were killed when a suicide bomber struck the convoy of then Deputy Chairman Senate Abdul Ghafoor Haideri. Mr Haideri survived the attack but 25 lives were lost and dozens of people were injured.

On July 19, 2017, four people from the Hazara community were killed in targeted shooting.

On May 29, 2015, gunmen disguised as members of the security forces stormed a passenger bus traveling from Quetta to Karachi, killing 20.

On January 21, 2014, suicide bombers, backed by gunmen, attacked a convoy that included two busloads of Shia pilgrims, almost all of them Hazaras, and four security vehicles. They killed at least 24 and injured 37, including many women and children.

And these are just the incidents that come readily to mind.  A Google search would produce several more.

Quetta witnessed even more bloodshed than Mastung. Caretaker Balochistan Minister for Home and Tribal Affairs, Agha Umar Bangulzai, reiterated what home ministers have been saying for over a decade – Afghanistan and India are involved and the terrorists were trained in Afghanistan. To support the first claim, he repeated another frequently heard assertion – all the super powers are engaged in trying to stop the Taliban in Afghanistan but the Taliban continue to be active. In other words, if even a super power is no match for the Taliban in Afghanistan, how can you expect us to protect you from them?

I worked as a reporter in Balochistan and was based in Quetta for more than 10 years. At the time, I was very much aware of the poor performance of civilian law enforcers who could not even protect their own lives from deadly terror attacks, let alone the lives of the general public. In a 2015 interview, the Quetta police chief told me,

"I hear that in many places metal detector gates don't work. Policemen are not trained to combat terrorists. I won't be surprised if someone attacks me."

The frequent killings of policemen in Balochistan, including very senior officers, are evidence that the police are unable to protect themselves even from "trained terrorists". In an attempt to provide greater protection for civilians, more than one and a half decades ago, the Frontier Corps (FC), paramilitary troops mainly responsible for border protection, were given additional powers of policing in many parts of Balochistan. Unfortunately, not only did the FC fail in their responsibility of border protection, they also completely failed to protect citizens from terror attacks. Not only that but FC soldiers themselves often fell victim to violence on the streets of Balochistan.

The killers and those who support them are widely known in Balochistan. Sometimes they will even make threats in public places in Quetta. However, the most recent Mastung incident marked the first time that even some extremists – who in the past have supported the targeting of Shia minorities – expressed strong condemnation for an attack of this nature. The statements of condemnation issued by the extremists acknowledge a new reality – Shias are no longer the only intended victims of targeted attacks. The terrorists are now prepared to target leaders regardless of their religious belief. Baloch separatists accused Raisani of targeting Baloch nationalists and supporting some religious extremist groups.

The impunity extremists enjoyed in targeting minorities now also becomes a threat to Sunni clerics and pro-establishment leaders. The question is why are they able to go to these lengths?  The answer is simple. It is a result of the complete failure of law enforcers and government to punish terrorists. The ineptitude and ignorance of the government and its law enforcing agencies can be gauged by the fact that despite hundreds of terror attacks in the past decade, they have not been able to even establish their own forensic department in Balochistan. They don't know how to cordon off a crime scene and collect evidence. The only forensic laboratory in the country is in Punjab. Newsmen routinely gain easy access to the crime scene. The police must send evidence collected from the crime scene to Lahore and then have to wait months to get them back. It is not uncommon for another bombing to have taken place before the forensic results of the previous one are received.

It seems like the terrorists are able to target people wherever and whenever they want, even returning to the same place and using the same methods over and over again. The state is not only failing to protect its law-abiding citizens, it is also failing to provide the victims of terror attacks with the necessary emergency medical treatment. In this most recent attack, the police surgeon confirmed that over 30 people succumbed to their injuries either at the hospital or on the way to get medical aid because the basic means to prevent victims from bleeding to death were lacking. Mastung Deputy Commissioner Qaim Khan Lashari confirmed that many of the dead were taken directly from the crime scene to their homes for burial instead of to the hospital. Even as I write, dozens of injured have complained about the poor facilities at Provincial Sandeman Hospital Quetta (Civil Hospital).

I am not being cynical but simply stating facts when I say that the government has never taken the process of investigation and dealing with the aftermath of deadly attacks seriously. How then can one expect these same people to be genuinely committed to ensuring the protection of citizens? The fact that security heads, parliamentarians and senior officers in Balochistan live in highly protected areas attests to both the level of threat people face and the priorities of our leaders. People want peace and they want to cooperate with law enforcers but given the extent of impunity terrorists enjoy in Balochistan, citizens are understandably reluctant to get involved in tracing the culprits out of fear for their own safety.

The killing of senior journalist Irshad Mastoi is a case in point. Some journalists suspected that a religious extremist group was involved and shared this suspicion with the military intelligence. The very next day, a representative of this extremist group appeared at Quetta Press Club and asked the journalists why they had been named in Mastoi's murder case. The following year, security forces announced the arrest of two suspects and issued a video in which they confessed to killing Mastoi. A few days later, according to the police, these two suspects accompanied the police on an operation, were allegedly caught in the crossfire and died. Do law enforcers really expect us to believe such an obvious lie? Is it any wonder that journalists do not trust law enforcers? Under such circumstances, being a witness is synonymous to endangering your entire family.

Right now, for the common people in Balochistan, there is no security, there is no laboratory equipped to investigate crime scene evidence and there is no established emergency medical protocol to save the lives of terror victims. And sadly, there is no media to show what is actually happening in Balochistan!