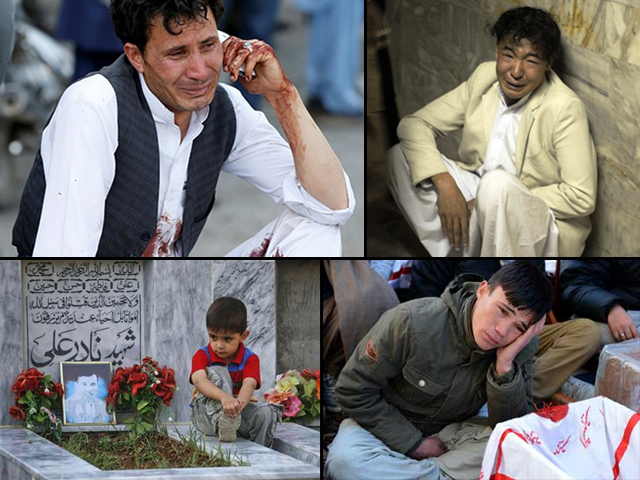 ---
Hazaras: The Rohingyas of Pakistan?
When Hazaras were shot in Mastung, former CM mockingly said, 'I'll send them a truck of tissue paper for their...
---
Last week, when I was planning a trip to 
Quetta
 for training, Mujeeb Hashmi, a friend from work, asked me to wear shalwar kameez, not only to the airport but also whenever I went out and about in the city. Hashmi, being a veteran filmmaker, has been to almost every habitable area of Pakistan – so I had to pay heed. He also warned me to be wary of certain localities within the city such as Hazara Town and Alamdar Road, given the violence witnessed by the city in the past.
He was right.
Quetta made a great first impression on me – it was relatively clean, the traffic was manageable and the weather was lovely. However, 10 minutes into my visit, I was reminded of the city's grim reality.
Black and white striped flags passed our vehicle. I asked the driver what was going on and he replied that a religious party had just wrapped up a political jalsa in the city and the attendees were all returning back home. Political jalsas are not a cause of worry; however, open political jalsas by organisations who are affiliated with banned outfits in a city marred by sectarian violence are a cause of concern. The black and white stripes of the Jamiat Ulema-e-Islam (JUI) are easily recognisable as they are one of the mainstream political parties in Pakistan. Unfortunately, this flag's claim to fame is its omnipresence in rallies of banned sectarian organisations such as the Ahle Sunnat Wal Jamaat (ASWJ – formerly Sipah-e-Sahaba Pakistan) and rallies taken out in support of the Taliban.
Quetta houses multiple ethnicities but generally they can be divided into two – the Baloch and the Pakhtun. There is of course another large ethnicity living in Quetta, which is famous unfortunately for all the wrong reasons.
The Hazaras are by far one of the most peaceful yet oppressed communities in Pakistan.
Even when mainstream media does not highlight news emanating from Balochistan, the Hazaras have been in the news constantly. From bombings to drive-by shootings to bus attacks, the Hazaras have been constantly targeted due to their sectarian affiliation as they belong to the Shia sect. Attacks on the Hazaras have been a mainstay in the news from when this phenomenon arose in the early 2000s and has continued till this day.
Everyone who was in Pakistan in January 2013 cannot forget the symbolic protest of the Hazara community after the Alamdar Road bombing. During the protest, they sat on the road for several nights in freezing temperature with the bodies of more than a 100 of their martyred, awaiting justice. The protests spread across Pakistan with people from all walks of life joining in, and sat on the roads till the Pakistan Peoples Party (PPP) government caved in and declared governor rule in Balochistan.
This and several other similar incidents did not stop the violence, though. Lashkar-e-Jhangvi (LeJ), the chief terrorist organisation responsible for targeting Shias, continued to carry out rampant attacks on the community without any significant arrests or encounters by the law enforcement agencies. The tides turned however so slightly after the Army Public School (APS) massacre when Operation Zarb-e-Azab was launched. Malik Ishaq, the LeJ chief who had been on trial and wasn't convicted despite having openly confessed to the killing of Shias, was culled by the police in July 2015 during a routinely prison transportation. Was it an escape attempt or an 'encounter'? Nobody really knows but as long as it got the job done.
Discussing this whole scenario, which is probably already known to most of the readers, is to highlight one specific point.
Why is it that a lot of us, or rather us Pakistanis as a nation, are more enraged by the murder and oppression of Muslims abroad than we are when the same happens at home? Take the Rohingya Muslims for example. The oppression of Rohingyas in Burma struck a nerve in the hearts of Pakistanis across the country, as it should have in every caring human being. No doubt, the plight of the Rohingyas is severe and the atrocities committed against them are abominable. There were numerous rallies taken out by different quarters within the society and cries of war could be heard. Official protests were also made outside the embassy of Burma in Islamabad. Literally, everyone on social media was talking about the plight of the Rohingyas.
Before I say anything further, I do wish to reiterate that all the attention given to the issue was much deserved and required. The Rohingyas needed our help and the pressure created by protests across the world has resulted in the government of Burma being called to task.
What bothers me is that despite years of oppression faced by the Hazara community and other minority communities within Pakistan, they have failed to gain similar traction, both on the ground and on social media. When Afghanistan was attacked, numerous protests took place lambasting the Americans, yet when Hazaras were consciously selected from a bus and executed in Mastung, former Balochistan Chief Minister, Nawab Aslam Raisani, mockingly said,
"I'll send them a truckload of tissue paper to wipe their tears."
This is our national hypocrisy, our easy way out. When we have an issue we cannot really do anything about, we share it, comment on it and discuss it to no end. When we see our own neighbours dying at the hands of terrorists, we say 'that's so sad' and go ahead and plan our next vacation. What happened to our National Action Plan, which was enacted and agreed upon after the APS massacre? Everyone came to one table and consented to shutting down terrorists and catching their facilitators. If that was agreed, why are the banned organisations still running around and multiplying like bunny rabbits?
We, as a nation, need to look at our home front before we look at the international front. Fix our internal issues before we jump the gun at helping everyone, everywhere else. No matter what happens anywhere, we have to remember that home is where the 'war' is.