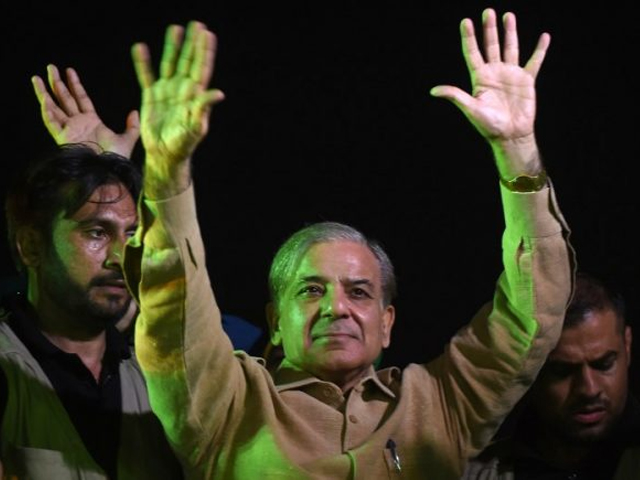 ---
Dear Shehbaz Sharif, what makes you think "Karanchi" wants to be like Lahore?
Karachi is not the same as Lahore and it will not take the same things to build up this city. It has its own problems.
---
Shehbaz Sharif's pre-election visit and recent comments regarding "Kiranchi", stereotyping an entire community, seem to have created some ripples in an already charged up political environment in Karachi. 

At a time when Muttahida Qaumi Movement (MQM) is badly fragmented; Pak Sarzameen party (PSP) is cementing its position in the upcoming elections; Pakistan People's Party (PPP) is an utter failure even after two consecutive terms in Sindh; Pakistan Tehreek-e-Insaf (PTI) is suffering from several in-house ticket issuance problems, Pakistan Muslim League-Nawaz (PML-N) is trying to fill up the current void by Shehbaz's visit to Karachi and quite recently, a jalsa in PPP-stronghold Lyari.

After the systematic dismantling of MQM, due to some verbal vitriol by its London-based supreme leader, the party has lost its hold on areas that were once considered as its strongholds. Further fragmentation within the party has left the Karachi electoral battlefield open for some positive and healthy competition, which was earlier nearly impossible due to the element of fear and intimidation that prevailed during all the previous election years.

After the fall of Nawaz Sharif and the rise of Shehbaz, PML-N seems to have taken a non-confrontational approach and the focus is entirely on the upcoming elections. Shehbaz's claim to fame is the remarkable development he carried out in Lahore, which he intends to replicate in Karachi if given a chance from NA-249.

But is it fair to say that he will turn Karachi into Lahore?

I do not believe that it is.


It's funny how confidently Shehbaz Sharif said "hum Karachi ko Lahore bnadege"
Apparently, Karachi wale Lahore bana nahi chahay ge ab. #barish #Venice

— Saima ツ (@xSaimaAnsarix) June 29, 2018


Karachi is home to hordes of migrants, reaching the metropolis almost on a daily basis in search of work. This has caused an exponential rise in the population for which the city's resources aren't enough. Karachi has a population that is large enough to be a country with a separate government setup and several provinces within.

While Lahore enjoys unity of command and not a very diverse populace, Karachi provides refuge to job seekers from north of Pakistan to interior Sindh and Balochistan. Moreover, the plethora of Afghan refugees have now started their businesses in Karachi and a number of them are also allegedly involved in crime in the city.

The residents of Lahore own their city, while the residents of Karachi who originally hail from other provinces, prefer to associate themselves with their home towns and villages rather than fully integrating into the Karachi lifestyle. They then treat the city like a temporary abode and hence, that leads to a number of civic problems that this city has been facing. As if this wasn't enough, the previous federal government directed most of its resources towards Lahore, at a time when Karachi was yearning for their attention.

The Green Bus project is still moving at snail's pace, the entire city is a garbage dump, and the water crisis seems to be getting worse. This criminal neglect by both the provincial and federal government has brought Karachi to the situation where it is today. The PPP government could not address the issues of sanitation, health, education and infrastructure even after staying in power for a decade. MQM was a complete disappointment, right after General (retired) Pervez Musharraf stepped down followed by the departure of Mustafa Kamal (the two gentlemen who actually did something for the city).

Shehbaz needs to realise that Karachi is not the same as Lahore and it will not take the same things to build up this city. Unlike Lahore, the work will not start from ground zero; it will start from "underground", thanks to the previous politicians who have dragged this city down to the drains, quite literally. Basing his campaign on turning Karachi into Lahore will not be fruitful because these two cities have always been at loggerheads. It is not very smart to appeal to Karachi by comparing it to Lahore; Karachiites will not take that well! Karachi has its own problems and its own identity. It does not want to be like Lahore; it just wants to be the city that it deserved to be. Who advised Shehbaz that Karachi wants to be like Lahore? Saying that he wants to fix and better the port city without any comparisons would have sufficed.

During his campaign, he addressed the Urdu-speaking community as paan-eaters (betel leaf eaters) and mocked the funny pronunciation they have when it comes to Urdu grammar. Safe to say, Karachi was not pleased, especially because the comments were coming from a Lahori.


However, while many from the Urdu-speaking community are objecting to this, I would rather deem it as a wakeup call for the members of a community that once took pride in its manners, culture and language. Urdu speakers were known for being fluent in rich Urdu, exhibiting flawless grammar and nuances. That culture has been replaced by Urdu slang and distorted pronunciations. The "aareeya hai, jaareeya hai, tairay ko, mairay ko" has further caused a gradual decline in the quality of spoken Urdu in our neighbourhoods. Paan and gutka were never a symbol for us Karachiites but are now the identity of the Urdu-speaking community, hence the mention by Shehbaz in his recent statement.


Well I think karachi walay are taking all wrong what Shehbaz Sharif said abt paan and Karachi walay.. it was just a humour.. he said it in a very light way that 'paan khanay walay karachi walay ka shehar Karachi..' ye baat Sach hai .. most of karachiite eats paan. No offence guys

— سدرہ :(: (@iam_sidrah) June 26, 2018


The people of Karachi will have to vote for people based on the candidates' previous performance and not on the basis of language, caste, sects or peer pressure. Vote for the candidate's vision, his achievements. This city badly needs a complete revival and we need leaders like Musharraf, Imran Khan, Kamal, Naimatullah Khan, Shehbaz and so on to bring that change. In future, this city will have to be governed with a completely different strategy and governance model. The current provincial model, with a rural centric party managing the affairs of this great urban centre, seems to have backfired miserably. Our city needs experts and professionals for its revival, just like any sick industry that requires professional intervention to kick-start it back to life.