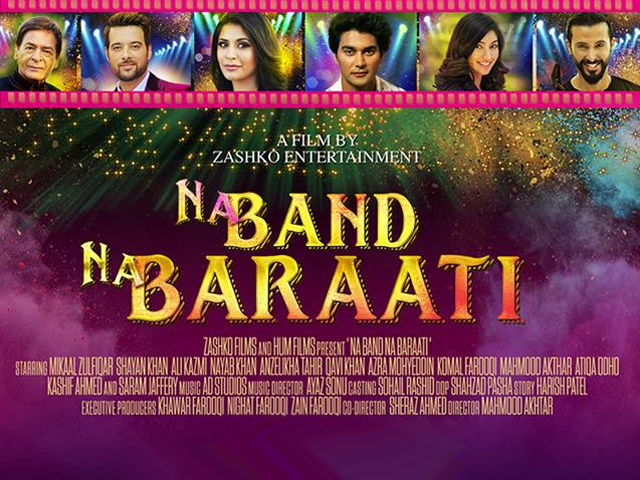 ---
Even film students can make a better movie than Na Band Na Baraati
With weak content, below average performances and pitiful direction, it's a distressing, boring and irritating movie.
---
This Eid we saw the release of many Pakistani movies. With Bollywood movies banned during Eid, Pakistani audience had no choice but to turn their attention to local films. Some movies made the cut and managed to entertain people, others, however, made us run for the exit door. Sadly, the recently released Na Band Na Baraati falls under the latter. 


The story revolves around two brothers, Zahid (played by Shayan Khan) and Shahid (played by Mikaal Zulfiqar). Both brothers are happily in love with their respective girlfriends. However, one fine day, their lives change forever. Shahid accidently signs Zahid's nikkahnama, and Ayesha (played by Anzhelika Tahir), who is the latter's girlfriend, is officially wedded to the former. In all this chaos, Zahid tries to find a way to put things back the way they were, while Shahid has to treat Ayesha as his wife.

Ali Kazmi also stars in the movie and is shown to be in love with Ayesha but her father (played by Mahmood Akhtar) doesn't like him. Qavi Khan plays the mischievous father of the two brothers.




Na Band Na Baraati is directed by Mahmood Akhtar, who is a known Pakistani TV actor from the 80s and 90s, and makes his directorial debut with this movie. Unfortunately, his debut movie is a sorry affair and, safe to say, is a comedy of errors.

Shayan lacks the hero-like aura and personality; his dialogue delivery and overall performance needs a lot of improvement. Pakistani film industry probably has never seen a hero like him who fails to be convincing in his performance. His dance moves are mediocre, his emotional scenes actually turned out to be hilarious, and his comic scenes were just cringe-worthy. Despite all of this, Shayan takes majority of the screen time, probably because it's his home production, while Mikaal looks like he is doing an extended cameo in the movie.




Mikaal performs averagely in the movie and is probably the only actor who is doing something right. On the other hand, Ali Kazmi's talent seems to have gone wasted in this movie. He is a good actor but watching him portray a hopeless antagonist will not fit well with his fans.




Anzhelika Tahir fails to make a mark in the movie. Her performance is the least of her concerns as she even struggles to pronounce her dialogues correctly. The same problem was faced by Nayab Khan who plays Zoya, Shahid's girlfriend. You would expect Atiqa Odho and Qavi Khan to teach these youngsters how it's done, but they too deliver average performances; Qavi also gets on the nerves of the audience because of his annoying character.




Akhar as an actor and director fails to sail this ship. He used to be a better actor on television but in this particular film, he ruins his "good actor" reputation.

Na Band Na Baraati is badly directe; there are no aesthetics involved in the movie. Even film students can make a better movie than Na Band Na Baraati.




The music of Na Band Na Baraati itself is okay, but the way these songs are filmed is terrible. Not even a single song stands out in the film because of the way that it was portrayed. The dialogues of the movie are easily forgettable. A few of them are even copied from films like Sultan, Indrajeet and Raanjhana. So much for banning Bollywood movies!




Films like these should be a wake up call for the Pakistani film industry to start making quality movies. Perhaps we should have a censor board that not only looks at controversial content, but judges the movie's storyline and execution as well. This will only save our precious time and money. A movie that lacks in quality is the reason Pakistani film industry is looked down upon by not just the world but our own people.

With its weak content, below average performances, pitiful direction and awful narrative, Na Band Na Baraati is a distressing and boring movie which will easily irritate you.



All photos: Screenshots