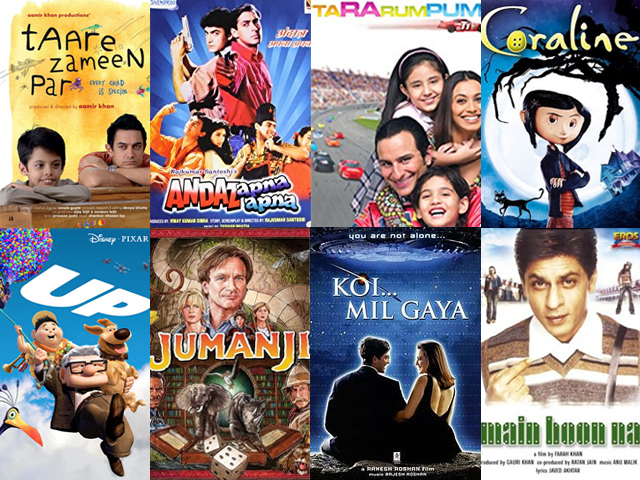 ---
10 highly recommended classics to watch this Eid with your family, because why not?
This list includes a WWI (why watch it) feature to assist you, as you bond with family and relive childhood memories.
---
This Eid, whether you're waiting for the guests to arrive or are dragging your family to meet relatives who live out of the city, whether it's your first Eid after marriage or you're a pro at it by now, whether you seek distraction for the kids so the adults can relax, or want to unwind after a long day of hosting, I've got you covered. All you need is a playback device with enough storage (or bandwidth) to hold (or stream) these highly recommended fun flicks.

Here's highlighting the top 10 Hollywood and Bollywood talkies of the last 20 or so years for you to re-watch this Eid with your family. The list includes a WWI (why watch it) feature to assist you in making your own playlist this Eid. Or just for rest of the vacations.

10. Up (2009)


One life is nearing its end and another is merely beginning, but both are searching for things found closer to home. This is the premise of an instant classic that was nominated for both, Best Picture and Best Animated Feature at the Oscars. Offering wisdom and fun for all ages, the five-minute married life sequence at the beginning of the film alone sets it up as a short story within a short story within a short story, and will instantly tear you up. A bit like Arthur C Clarke's A Recursion in Metastories.


WWI: It's for parents who are together so they can be grateful their kids won't turn out like Russell, and for parents who aren't together so they can be repentant their kids will forever be seeking validation and love from strangers.

For kids, it offers sage advice: protect what matters in life.

9. Taare Zameen Par (2007)


Film is an opportunity to not only entertain but also educate. Aamir Khan goes a step further here and attempts to change mindsets, while reinstating the lost glory of teachers.

WWI: Parents frequently forget what it's like to be a kid, while kids rarely understand studying is a part of life and not life itself. Here is your chance to reflect upon this fact while flashbacking to the last few moments of All Izz Well from 3 Idiots (2009).

8. Ta Ra Rum Pum (2007)


It's a shame when films have to dress up as masala mixes so they can find financing when they'd rather be inculcating good values. If you can sit through the first 40 minutes of this riches-to-rags-and-back story, you're guaranteed to fall in love with the family of Rajveer "RV" Singh (Saif Ali Khan). And kids will learn a thing or two about bringing up good parents!

WWI: If you feel like the soul of an emperor trapped inside the body of a white collar worker, this film is for you. Offering a crash course in the perils of mishandling finances, this film should have the entire family swearing off irresponsible spending while focusing on things that bond a family together.

7. Matilda (1996)


Every child is born a genius – until we put him or her in a school. That's what I thought until I watched Matilda… and then I started believing it.

WWI: Because then (hopefully) you'd want to read the book it's based on. And you'd realise how bright your kid was until he/she started school and became like everyone else. Because the educationists are in cahoots with the capitalists, and it's the job of the former to produce workforce for the latter. But that's a conspiracy theory. And I digress.

6. Main Hoon Na (2004)


Chip away the action, the romance and the song-and-dance, and what you have left is a brother looking out for his brother. Yes, it's a mishmash of great films that precede it. Yes, it requires you to stretch your imagination further than you care to. Yes, it is still a fun film to nibble at.

WWI: All family films are about braving the odds and sticking together, and this one isn't any different. Plus you get to watch Sushmita Sen in all her glory one last time, before her screen presence fizzled out forever.

5. Koi... Mil Gaya (2003)


Kids love adults acting like kids. What they love even more is befriending aliens. This flick chews up Steven Spielberg's ET the Extra-Terrestrial (1982) and Saeed Rizvi's Shani (1989) – Pakistan's first science fiction film – and regurgitates the leftovers to spawn a film series the subcontinent can call its own.

WWI: For a career-best performance by Hrithik Roshan. And for inadmissible documentary evidence that women can be smitten by "developmentally disabled" men.

4. Jumanji (1995)


Robin Williams will always be remembered for his endearing charm and his ability to make his characters so real you could almost touch them. In perhaps his least-remembered performance, he shines as a man-child who has done his growing up locked inside a board game.

WWI: For the fun, the surprises, the screams and the collective family lesson – don't start what you can't finish.

3. Coraline (2009)


Show me a child who's happy with his or her family, and I'll show you Coraline. One of the smartest scripts, the slickest executions and a supremely satisfying denouement turns this film into an eternal family favourite.

WWI: If after watching this you're not going to have a discussion with your kids about appreciating what they have and setting realistic goals, then better skip it. This film is dark for a reason; its intention is to guide you towards the light you have to find, and the light you have to bring. Everyone's light has to be different.

Warning: This film is not for kids to watch without parental guidance.

2. Andaz Apna Apna (1994)


Question: What do you call a film you've watched so many times you've lost count?

Answer: Andaz Apna Apna

After spending three years in the making, the film flopped at the box office but gained the status of a cult classic upon its release on VHS (ever heard of that?)

With Rajkumar Santoshi at the top of his game, the film is a master class in character development (or lack of it), pacing, dialogue, situations and bringing back the golden days of Indian music in style.

WWI: Are you kidding me? Do you even have to ask?

1. A Series of Unfortunate Events (2004)


Here's a secret: the reason this list exists in a reverse alphabetical order is because I wanted this film to top it. Why? Because on the cursory level, it may appear to be a dark, brooding tale of orphans trying to find a family, but it is, in fact, a temptation towards accepting who you are, who your family is, and making the best out of what you have. It is about using your wit and grit to fight the Big Bad World. It is about validating the opinion that when hope is lost, all is lost. So never lose hope. Never give up.

WWI: Have you been listening to anything I've been saying?

So go set up your TV screens and prepare to binge!