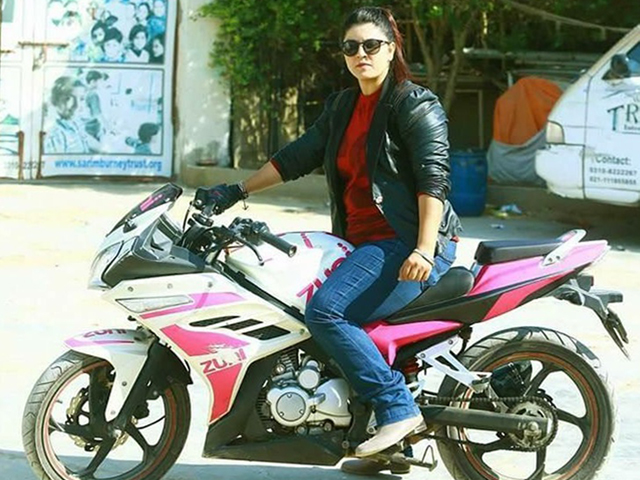 ---
Tête-a-tête with Beenish Afreen: A rebel reclaiming her public space, one bike at a time
Some people showed their extreme dislike towards my biking as it was a disgrace and shame that a girl is riding a bike
---
In this technology-saturated modern biosphere, women motorcycling are still not a welcome sight. In a conservative society like Pakistan, it is unfortunate that people are more vocal and contemptuous about women riding bikes than they are about the harassment they face in their commutes generally.

In a traditionalist patriarchal society where domination is believed to be a masculine realm, the general perception still is that women riding bikes and claiming public spaces or independence are against the orthodox status quo.

The ill-norms, taboos and misogynistic expectations ballooned in society are holding women back from empowering themselves. Not many women dare to wipe out gender stereotypes and grasp freedom of soul owing to limitations. A number of parents still worry that no one will marry their daughter for as petty a reason as riding a bike. In such a hostile atmosphere, every single woman on wheels is an inspiration and 22-year-old Beenish Afreen is one such symbol of change.

Hailing from Karachi's middle class family and working as a sales executive after completing her graduation, Afreen perceives herself as a rebel who embraced her passion with open arms. From denunciation to enthusiastic waves, she faced traditional barriers but feels that bike riding is very liberating. In one way or another, she fought conservatism and societal dogmatism and is now busy in reclaiming women's rights on the roads.

I met Afreen at an exhibition and we conversed about her insights on women motorcycling. Here is my tête-a-tête with Karachi's woman biker who shares her experiences.

What prompted you to start bike riding and what was your parents' reaction?

Growing up a tomboy made me think differently. I was not interested in dolls; quite the reverse actually, playing cricket and football was my favourite. As a child, I quickly learned how to start my father's motorcycle. I was well aware of some of the mechanisms of a bike but due to my short height, I wasn't able to reach the foot rest. However, at the age of 14, I fully focused on testing my bike riding skills. My parents were not shocked to learn about my passion for motorcycling so there was not a strong resistance from their side.

How did you get your first bike and what do you ride now?

I saved money from my salary and luckily within a short span of time, I was able to buy my own Scooty 70cc bike. I still use it for my daily commute. With the passage of time, I focused on practicing to explore my hidden talent and now I can easily ride all heavy bikes, whether it's a Hayabusa, Ninja, Z1000 or a Harley Davidson.




Tell us about the challenges you have faced as a woman biker?

Being a woman biker in Pakistan is not an easy task. I faced a lot of criticism and challenges. Our society still thinks that a girl should be married at an early age; her ultimate end is to be an obedient housewife and daughter-in-law. I confronted such kind of mentality, people used to say that I am a girl and so I can't do things that are associated with men. However, instead of discouraging, these annotations kept me motivated to reach my goals.

Do you think that your life has been changed due to bike riding?

Yes, so many things have been changed in my life just because of my motorcycling. It made me more confident and it opens up several opportunities for me. I have empowered myself through bike riding. I don't need to request others for support and neither do I face any transport problems. In fact, I have owned my public space and feel absolutely blessed to be able to do what I really enjoy.

You have travelled from Karachi to Kashmir on your bike. Tell me what was the reaction of people that you met on the road? How did they treat you?

Some people showed their extreme dislike towards my biking as it was a disgrace and shame that a girl is riding a bike. But then, there were those who were very encouraging; they appreciated my effort, made videos and took selfies with me. Overall, I can say that people who accepted me as a woman biker were the real force to boost my moral.

Do you think Pakistan's riding scenario is different for women as compared to men?

I have observed that traffic police's attitude is very encouraging towards women motorcyclists. They deal very politely with them if there is no license, helmet or if other safety gears are missing. Instead of challan (ticket), they would give a last warning, appreciate you and let you go. I am not saying they should not challan women bikers, but I feel that this kind of behaviour is very encouraging. Having a license, wearing a helmet or safety gear is essential for all bikers. All of us should promote safe riding.

On the contrary, women riders are not an everyday occurrence, so people on roads stare at you and pass negative remarks. Sometimes, women bikers are chased by men on bikes and cars.




What can one anticipate for women bike riding in the next three to five years?

If there is some kind of support from government or private sector, you will see that women bikers will multiply in numbers. Women are eager to learn it; they perceive it as an inexpensive safe transport facility. A little bit of backing can change the road scene, with lots of confident women bikers taking over.

Do you agree that women, irrespective of their age, should be encouraged to learn riding?

Yes, every woman should be encouraged to learn biking. Pakistan's women face a lot of transport issues. Their immobility is hampering their liberation. They are dependent on others for their social mobility. If women have their own motorcycle or scooty, they can go wherever they want and engage themselves in new working conditions. I strongly feel that there should be an equal platform for women bikers of all ages throughout the country.




Do you have any bike club?

I don't have any proper bike club. As a private instructor, I train and give free classes to girls who are passionate about bike riding. You wouldn't believe that majority of lower class girls want to learn bike riding so that they wouldn't face transport humiliation. But due to limited resources, these girls are deprived of the chance of liberation.

What kind of support or encouragement would you like to see from the government?

There is no appropriate support for women bikers in Sindh. However, the government of Punjab has worked tremendously to support the cause by launching motorbike subsidy scheme for women and providing free motorcycle training. Through this platform, I would like to appeal to the Sindh government and other related people to open up institutes or clubs for women riders. Such institutes can become a chain of change.

Irrespective of the class difference, women are eager to learn bike riding. However, due to inadequate measures, not only their talent is dying but a large segment of society is immobile. The government's support can really empower women and bring a lot of change in society.

Do you have some words for aspiring women bikers?

As a biker, I would like to say that 'where there's a will, there's a way'. Instead of listening to negativity, focus on your own endowment. It is no doubt that there are a lot of hindrances and societal discouragement, but again, if one has an empowering mindset, such things can actually help to enflame your desire to achieve your objectives. All I can say is that we, as women, are taking new steps in the right direction which our future generations will proudly follow. So, if you want to achieve it, you can!




Thank you Afreen!

Let's all give a big round of applause to this amazing, strong lady who loves to keep going on despite all the obstacles. We need more women like her, who are role models for us. We as a society should be more accepting and try to encourage women to be independent. There are, of course, problems that a woman has to face on the roads but that should not be the reason why we do not let women live their lives. Stand up for the women if they get harassed on roads and encourage them to keep going. It is time women take on the world; let them be free!

All photos: Beenish Afreen