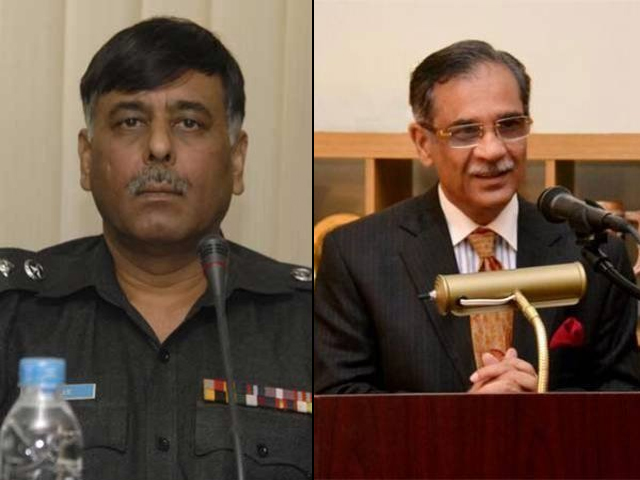 ---
An open letter to CJP Saqib Nisar: If a prime minister can be put behind bars, why not Rao Anwar?
This case has been handled in contrast of the kind of precedence you have set; hard on criminals and soft on victims.
---
Respected Mr Saqib Nisar,

Chief Justice of Pakistan (CJP), Supreme Court,

During the last few years, the Supreme Court has sprouted as the only ray of hope for the people of Pakistan. The dismal state of daily affairs has been going unnoticed for decades but the current Supreme Court's swift responses have truly won people over and given all of us hope. Suo moto action taken in cases that were not heading anywhere or taken when something truly important happened is an indication of our justice system improving.

There are a number of instances that are truly worth mentioning and deserve massive respect. I would like to especially appreciate the action taken on complaints of common citizens regarding the hospital conditions in Lahore. Moreover, the way the apex court took notice of the fee hike in medical colleges should be applauded. History was made when you took action for a visually impaired advocate who was belittled and criticised because of his condition. This truly touched the hearts of every Pakistani.

As the water crises grew out of everyone's control, you took it upon yourself to push the government to build dams. You not only asked people to donate money for this extremely important cause, which is directly linked to their survival, you also took a step forward yourself by donating Rs1 million to build the dams. Actions speak louder than words and you have set an example for all of us. After all, it was your step that encouraged Karachi Mayor Waseem Akhtar to donate Rs1 Lakh to the cause also.

All of these reasons compelled me to think that we have finally been rewarded with a determined and committed chief justice who is even ready to roam around the streets to solve basic problems of people. I truly believed that justice for the people of Pakistan was not a distant dream anymore.

The way you handled the Panama scandal clearly showed that you have no reservations or fear of going head-to-head with those who reside in the corridors of power. You took on the Sharif family, and despite the fact that they have been in power for three decades in this country, you left no stone unturned to ensure that justice is served. Verdicts, one after the other, disqualified Nawaz Sharif and showed your level of seriousness when it came to corruption. And now he will be put behind bars.

Many raised concerns and criticised that no action was taken against other people who were also named in Panama papers. They alleged that this was a big propaganda against the Sharif clan. I shot this criticism down because I knew that they are playing around the facts in order to malign you and develop support for Nawaz's narrative. I believed that their claims of the State using the Chief Justice of my country in the power game didn't have any weight. For me, these accusations from Pakistan Muslim League-Nawaz (PML-N)'s supporters were as ridiculous as their leader's previous claims to control electricity shortage in six months.

However, there is one case that still needs your dire attention. Naqeebullah Mehsood is still left void of justice and his culprit, Rao Anwar, is still not treated like a criminal. Your fiery statements and sincere efforts regarding justice for common man were a surety for me that this time, the powerful won't be spared. After all, you were doing everything to ensure the interest of common citizens of this country. But the way the events have unfolded in this case, I am almost hopeless now.

With all due respect, every hearing in the Rao Anwar case is pushing me down this road of fading hope. It's not only about the pace of progress. I understand that you can't change things completely in one go and this will take time, Sir, but the way Anwar is treated in the court has befuddled me. A picture speaks a thousand words; have you seen the way he is walking around court premises? A murderer, who is allegedly involved in several extra-judicial killings, is getting salutations from on-duty police personnel.

From the very beginning, this case has been handled in complete contrast of the kind of image and precedence you have set; hard on criminals and soft on victims. When Anwar was summoned, he showed up after almost a month and surprisingly, no serious questions were asked regarding his whereabouts. Adding insult to injury, he was accompanied by men in uniform.

This was followed by an even more disturbing episode when his house was declared a sub-jail. How on earth does this go in line with basic justice? How can someone accused of numerous murders and connected to such a sensitive case, find himself in judiciary's soft corner – a judiciary so powerful that it dethroned a sitting prime minister?

Naqeebullah's family has been pushed to the wall in every possible manner. What happened to all that commitment to provide justice to the common man? If this humiliation was not enough, this killer sent a request to the Supreme Court to unfreeze his accounts. And, the mockery of justice at its pinnacle, his request was duly accepted! How can, in any sane world, a killer who is on trial, that too in a high profile case, even ask to "unfreeze my accounts"? And why did our justice system deliver on his request? Is that how criminals are treated in a country where they should fear justice?

If that wasn't enough, Mohammad Jibran Nasir recently shared a video showing Anwar walking comfortably out of his car and police officials were saluting and greeting him. This is not only depressing for us, the general public, to see but it must be devastating for Naqeebullah's family to see his killer walking around like no one can touch him.


Judge ki protocol sawari #Aik #AamAdmi ki wajah say ahista ho jaye toh usay baghair kisi jurm Kay thappar maro magar agar Rao Anwar jaisa VIP ho toh woh dehshatgardi ka mulzim honay kay bawajood adaalton ko drawing samajh kar khulla ghum sakta hai. Way Chief Justice sb Wah! pic.twitter.com/9M30IBtpq6

— M. Jibran Nasir (@MJibranNasir) July 4, 2018


I don't think words can suffice the pain a common citizen goes through when his hopes are shattered, in fact, bulldozed in such a ruthless manner.

This brings me to a question that I have been dodging from some of my friends since the Panama saga. Is the Supreme Court of Pakistan helpless when it comes to real power corridors? Should citizens believe that the corrupt will be taken to task only when it suits the powerful in this country? All of your blazing statements regarding delivering justice to the common man should be considered true in a particular context? And, sorry to say, but should it be treated as a political rhetoric which can't hold water if a criminal is as powerful as Anwar? Or should we believe that in this country, Anwar is actually more powerful than the prime minister of Pakistan, because he has connections with the right people in power, something Nawaz failed to maintain?

Sir, as a citizen of Pakistan, it seems that the concept of equality in the eyes of justice is exacted in the famous George Orwell's book, The Animal Farm:

"All animals are equal but some are more equal than others."

Can you prove this wrong by making an example out of Anwar? Can you? All of us have been let down too many times and we trust you to deliver justice because you have the power and the willingness. We wait diligently for you to take appropriate actions.

Regards,

Abdullah Ansari

A common citizen

Karachi, Pakistan
Facebook Conversations
COMMENTS (13)
Comments are moderated and generally will be posted if they are on-topic and not abusive.
For more information, please see our Comments FAQ