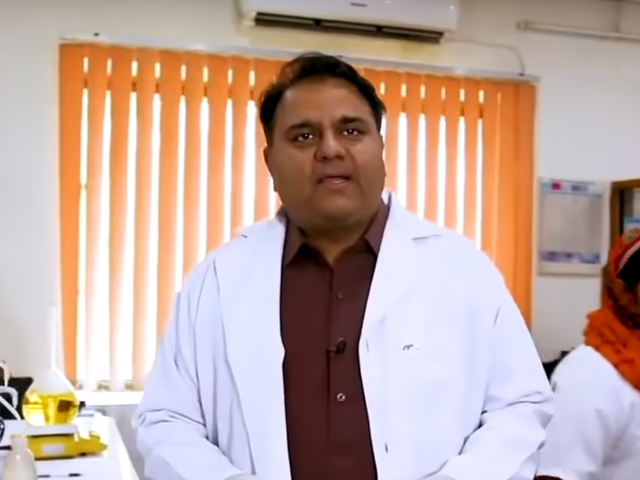 ---
Is Fawad Chaudhry really the best person for the job?
To see why Chaudhry seems so poorly matched for the job, we simply need to compare his credentials to his counterparts
---
It's March 25, 1992. England is chasing a target of 250 to become the victor of the cricket World Cup in Australia. Experienced duo Allan Lamb and Neil Fairbrother have tilted the game in England's favour, and Pakistan captain Imran Khan has to apply his cricket dexterity to take a wicket as blocking runs isn't going to work. He needs to ensure the right person throws the ball, and brings in Wasim Akram. The rest, as they say, is history.

References to the 1992 World Cup final are generally used a lot these days to offer sarcastic commentary on PM Imran and his government's performance. However, my point here is to highlight the importance of selecting the right person for the right job. Imran was clearly capable of doing this on the cricket field. Unfortunately, he has been unable to achieve the same in the field of politics.

Despite multiple hirings and firings and numerous shuffles over the past nine months, right from Atif Mian's appointment to the removal of Asad Umar, it seems that Imran is simply banking upon the trial and error formula to solve a Rubik's cube rather than attempting to get the process right in the first go. The recent offering of the portfolio of the Ministry of Science and Technology to former information minister Fawad Chaudhry is yet another – and most probably not the last – addition to this chapter.

Chaudhry, who is a 'seasoned' politician and has mastered the art of getting into various governments over the years, was made the information minister to the shock and surprise of many. After months of being in the news for the wrong reasons, he was soon replaced by the less amusing Firdous Ashiq Awan and was instead handed over the neglected Ministry of Science and Technology.

What followed is an endless series of memes, jokes and sarcasm so good even hardcore Pakistan Tehreek-e-Insaf (PTI) followers could not hold back their laughter. If this was not enough, Chaudhry really came into his own and posted the following video, ensuring that the nation continues to see him more as comedic relief than as a serious minister heading an important ministry.


To start off his role, Chaudhry announced the launch of a five-year lunar calendar. Interestingly, this is being depicted as if developing a lunar calendar is a remarkable achievement in today's world; one that will resolve all issues related to moon-sighting. Ironically, there are various websites on the internet that work for free and on which anyone can check the position of the moon, predictions about its visibility, and so on.


MoonSighting Pakistan launched..... https://t.co/1HSEzw7cMf

— Ch Fawad Hussain (@fawadchaudhry) May 26, 2019


Even if this move from the Ministry of Science and Technology had some weight, Chaudhry ensured that it fizzled away quickly as he launched an unnecessary attack on the Ulema by labelling the gathering for moon-sighting as a waste of time and money. He didn't stop there, and added further fuel to the fire by claiming that religious scholars were against the creation of Pakistan.

One must ask Chaudhry, what do such attacks have to do with the lunar calendar? What do these statements have to do with either science or technology? Why can he not simply focus on doing his job instead of launching verbal tirades that seem unnecessary and counterproductive? How is this fight itself a part of Chaudhry's job description?

Another update from Chaudhry's ministry is the development of an app for mobile payments. An app for this purpose is commendable, but the role of his ministry also extends to facilitating the growth of science and tech in the country from the bottom-up; something we are really struggling with. Pakistan has a poor culture when it comes to scientific research and developing technology, and it would be good to see Chaudhry also take action at the grassroots level rather than simply going for actions that earn him news coverage.

An example in this regard is the unavailability of testing services for technology related certifications. The Cisco Certified Internetwork Expert (CCIE), a very famous networking test conducted by Cisco worldwide, does not include a single examination centre in Pakistan. As a result, test takers have no choice but to book the test in the UAE. Not only does this exponentially increase the cost of the test, it also adds to a long list of inconveniences for test takers, acting as a factor that discourages Pakistanis from pursuing this important certification.

In contrast, the same test is conducted by Cisco in multiple cities in India, because the country facilitates the people who are interested. But when one of my Pakistani friends wanted to give the test, he had to go through the trouble of booking flights and hotels that ended up costing more than the test itself. His frustration only grew as he did not even clear the test and now has to spend all that money once more just to try his luck again. Problems like these are what a significant population here experiences, and if Chaudhry really wants to help, these facilities are where he should focus.

Adding insult to injury is Chaudhry's habit of putting his foot in his mouth and commenting on things he knows nothing about. Yes, this includes scientific knowledge and technological advancement. For instance, he made a mockery of not only himself but the entire country when he gave National Aeronautics and Space Administration (NASA) a run for its money by claiming Pakistan's Space and Upper Atmosphere Research Commission (SUPARCO) sent the Hubble Telescope to space.


Ladies and gentlemen, after Rs 55 per kilometer helicopter ride, here are the new pearls of wisdom by our Einsteinonian minister of Science and Technology His Excellency Fawad Chaudhry claiming to have Hubble Telescope sent into the orbit. pic.twitter.com/Yg3F2C2EIW

— Murtaza Solangi (@murtazasolangi) May 6, 2019
May be NASA head will resign and also join the ministry of @fawadchaudhry as head of SUPARCO

— Arshad Aziz Malik (@arshadazizmalik) May 6, 2019


He was brutally mocked on social media, both internationally and domestically, and only raised further doubts about his appointment to this ministry. This was made worse when, still young at his post, he made another startling statement about 5G being launched in Pakistan by Huawei; a fact backed by neither solid nor liquid ground.

To understand why Chaudhry seems so poorly matched for this ministry, we simply need to compare his credentials with his counterparts in other countries. Indian Minister for Science and Technology Harsh Vardhan earned his Master of Surgery in Otorhinolaryngology. In Malaysia, Yeo Bee Yin leads the ministry as a qualified engineer with work experience at Schlumberger and a Master's degree in Advanced Chemical Engineering from Cambridge University. Turkish Minister for Science and Technology Faruk Özlü is a mechanical engineer with a doctorate as well as some experience at Harvard University.

In contrast, our very own minister has an LLB degree, alongside heaps of experience when it comes to putting his foot in his mouth.

Throwing the ball to the right person in 1992 is what made Imran secure his place in cricket history. He now needs to do the same in politics. Does Imran have it in him to do it one more time?