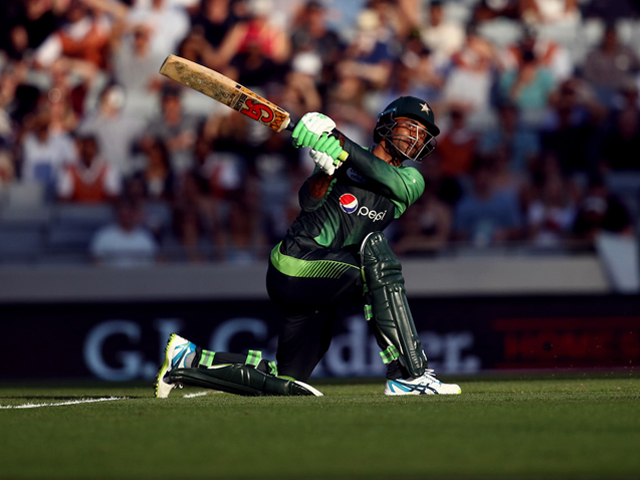 ---
Why Fakhar Zaman could be Pakistan's wild card in #PakvsEng
The match against Leicestershire instils more belief in this wild suggestion; he scored 71 off 98 balls as an opener
---
If the checklist to become a Test batsman had 10 items on the list, Fakhar Zaman would miss all 10 of them. His technique and temperament are not made for Test cricket and he didn't claim to be one either. What he does have, however, is the ability to shift the momentum of the game within a single session.

This might be the wildest suggestion I would ever make but Zaman could be Pakistan's wild card that could help beat England in the upcoming Test series.

Rumours are floating around that Mickey Arthur is interested in introducing Zaman at number six in the Test lineup. I like that rumour. Asking Zaman to open against the likes of James Anderson and Stuart Broad with a new cherry in hand would be pushing it too far. Zaman isn't ready to negate the swing of the likes of Anderson; he would be a sitting duck if he were to open in English conditions.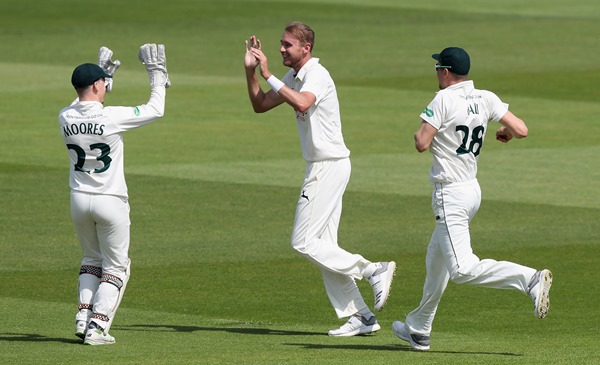 Introducing him down the order, however, could prove to be a match-winning move for Pakistan. Once the ball is older and the opposition bowlers are carrying heavy legs, Zaman can come in and raise the tempo for Pakistan. Not to forget, his ability to attack the spinners could come in handy.

I know Test matches are a game of patience and Zaman isn't exactly known to have some. Yet, I do believe if the likes of David Warner can cause havoc in Test matches, then with some belief and opportunities, Zaman could learn to adopt his game for Test matches as well.

In the third Test of Pakistan's last tour to Australia, Warner did what he knows best. He scored over a 100 within the first session to leave Pakistan doing damage control for the remaining four days. Pakistan never caught up and succumbed to a 220-run loss.

Zaman isn't comparable to Warner as of yet, but without an opportunity, Warner wouldn't have made it out of the shorter format either.




By all means, I am not suggesting Zaman to go wild at number six; he doesn't need to be the next Shahid Afridi. A fluent inning that imposes some pressure on the opposition is all we need to help Pakistan have an edge in the game.

Test matches don't require a high run-rate but our batting lineup struggles to keep up with the absolute minimum. Scoring at around two runs an over for the entire day is not ideal. Zaman could help break the shackles and release some pressure off an already intimated batting lineup.

Modern teams have lifted the tempo in Test matches. If the batting side lasts an entire day, then 300 runs or more scored off the day is the standard expectation. Pakistan has often preserved wickets but scored at an awfully slow rate. Young guns like Imamul Haq and Babar Azam are showing determination to score more while on the pitch. Zaman could complement their style of play by keeping Pakistan's momentum afloat.

I understand I am asking Pakistan to take an approach that's wilder and far more modern than what they are used to. It could easily backfire and leave the batting in shambles. Nonetheless, when you're ranked seven in the International Cricket Council (ICC) Test rankings, then being afraid to try a new approach should be the least of your worries.

Imagine if Pakistan was afraid to debut Zaman in the Champions Trophy. Would we have made it to final, leave alone winning the trophy? England will enter as favourites in the Test series. The pressure to outdo Pakistan would be on them. Pakistan simply needs to push England out of its comfort zone and let the pressure get the better of them. Who else but Zaman could push the opposition bowlers to go back on the defensive?




Suggesting Zaman to be part of Pakistan's Test line up is more out of my gut feeling than cricketing sense, but taking a look at the practice match against

Leicestershire

instils more belief in this wild suggestion. Zaman scored 71 off 98 balls and that too as an opener.

It goes without saying of course that the bowling attack of Leicestershire is modest compared to England's national side. Scoring freely as an opener would not be an option come England's fast bowlers. The challenge lying ahead is far greater but if the practice match was anything to go by, Zaman was amongst the top scorers from Pakistan's side.

I might be a culprit for suggesting Zaman's inclusion far too early. It could be true that he isn't prepared for the red-ball cricket. What I do know is that he is an impact player, no matter which format he plays in. We need to make an impact in the series against England therefore, gambling on Zaman could be worth a shot.