 ---
Amitabh Bachchan and Rishi Kapoor's chemistry in '102 Not Out' will make you laugh and cry with nostalgia
It's the charisma & allure of both Bachchan and Kapoor which ensures they give their best to portray a father and...
---
What happens when two of the most versatile actors of our time join forces to bring us a family comedy, the likes of which has perhaps never been produced in Bollywood? If you've ever asked the universe this question, 102 Not Out is here to answer your prayers.  


Amitabh Bachchan stars as Dattatraya Vakharia, a 102-year-old man who is obsessed with a 118-year-old Chinese man, Ong Chong Tun Peng, and aspires to break his record of being the oldest man alive. The problem is simple: he has 16 more years to live before he can break the world record. Rishi Kapoor, on the other hand, plays the role of 75-year-old Babulal Vakharia, Dattatraya's son.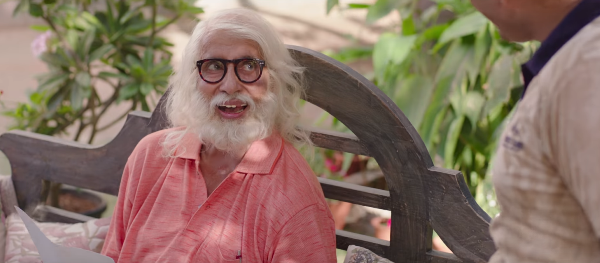 102 Not Out is an unusual story of a father and son, where both share an exceptional relationship. It is interesting to note that there is nothing fancy about this movie. There are no outdoor scenes shot in scenic settings, nor are there any death-defying stunts. There is no thrill, nor is there any mystery.

However, what is nestled at the heart of the story is the life of a father and his son who, despite sharing their differences, refuse to leave each other. On the other hand, staying together leads to quarrels, which ultimately provides the spice (and the comedy) to the story.

The personalities of both father and son are somewhat opposite. While Dattatraya is high-spirited, frivolous and exuberant, Babulal is quite pensive, and is more gloomy and low-spirited. While both father and son live together and try their best to harmonise each other's clashing personalities, the story takes a harsh turn when Bachchan decides to send his son to a retirement home. What led him to take this decision, and the impact it has on their relationship, is for you to find out.




Though the movie is essentially a comedy, and offers many scenes of comic relief, at the same time it also has powerful scenes that can seem too intense. While the audience will get to see the fun-loving side of Bachchan as Kapoor's father, they will also see a strict and serious man who did his best to ensure his son turns into a fully functional and responsible adult.

The best aspect of this movie is undoubtedly the acting prowess of both Bachchan and Kapoor, who reunite on the big screen after 27 years. Interestingly, even though Bachchan's character is 102-years-old, he has the heart and the energy of a 20-year-old. To the amazement of audiences, Bachchan shows his young and jovial side in his performance, despite his real age being 75. His on-screen chemistry with Kapoor is also worth mentioning, as the two characters blend together to keep the storyline moving forward.

Furthermore, it is the charisma, allure, and appeal of both Bachchan and Kapoor which ensures they deliver their dialogues with perfection and give their best to portray a father and son. In between these two old men and veteran actors is Jimit Trivedi who plays Dhiru, a young chemist who visits Dattatraya's home quite often. Despite being a stranger to Dattatraya and his son, Dhiru's caring nature and respect for both father and son helps him create stronger ties with our protagonists.




102 Not Out, based on a play by Saumya Joshi, is a movie with multiple messages for its audience. The first is that one should leave unpleasant memories in the past, where they belong, and instead dwell on the sweet ones that build relationships and make life happy. The other message is conveyed to us through Bachchan's character, who wants to live each day of his life to the fullest, and despite his old age remains happy and young at heart. On the other hand, Kapoor's character is always living in the past; therefore, losing out on all the fun life has to offer in the present.

The first half of the movie is a bit dull and boring. The story sets in during the first half as the characters are developed and their arc is set. The scenes here can seem a bit monotonous. However, the fun begins during the second half, when both father and son celebrate life in the most unusual of ways.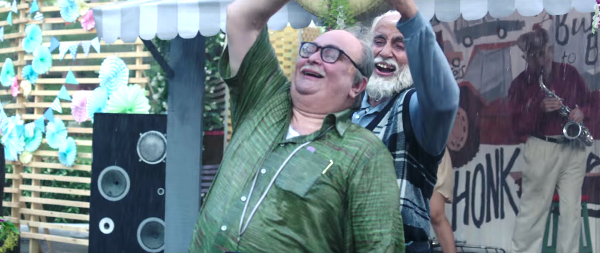 Despite the great performances, after watching the movie you come out of the theatre feeling as if something was missing. And perhaps there was, for even with two veteran actors sharing the screen together, the film does not match the viewer's expectations.



All photos: Screenshots